"My Amazon subscription will end today, so I tried downloading Amazon Music to my PC folder yesterday, but they are all gone now! Is there any way I can download Amazon Music for offline listening permanently?"
Amazon Music streaming service is becoming the first option to consider for more and more people when it comes to enjoying music. With its HD/Ultra HD music quality, Amazon Music attracts tons of paid users and continues to expand its market share. Are you one of their subscribers? If so, you can't miss today's tip teaching you how to download Amazon Music to PC.
Many Amazon Music Prime/Unlimited users have been in the abovementioned confusion. As cleared stated by Amazon Music official, paid users are able to download Amazon Music for offline listening. Indeed, you are able to do so before your subscription gets expired, which is the point. The downloaded files will be gone immediately as your Prime/Unlimited account get expired. And to tell you the truth, if you black out the internet and want to duplicate a copy of the downloaded music, you will find out what they really are – cache files that cannot be played on apps other than Amazon Music per se. Desperately and honestly, is there any way to save Amazon Music?
If you want to save Amazon Music and play them offline on your pc player, the first thing you have to understand is how they work. Most of the music players or audio tool support multiple plain formats, like MP3/AAC/WAV/FLAC/AIFF/ALAC and so on. Among these, the most frequently acceptable format is MP3. Therefore, if you use a Windows computer and are not very tech-minded to know what player you are using, just remember one thing: you have to convert Amazon Music to MP3. How do you do that? Keep reading, you'll know the best answer!
Perfectly Download Music to PC: AudiFab Amazon Music Converter
Technically speaking, without the help from a reliable third-party tool, you won't be able to transfer Amazon Music to local. Among the sea of so many tools, here we recommend you try one of the best Amazon Music tools – AudiFab Amazon Music Converter. You'll know why it could be the best once you use it.
AudiFab Amazon Music Converter offers both Windows/Mac versions. The program supports converting Amazon Music to plain format (MP3/AAC/WAV/FLAC/AIFF/ALAC), while in conversion it will preserve exactly the same as the original sound quality. With these features, you can conveniently enjoy HD music in playable format on your PC at any time!
Besides, after downloading, AudiFab supports placing converted music in the original order on the album/playlist, and also retaining a whole set of ID3 tags information, thus you don't have to worry about any trouble of locating the song you want to play.
AudiFab Amazon Music Converter provides both Windows and Mac versions.
Now, let's review some shining features of AudiFab: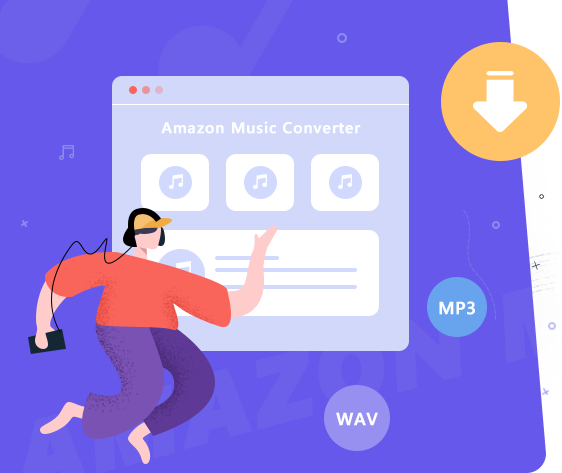 AudiFab Amazon Music Converter
Download Amazon Music with the original audio quality kept.
Convert Amazon Music to MP3/AAC/FLAC/WAV/AIFF/ALAC swiftly.
Remain the ID3 Tags information and lyrics of tracks after conversion.
Permanently save Amazon Music for offline listening.
Enjoy free updates & technical support.

Try It Free

Try It Free
*For macOS 10.14 or below, download V1.3.4.