How do I turn off the "play shuffle" thing on Spotify? It won't go away, and I can't listen to my music.
Spotify is one of the popular online music streaming platforms. Whether you are a Spotify Free or Premium member, you can listen to your favorite music on the Spotify website/mobile/desktop app, etc. However, a few days ago, some netizens asked why Spotify can only listen to clips or random audio after using it for a period, which is quite disturbing! What is going on here? Is there any way to fix it? Fortunately, this article will teach you how to turn off the Shuffle Play on Spotify to prevent randomly playing music.
Shuffle Play is a feature on Spotify. Activate the Shuffle Play button which allows you to play any playlist, album, or artist profile at random. If you know your playlist order like the back of your hand, try Shuffle Play to make your listening process more enjoyable. If you're listening to a list of songs or an album with a carefully arranged song order, such as Adele's album "30", it's best to turn off Shuffle Play to allow for sequential playback to avoid spoiling the story of the songs.
For Spotify Free, apart from certain Spotify playlists (such as playlists built just for you) and Daily Mixes, other content can only be played randomly.

Daily Mixes: It compiles six different playlists that are constantly updated based on your listening habits.

For Spotify Premium, the Shuffle Play button can be turned on or off to enable random play or sequential play as needed.
---
① How to Turn off Shuffle Play on Spotify - iOS/ Android
Click the "Now Playing" bar at the bottom of the screen.
Tap the Shuffle Play icon (looks like two intertwined arrows) to turn it off. The icon should turn gray to indicate that shuffle is off.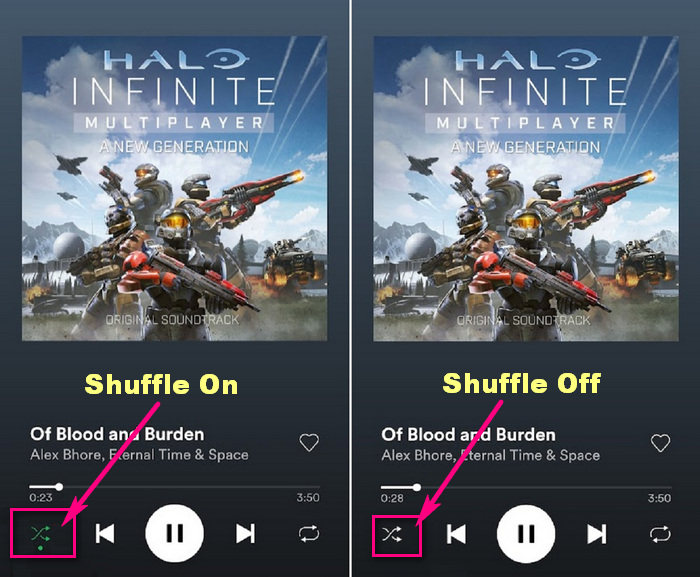 If you don't have a Shuffle Play icon in the "Now Playing" bar, please check this:
Click the 3-dot menu icon in the upper right.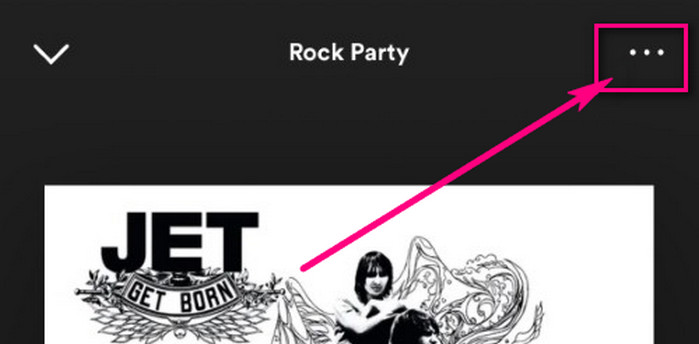 Tap the Shuffle Play button to turn it off.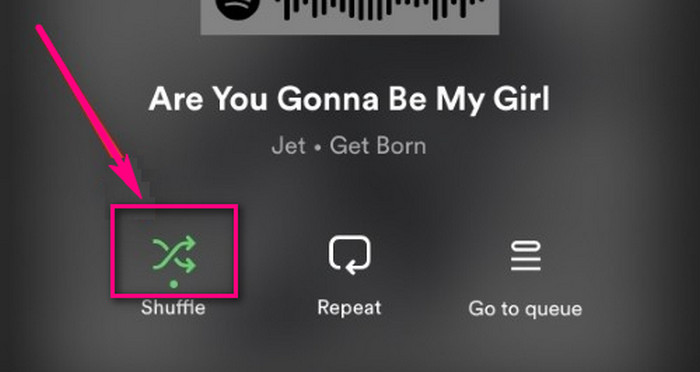 ② How to Turn off Shuffle Play on Spotify - Desktop/ Webplayer
Method 1: Use keyboard shortcuts
Press Ctrl+S (Win) or Cmd+S (Mac) to toggle Shuffle Play for the currently playing playlist. You can confirm if Shuffle Play is successfully turned off by checking the Now Playing bar at the bottom. If the icon is green, Shuffle Play is currently turned on for your playlist. If the icon is gray, Shuffle Play is off.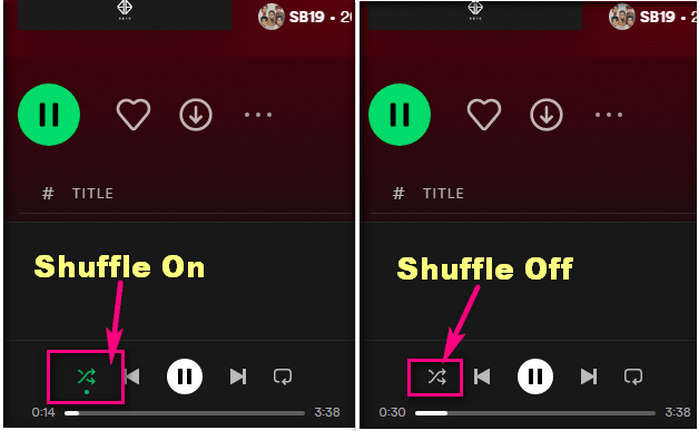 Method 2: Use the "Now Playing" bar.
This method works on both Spotify on the desktop and the web player. Just find the Shuffle Play icon in the Now Playing bar and click it to turn Shuffle Play on or off.
Free users have the option to turn off Shuffle Play in some playlists on Spotify. These playlists will primarily appear on Spotify under the "Made for You" and "Daily Mix" sections. Other than that, Shuffle Play is the only mode for Spotify Free users to enjoy streaming music, with ads turned on. If you want to remove these restrictions, you can first download Spotify playlists as MP3, then play them in the order you like. The tool we need to get MP3 files from Spotify is AudiFab Spotify Music Converter.
AudiFab Spotify Music Downloader is the key for Spotify Free and Premium to convert Spotify songs, playlists, albums, and podcasts to MP3/AAC/WAV/FLAC/AIFF/ALAC. Different from the ones downloaded on Spotify, the music downloaded by AudiFab is stored locally. After the songs are downloaded successfully, you can transfer them to different devices for offline playback, and there are no advertisements. At the same time, AudiFab won't affect the original audio quality after conversion. All ID3 tags along with the Spotify music will retain.
A clear list of AudiFab features is here: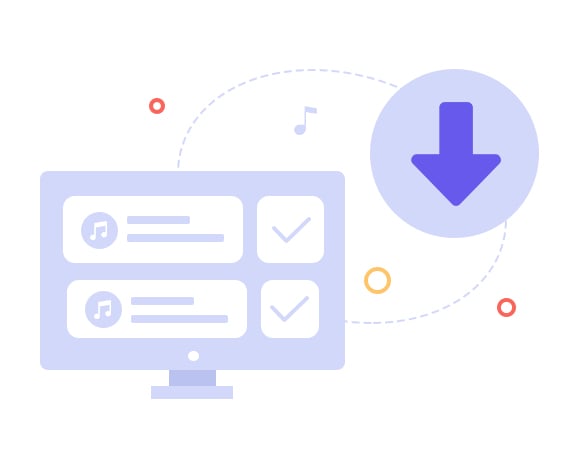 AudiFab Spotify Music Converter
Convert Spotify music to MP3/AAC/WAV/FLAC/AIFF/ALAC.
Download music from the Spotify app to the computer.
Keep original audio quality.
Retain ID3 tags and lyrics after conversion.
Free updates and technical support.
Now it is a tutorial to convert Spotify music to mp3 with AudiFab Spotify Music Converter. After the conversion is completed, you can listen to the songs with a local music player and decide whether to turn on/off Shuffle Play them.
Open AudiFab Spotify Music Converter
After you download and install AudiFab on your Win or Mac, run it to start. If you choose App (check Picture 1), the Spotify app will also open automatically.
Tips: Download music with Spotify App can get the best audio quality. But on Mac, App can only download 1x speed. For fast speed. Mac users can slesct Web.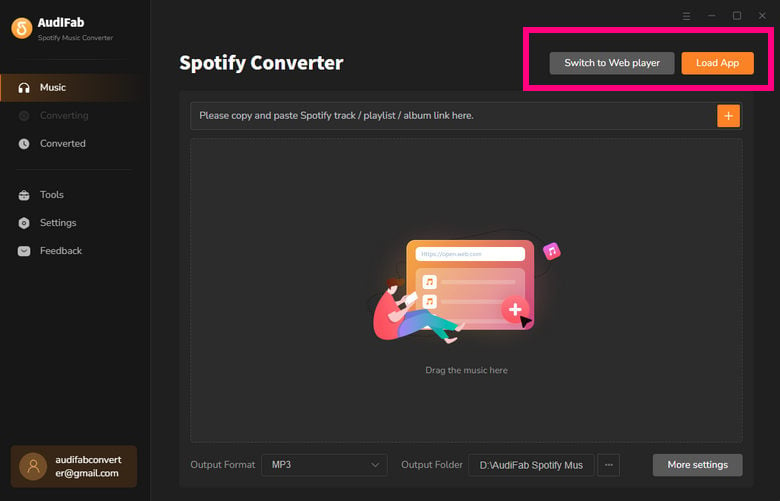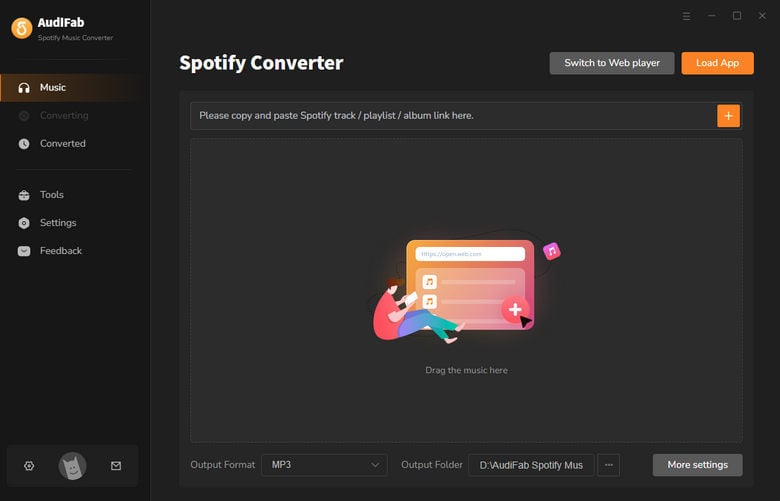 Pick a Spotify playlist you don't want to Shuffle Play
Come to the Spotify app to pick a playlist or album you want to download. Drag or drop it from Spotify to AudiFab. Then check the songs in the pop-up list are all you want and click Add.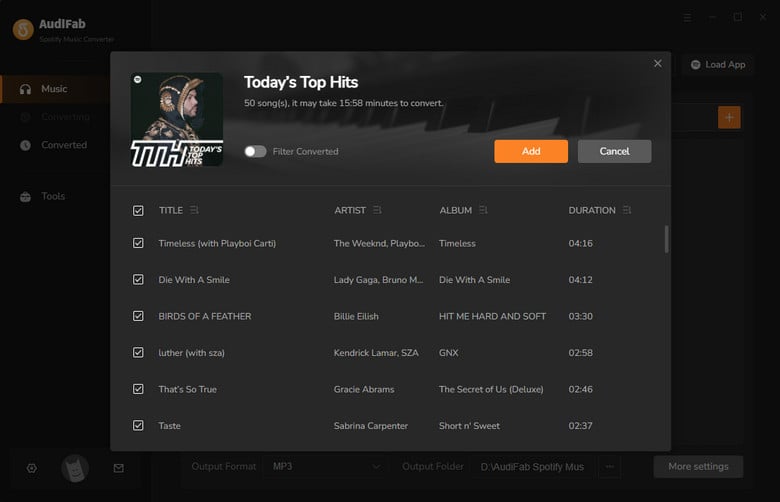 Customize the Output Format and Output Organized
Go to the Settings window at the bottom left corner. Then it will pop up a smaller window for your settings. The following parameters can be set according to your needs.
Output Format: Auto, MP3, AAC, WAV, FLAC, AIFF, ALAC
Bit Rate: 320kbps, 256kbps, 192kbps, 128kbps
Sample Rate: 44.1KHz, 48KHz, 96KHz, 192KHz
Output File Name: Track Number, Title, Artist, Album, Playlist Index, Year
Output Organized (way): None, Artist, Album, Artist/Album, Album/Artist, Playlist, etc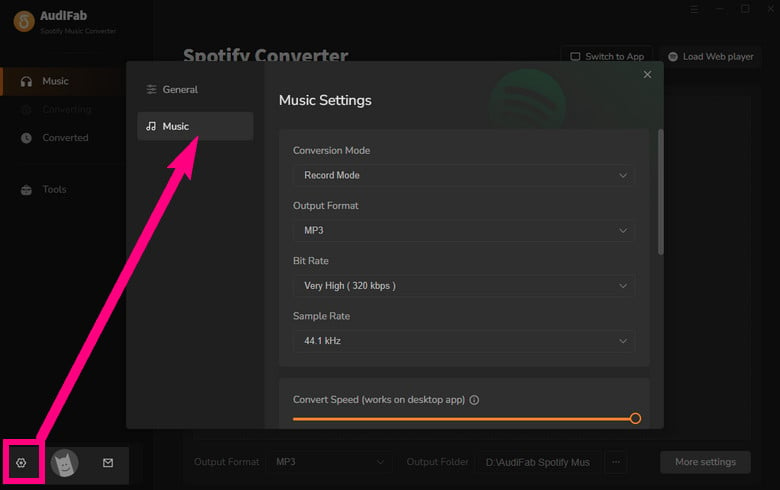 Start Downloading Spotify Music without Premium
Go to Home. Click on the Convert button to download Spotify music on your local computer.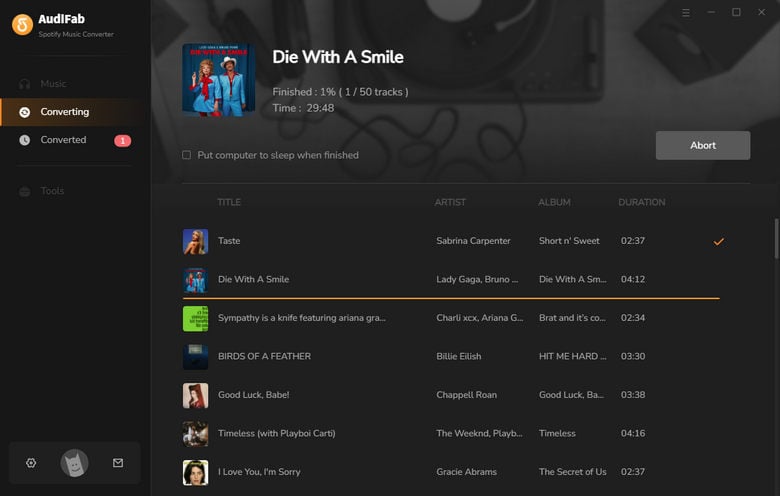 Check downloaded Spotify music at PC Local
After the conversion is complete, the output folder will pop up automatically. From now on, you can play all these wonderful Spotify music offline with or without shuffle play, even if you are not a Spotify Premium!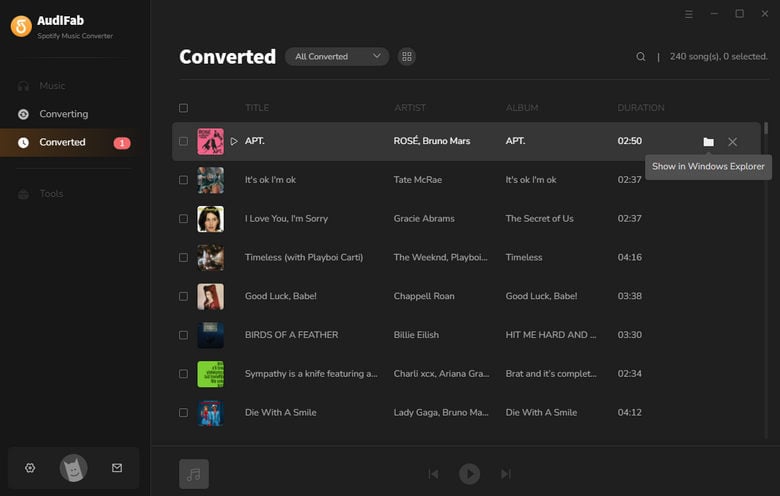 ---
If the same song is played multiple times in a row, or other similar situations, here are some common fixes that can help you troubleshoot the problem on your device. 
Method 1: Turn the feature off and back on.
Click the Shuffle Play button to turn off the feature, then click again to turn on it.

Or click the three-dot menu in the upper left corner and navigate to Playback > Shuffle. If nothing works, restart the app.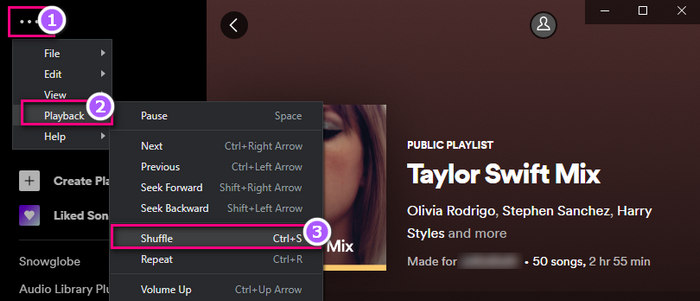 1. Click the Shuffle Play button next to the Play button in the mobile application.
2. Click it again and select the Shuffle option.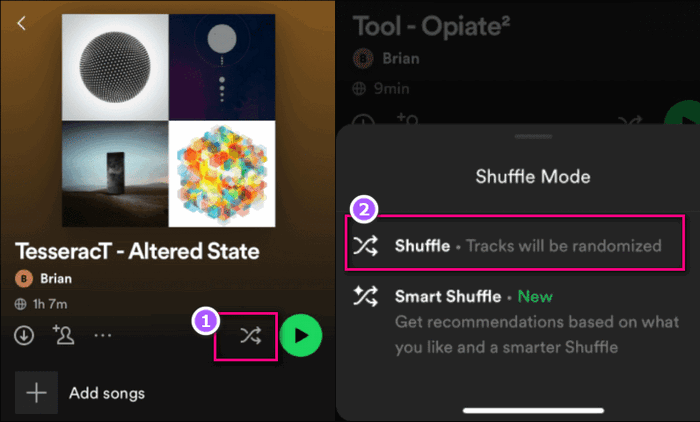 3. If nothing works, restart the app.
Method 2: Log out and sign back in to Spotify
1. Visit the official Spotify website in your PC browser and log in to your account. Once you are logged in, click the Profile icon in the upper right corner > tap Account.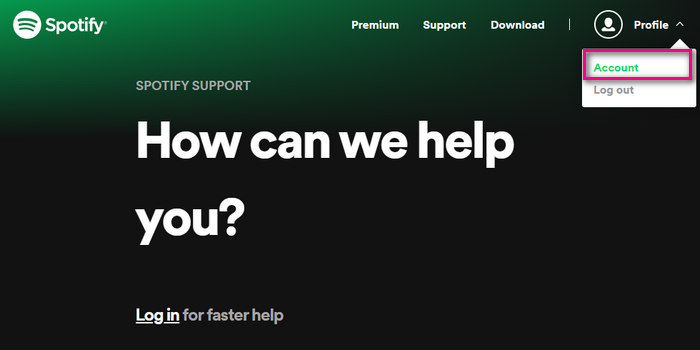 2. Select Account Overview in the left-hand column, then scroll to the bottom on the right.
3. Click Sign out everywhere.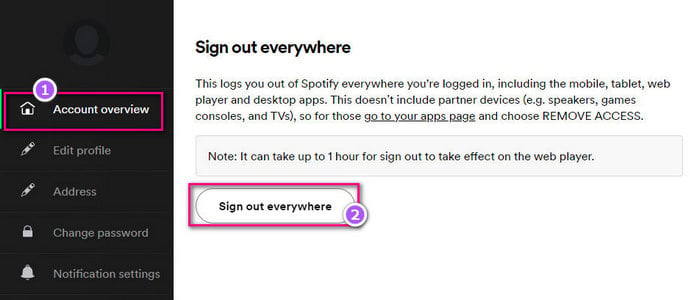 Final Words
This article is mainly focused on switching off Spotify Shuffle Play, but actually, Shuffle Play does have its benefits. If you suddenly feel a bit bored and monotonous, like the sun rising from the east and setting from the west every day, just put on your headphones and turn on your favorite song list. Tap the Shuffle Play button, hoping to give control to the player and the algorithm and let them bring you a bit of novelty.
Maybe you can try to use AudiFab Spotify Music Converter to download Spotify music locally. With the help of AudiFab, you'll have a different experience than you've ever had listening to Spotify songs before. You can simply listen to music without being limited by a device, music player, or mobile data. Plus, The Spotify songs downloaded by AudiFab are in the original audio quality and never expire.
AudiFab Spotify Music Converter is free to try. It can be downloaded for free and converts the first minute of each audio file for sample testing. If the program meets your need, you can buy a license to unlock the time limit.