Spotify is a streaming music service platform. It will generate automatic recommendations based on your usual listening style, and the algorithm is very accurate. Spotify supports PC/Android/Apple iOS systems, providing you with Free and Premium services. Now, Spotify has been officially authorized by several major global record companies such as Warner Music, Sony, and EMI, and the music it provides is genuine high-fidelity sound quality.
In addition to providing online listening, Spotify can also download music locally for offline listening, and it can be played on both computers and mobile phones. We have already introduced to you how to listen to Spotify music offline on Win/Mac computer, so today we can take a look at how to listen to Spotify music offline on an Android phone. The following article will introduce you to two methods to play Spotify music offline on Android phones, and the second one works even for Spotify Free users. If you're interested, read on!
As long as you have Spotify Premium, you can download any song or album on Mac, Windows, iOS, and Android devices. Now let's see how to download a playlist of "Liked Songs". This method works with any playlist in Your Library.
To do this, open the Spotify app on your Android device first. If you haven't installed Spotify on your Android device, you can download it from Google Play or Amazon.
Step 1. Once you have successfully opened the Spotify app, navigate to the "Your Library" tab.
Step 2. In the "Music" > "Playlists" section, tap the "Liked Songs" option.
Step 3. You will now see a large "Download" option at the top.
Step 4. Click the button next to it, make the button green, and Spotify will start downloading your favorite songs to your device.
If you don't want to download the playlist on "Liked Songs", but want to download only specific albums, you can move to next. Navigate to the album or playlist and click the "Download" button below the description. Music will be added to Your Library (but not to your Liked Songs). Spotify starts downloading songs as soon as you're on Wi-Fi.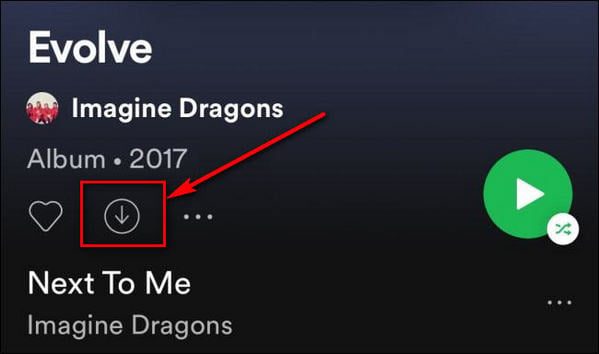 Tips: You can't directly download individual songs on Spotify. If you want to enable downloads over mobile data, you can do so by going to "Settings" > "Audio Quality" > toggle the "Download Using Cellular" option. Also, your need to go online at least once every 30 days to keep your downloads.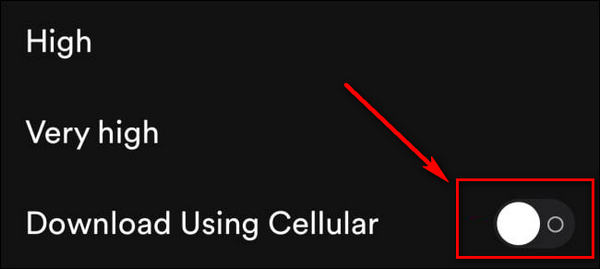 It is a widely known fact that the tracks you have downloaded on Spotify do not fully belong to you and you cannot stream them on any app other than Spotify. Additionally, after the Spotify subscription expires, all the content you downloaded becomes invalid. This seems to be a lot of limitations to enjoying Spotify music offline on your Android.
Therefore, we are gonna move on to the second approach, an approach that allows you to play Spotify music entirely on your own. With this method, you can break the restrictions of Spotify. Not only can you forever keep your Spotify tunes, but you can also play them on any music player outside of Spotify, such as AIMP, BlackPlayer EX, YouTube Music, and so on. It works not just for Spotify Premium but also for Spotify free users. Without further ado, let's check it out.
An alternative method to download Spotify songs to your Android phone is to utilize a handy tool - AudiFab Spotify Music Converter. This program can extract Spotify music files to your computer as MP3/AAC/WAV/FLAC/AIFF/ALAC, which you can then transfer the downloaded files to your Android device. It is a 100% clean program. There is no need to install any extra hardware to run AudiFab Spotify Music Converter, it is the only tool you need to download audio from Spotify to your local computer.
AudiFab Spotify Music Converter is easy to use. You just need four simple steps to save Spotify music to your local drive and then finally deliver the downloaded music files to your Android device. Install and open AudiFab Spotify Music Converter, select the Spotify music you want to save as local files, choose the output format and customize the output path, then click "Convert" to export files to your local computer. Here is the step-by-step tutorial:
Download, install and open AudiFab Spotify Music Converter
AudiFab Spotify Music Converter has Win/Mac version, so you can download the right version to match your computer. After downloading and installing successfully, you can open AudiFab Spotify Music Converter. Note that you can choose download music from App or Web.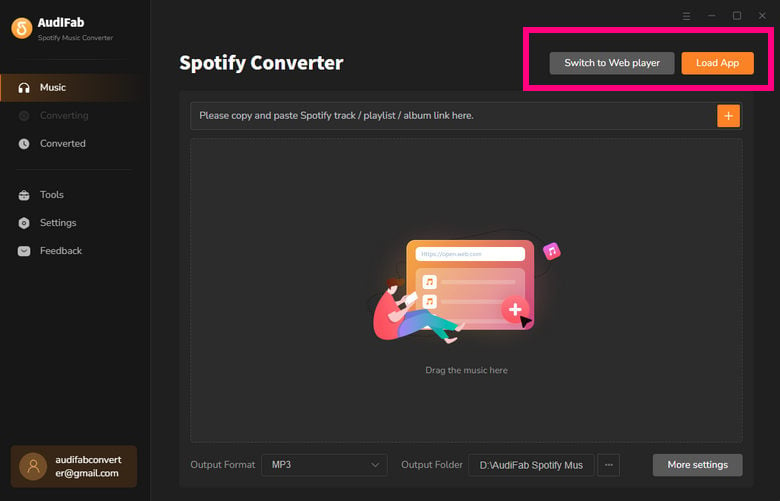 We suggest App for Win users and Web for Mac users. Now we choose App for better audio quality.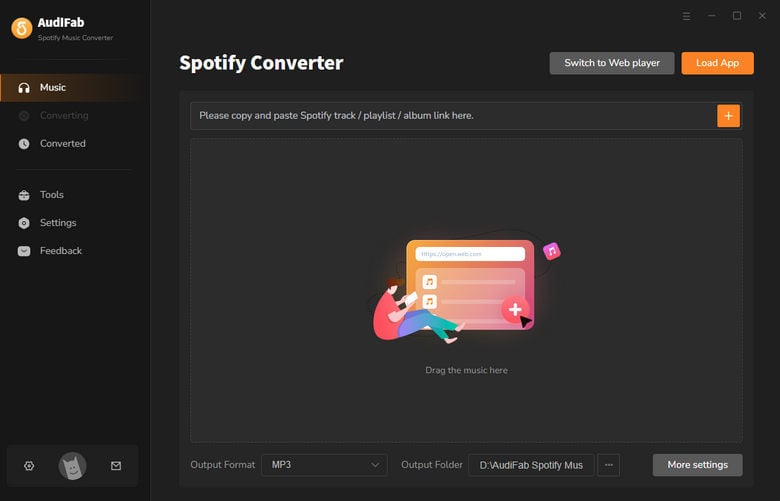 Import Spotify music to AudiFab
Choose a playlist/album from Spotify that you want to listen to offline on your Android phone, then drag or drop them to AudiFab. Then click "Add".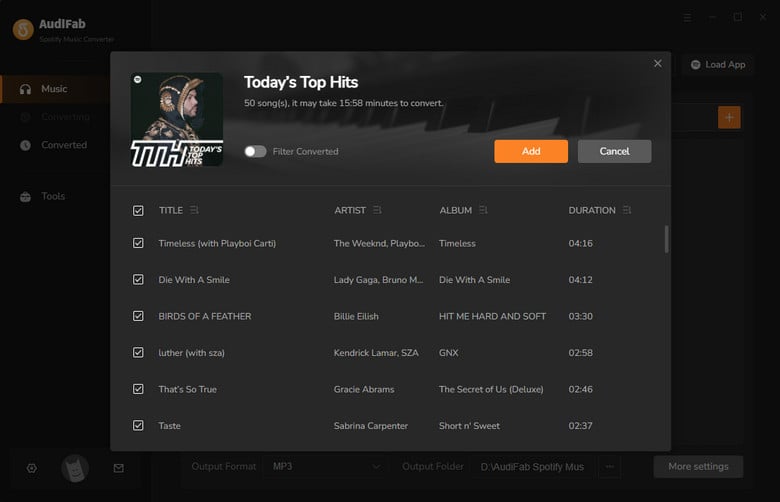 Convert Spotify music to MP3
Move the mouse to the bottom left corner, click the gear icon, and you will come to the Settings window. In this window, you can set the output folder, the sound quality, the output order, etc. Here we choose the MP3 as output format.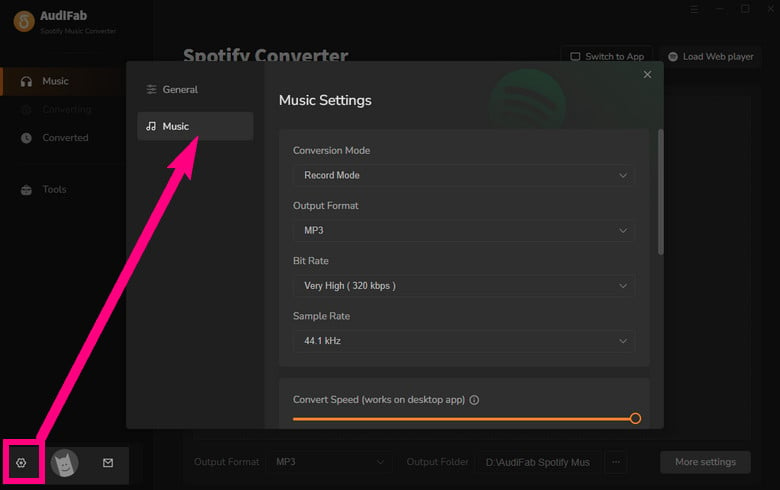 Tips: If you are using Mac and want to download songs at 10x fast speed, you can turn to record music by Web on the upper right.
Start to convert Spotify to MP3
After all, settings are completed, come to the Home interface. Click Convert and AudiFab starts to convert Spotify music to MP3.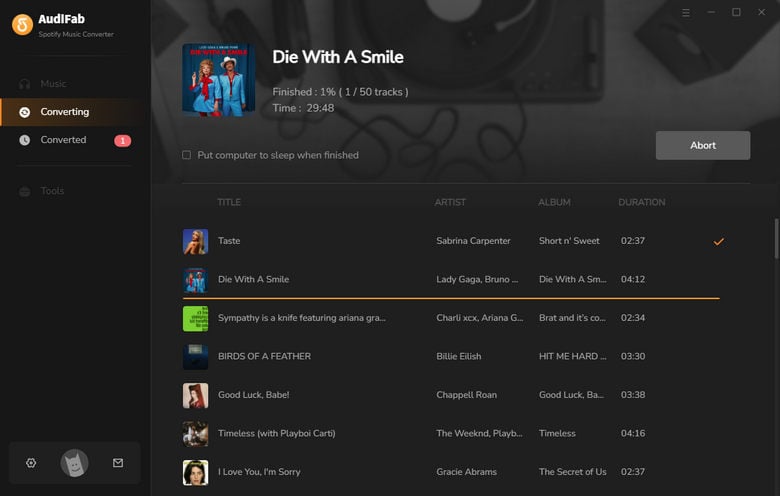 Check the downloaded files
After the download is complete, you can open the output file to check whether the converted songs can be played normally. Then you can add these files to your Android phone. Also, you can transfer these files to your MP3 player, Android TV, HomePod, etc.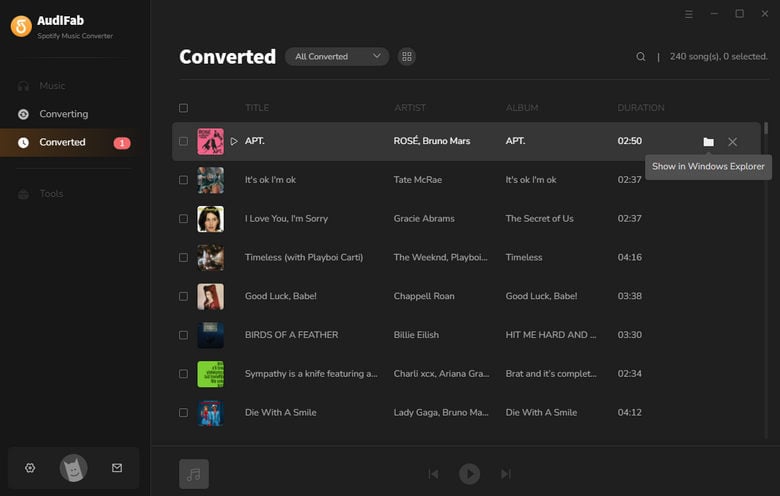 In this part, we will introduce you to four options on how to transfer Spotify downloads to Android phones for offline playing.
Option 1. Transfer Spotify downloads to Android phones via USB cable
With this method, you can easily transfer all types of Android data, including music files, between your computer and your phone.
Step 1. You need to connect your Android phone to the computer with a USB cable. For the first connection, you may need to click the Trust this PC button on your phone's screen.
Step 2. On the phone, you need to drag the "Notification" panel down from the top of the phone screen, click Charging this device via USB > This device > File Transfer
Step 3. You need to wait a few seconds to make sure the drive is successfully mounted on the computer. Then look for the specific folder that carries the song. This folder is usually called Music. You can also search for songs in the Media folder.
Step 4. After entering the "Music" folder, you can add the Spotify audio files you just downloaded on your computer to this phone.
Option 2. Transfer Spotify downloads to Android phones via Google Drive
The next option does not require any hardware accessories. You only need a Google account to transfer music from a PC to an Android.
Step 1. Open Google Drive. (You can upload from the web browser or your desktop app ).
Step 2. Click "+" > "File upload"/ "Folder Upload".
Step 3. Upload the file.
Or you can create or open a folder first, then drag the files you want to upload into the Google Drive folder. Go to your Android phone and open the Google Drive app. Find your songs and tap More Expand which is next to the file name and then tap Download. Now you can play Spotify songs offline on your phone.
Option 3. Transfer Spotify downloads to Android via Bluetooth
Another wireless option on how to transfer music from a PC to an Android is through Bluetooth. Most computer and Android devices support Bluetooth, you can check whether your computer or mobile phone supports Bluetooth. If you're interested in trying this transfer option, you can review the steps below:
Step 1. Turn on Bluetooth on your PC and Android Smartphone.
Step 2. Pair the devices and make sure they are compatible. It may send a code to confirm the pairing.
Step 3. On your computer, find the file you want to transfer to your Android phone. Right-click on the file and scroll to "Send to" > click "Bluetooth device" .
Step 4. Select the Android smartphone in the list and wait for the transfer to start.
Step 5. Click "Finish" when the transfer is complete.
Note: The only downside to using Bluetooth is that you can't send larger files.
Option 4. Transfer Spotify downloads to Android via Syncios
Besides the above methods, you can also use a tool called Syncios Mobile Manager. Using this tool you can also back up your Android phone data. Here are the detailed steps:
Step 1. Download, install and launch the Syncios Manager tool on your computer.
Step 2. Connect your Android phone to your computer via a USB cable.
Step 3. After the manager tool detects your device, you can import your music to your phone without any quality loss.
Step 4. Click on My devices > Media on the left panel, hit Add then select the music from your computer to copy to your phone. (Drag and Drop is also available) .
Can I download tracks from Spotify without Premium?
Of course, with the help of AudiFab Spotify Music Converter, whether you are a Spotify Free or Premium user, you can download Spotify music locally and then transfer them to your Android phone or other devices.
Can I keep the downloaded Spotify files forever?
AudiFab has already downloaded the Spotify files as MP3s for you, so you can enjoy them permanently!
What is the best free offline music player on Android?
There are many Android music players with excellent features on the market, and you can choose one according to your needs. A few of the more popular players are listed here: Musify, Pulsar, AIMP, SoundCloud, VLC Media Player on Android, MusicBee, etc. 

Can we use AudiFab Spotify Music Converter on Android phones?
There is no mobile version of AudiFab Spotify Music Converter yet. You can use AudiFab on Win and Mac.
Conclusion
Finally, thank you for reading. Now you may know how to play Spotify music offline on your Android phone. If you are a Spotify Premium and you like to listen to Spotify music on its app, the first method can be useful for you. If you are in another case, method two is your best choice.
Method 2 uses a tool called AudiFab Spotify Music Converter, which can help you download Spotify music files as local MP3 files so that you can transfer them to your Android phone and listen to them without any restrictions. And AudiFab will also help you to preserve the original audio quality, allowing you to enjoy the same sound quality as the Spotify app.
AudiFab is free to try. It can be downloaded for free and converts the first minute of each audio file for sample testing. If the program meets your need, you can buy a license to unlock the time limit.