Many people don't like the ringtones that come with their Android phones. Want to keep changing the latest, best, and most popular ringtones every day? If you have the same idea, congratulations, this article will provide you with the best way to download high-quality songs as your Android ringtones. 
As a Spotify user, you probably know that Spotify has collected more than 100 million songs of genuine high-quality music to bring you a feast of listening. On Spotify, the world's most popular and latest music is available, new songs are added and more wonderful music is discovered every day. It would be great if you can set the music on Spotify as your ringtone. Then, let's see if it works.
Tips: If you want to set Spotify as an Apple ringtone, you can refer to another article: How to Set Spotify Music as Ringtone on iPhone.
You'll be impressed with the high quality of Spotify music. Now we have a piece of good news for you, it is completely feasible to make Spotify music as a ringtone for your Android phone. But due to the limitation of Spotify, downloaded music tracks are protected and can't be moved to unsupported devices or played properly outside the Spotify app. So to set Spotify songs as ringtones for your Android, the first thing you have to do is use a tool to convert Spotify music to a format that can be used as a ringtone and then save it as a real audio file on your local disk.
---
The audio files in supported formats - MP3, M4A, WAV, or OGG - can be used as your ringtone.
---
AudiFab Spotify Music Converter is a professional Spotify music as ringtones tool for both Spotify Free and Spotify Premium used to rip Spotify songs, playlists, albums, podcasts, and radios as MP3, AAC, WAV, AIFF, ALAC, or FLAC files. It supports 10X faster conversion speed, keeps lossless audio quality, and retains ID3 tags after conversion. In this way, you can enjoy any high-audio quality Spotify music ringtones.
Some people may need to convert local audio files to MP3/M4A/FLAC/WAV/OGG/AIFF, burn music to CD, or edit ID3 tags. Finding a reliable tool to do this will be a time-consuming process. In fact, turning to other applications is no need, because AudiFab Spotify Music Converter can help you achieve all of the above. You can find all the useful features in the "Tools" section of AudiFab.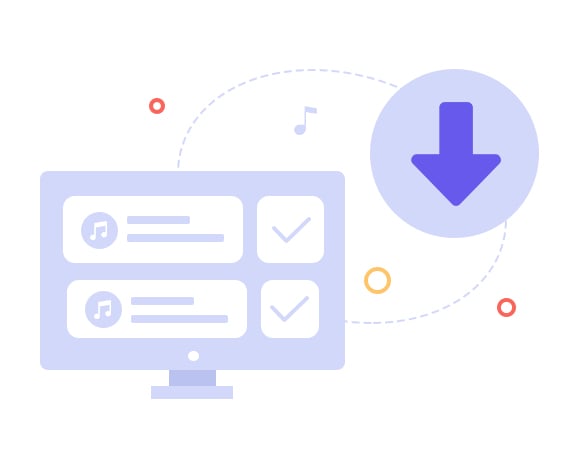 AudiFab Spotify Music Converter
Download music from the Spotify app to the computer.
Convert Spotify music to MP3/AAC/WAV/FLAC/AIFF/ALAC.
Keep original audio quality, ID3 tags and lyrics after conversion.
One click to burn Spotify music to CD.
Free updates and technical support.
Now, let us see how to use AudiFab Spotify Music Converter to download Spotify Music on your local drive, so you can easily change Spotify music as an Android ringtone.
Run AudiFab Spotify Music Converter.
Both the Windows and Mac versions of AudiFab Spotify Music Downloader are available. Choose the right version to download on your PC. When the installation is completed, launch this program, then tap App. The Spotify app will open at the same time.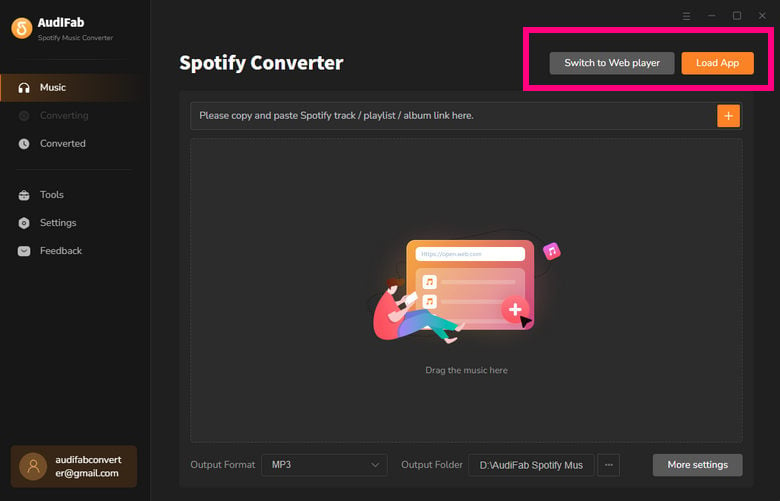 Tips: Mac users can choose Web for 10x speed conversion.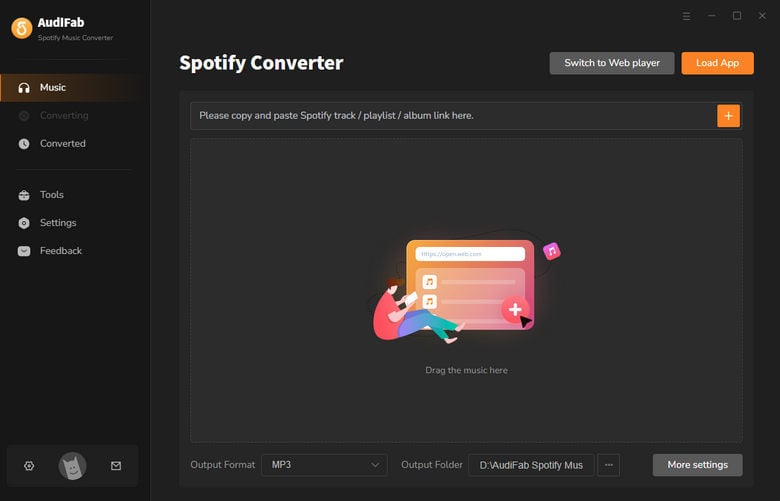 Add Spotify Music Playlist(s) to Download
On the Spotify app, go through the music library to locate the track, album, or playlist you want, or search for the desired track directly. Then drag the song, album, or playlist to AudiFab.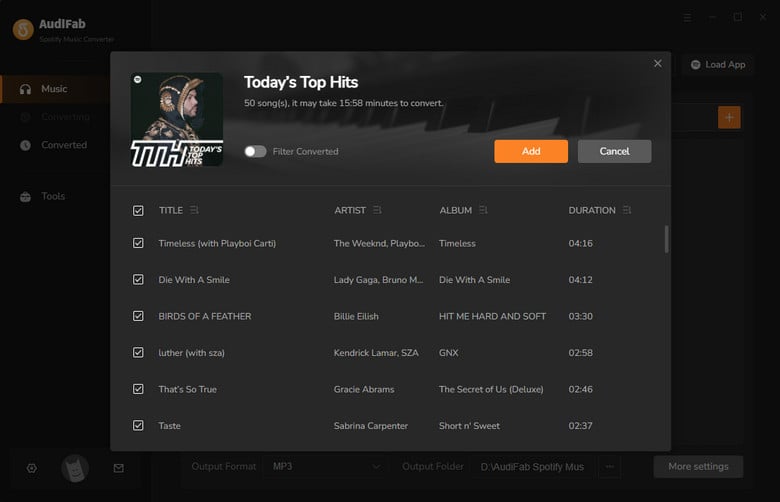 Choose MP3 as the Output Format.
Click the "Settings" button on the bottom left to go to the Settings page and it's time to customize the output settings. Here you can choose the output format (MP3, AAC, FLAC, AIFF, WAV, or ALAC), select the output quality, designate the output path, sort out the ripped Spotify music by Artist, Album, Artist/Album or Album/Artist, Playlist or None. Please select "MP3" as the output format here.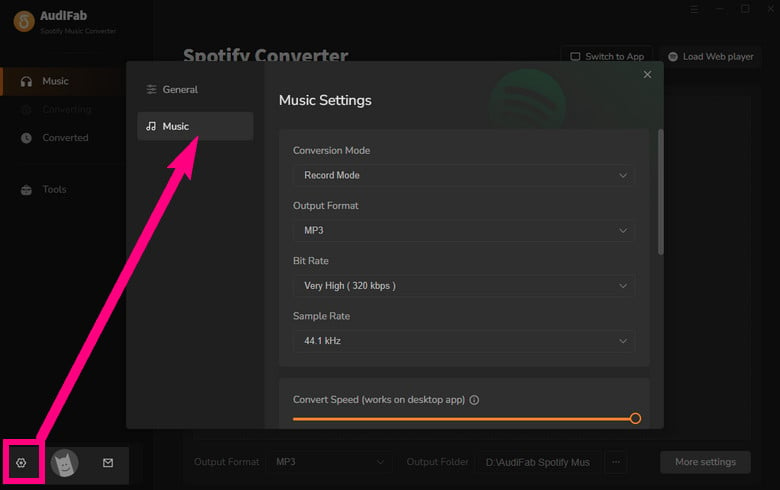 Download Spotify Songs in MP3 Format Files
Click on the Convert button from the main screen to convert the Spotify songs to MP3 format. Currently, AudiFab supports ripping Spotify music at 10X faster conversion speed.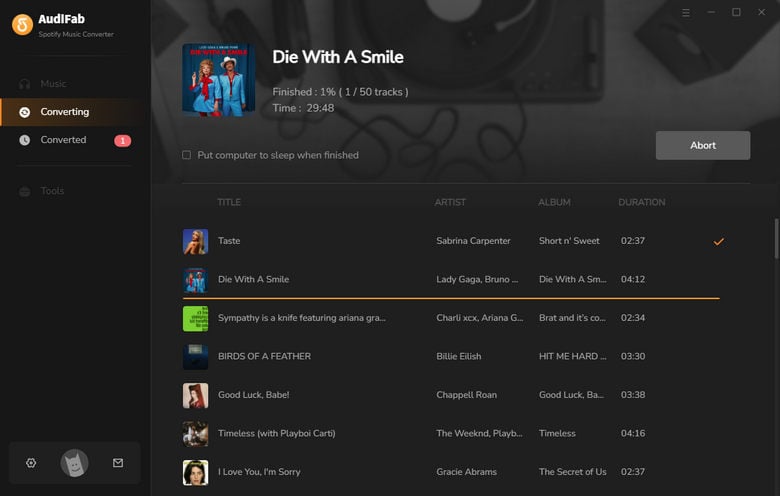 Find Converted Songs on your computer
You can check the converted songs in MP3 format on the Converted section on the left side or directly on the local folder you customized in Step 3. You can enjoy the music anytime & anywhere now!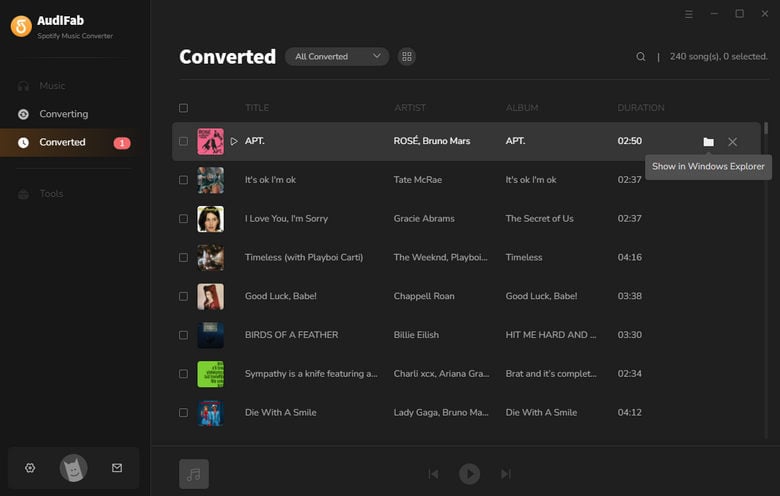 ---
After successfully get downloaded Spotify music in plain format, we can go next step.
Set ringtone on Android without additional App.
Tips: The following method works with most Android devices, The specific key names may be slightly different.
1. Connect your Android phone to the computer with a USB cable.
2. On your phone, drag the "Notification" panel down and click Charging this device via USB > This device > File Transfer.
3. Drag your downloaded Spotify Songs from your computer to Android phones.
4. Open Settings on your device.
5. Select "Sounds & notifications" or "Sounds".
6. Click on "Ringtone" or "Phone Ringtone". Then a list with available ringtones is open on your device.
7. Click a ringtone to preview the ringtone effect.
8. Click "OK" to save the ringtone.
Now, when you receive a call, the newly set default ringtone will sound.
Set Ringtone on Android with Syncios Mobile Manager.
Syncios Mobile Manager can help you manage your media collection in a way you like. That is a tool with a Ringtone Maker function built in Syncios Mobile Manager, which is more secure, and easier to customize songs as ringtones, including messages notification sounds. You can take any song from your PC to the music track and tailor it into both messages notification sound and phone ringtone.
1. Run Syncios Mobile Manager on your computer.
Tips: If you are using Windows, please run Syncios Toolkit and tap into the 'Mobile Manager' module.
2. Import the converted MP3 track from the PC to the pop-up window.
3. Edit the segment you want for the ringtone.
4. Click the "Import to device" button.
5. Set the song on Spotify to be your ringtone.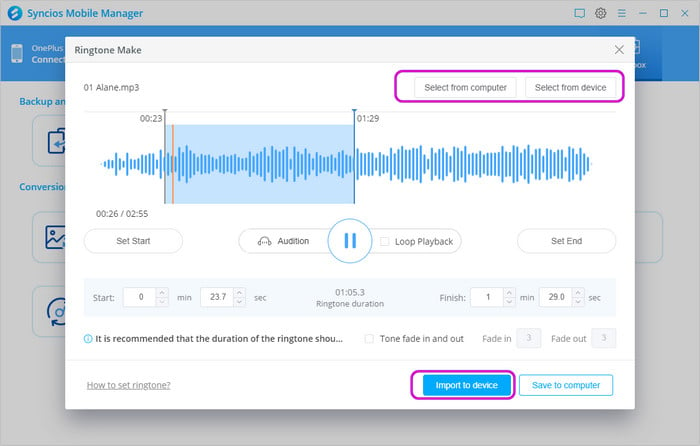 Set a ringtone for a specific contact on the Android.
Generally, incoming calls from mobile phones have the same ringtone, but if it is a close person or a special person, how to set an exclusive ringtone for him/her? In fact, you can assign different ringtones to different contacts so that you will know who is calling you as soon as you hear the ringtone. The specific setting operation depends on the phone model, but the general operation is the same. To set specific ringtones for contact, follow these steps.
1. Select the audio file .MP3 format that you want to set as a ringtone and put it in the 'Ringtones' folder of your Android phone. You can do this via a PC or through a file manager app on your device.
2. Find and open the application called Contact on your phone.
3. Click on the specific contact you want to set up. Some devices allow you to set a ringtone for a group of contacts.
4. Click the "Edit" button, which is usually a pencil icon.
5. Find and tap the "Ringtones" option. Its location depends on the device you're using.
▪ On Samsung devices, it's at the bottom of Contacts.
▪ On other devices: tap two or a three-dotted menu button and find the "Set Ringtone" option.
6. Now select your favorite ringtone and tap on OK.
---
1. Die for you by The Weeknd
If you get up on the wrong side of the bed, try this song. It's a simple, upbeat song with a moderate overall volume, which makes it perfect as a wake-up call, so you don't have to worry that it's going to annoy you and make you even more reluctant to get up.
2. So:Lo by Kate Havnevik
Although this English song is not unpopular, I rarely meet people who use this as a ringtone in real life. The multi-track vocals of the lead singer Kate Havnevik are not only very recognizable but also have a freshness brought by the rhythm of the guitar. It is not noisy when set as a ringtone, but has the effect of a crescendo reminder.
3. Love Yourself (Relaxing) by JUSTIN BIEBER
4. Best Ringtones of the Movie Soundtracks
5. Best Ringtones
6. 100 Amazing Ringtones
---
1. Zedge
Zedge is a practical website to collect and organize a large number of mobile phone ringtones, special effects music, and wallpaper images for everyone to download, and provides a platform for file uploading and communication, allowing creators to upload and share by themselves.
Compared with other similar websites, the operation interface of Zedge is relatively simple. In addition to providing preview and audition functions, the download button is also much easier to find than other similar websites.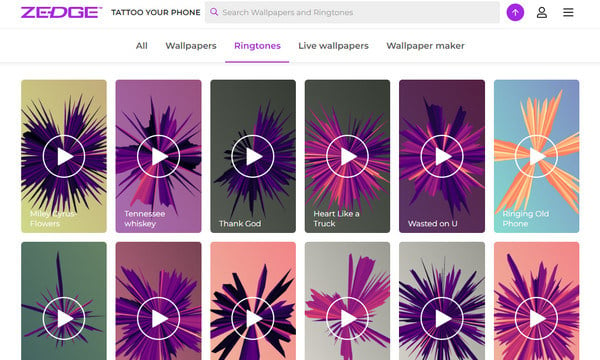 2. FreeTone
On FreeTone, you can listen to and download the most popular mobile ringtones.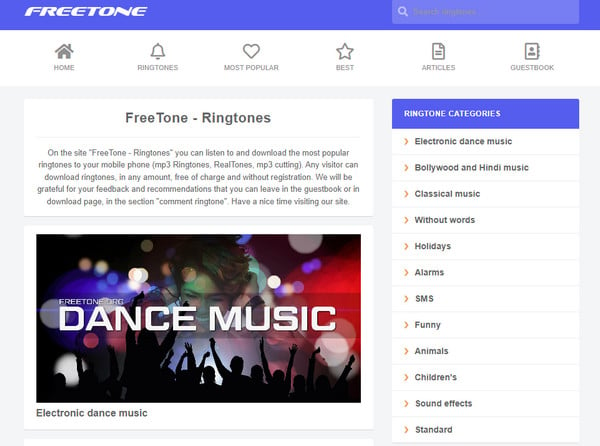 3. MyTinyPhone
MyTinyPhone
provides you with many personal settings and apps to personalize your iPhone or Android, including ringtones, wallpapers, themes, games, and more.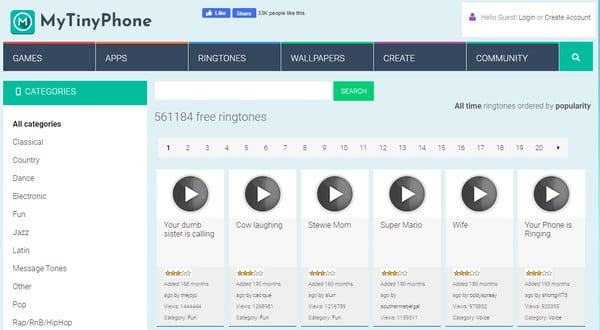 Free Ringtones for Android and iPhone – Make/Download Free Ringtones Online.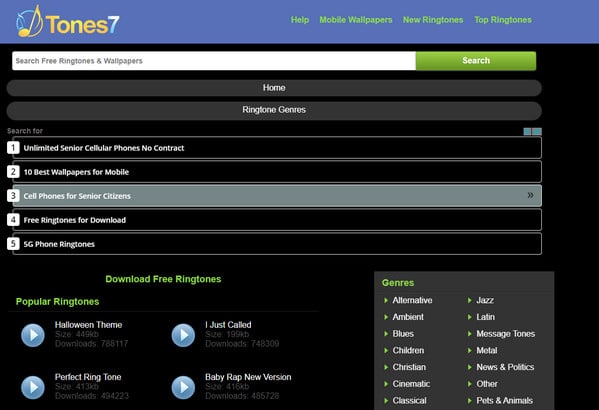 ---
Can the Spotify music downloaded by AudiFab be transferred to other devices?
Yes. After the downloads are complete, you can use them as you like. You can transfer them to different devices for playback, such as mobile phones, tablets, mp3, add them to video editing software as background music, burn CD, etc.
Is AudiFab available for Spotify Free and Premium users?
Yes. AudiFab can help both Spotify Free and Premium users download Spotify music to their computers.
Is AudiFab Spotify Music Converter free?
AudiFab can be tried for free, if you think it meets your needs, you can purchase a license to unlock the restrictions.
People cannot lose their exploration of life due to busy pressure. When we are tired of being the same, maybe we can start with small things like changing ringtones to add some fun and stimulate enthusiasm for life.
Conclusion
Tired of boring default ringtones for Android? Is it embarrassing to ring the bell with co-workers in the office? Have you considered setting an exclusive ringtone for your partner? Then set Spotify tracks as ringtones for your Android. To turn a Spotify song into your Android as a ringtone, you have to first turn that song into an offline local file in a compatible audio format (MP3, M4A, WAV, or OGG). But how could you make Spotify music turn into these formats?
AudiFab Spotify Music Converter is your answer who carries out the mission to convert Spotify Music to MP3/AAC/WAV/FLAC/AIFF/ALAC. What's more, AudiFab allows you to save all Spotify downloads to your local drive, thus you can freely sync them to mobile phones for multiple possibilities of use.
AudiFab Spotify Music Converter is free to try. It can be downloaded for free and converts the first minute of each audio file for sample testing. If the program meets your need, you can buy a license to unlock the time limit.