---
Three - Transfer Offline Amazon Music to Spotify Music
Downloading Amazon Music to plain format could be the only way to transfer them to Spotify Music – then you can enjoy your favorite tracks on Google Nest and switch songs using its smart speaker. Concomitantly, you don't have to waste your Amazon membership and at the same time still keep your playlist collections.
To transfer Amazon Music to Spotify Music, the first thing you should do is to know where does Amazon Music save. Then, if you successfully found the folder that has been specified for saving downloaded songs, you definitely would be disappointed – there are cache, instead of playable files for Spotify Music. In this case, we have to rely upon a third-party tool to help us with this!
AudiFab Amazon Music Converter is a useful and friendly tool to help you download Amazon Music to plain format: MP3, AAC, WAV, FLAC, AIFF, and ALAC. The greatest feature of AudiFab is that it will automatically remain the original sound quality of the tracks – that means you can even still enjoy the ultimate HD/Ultra HD quality of Amazon Music.
With this amazing app, you can easily transfer Amazon Music to Spotify Music, thus enabling you to enjoy playing Amazon tracks on Google Nest with the command of its smart speaker. As for the potential chaos, you will never have the chance to worry about that – AudiFab supports retaining a whole set of ID3 tags of the converted songs and outputting them in the pristine order of the playlist.
AudiFab Amazon Music Converter supports both Windows & Mac versions.
Let's review the summary of its features: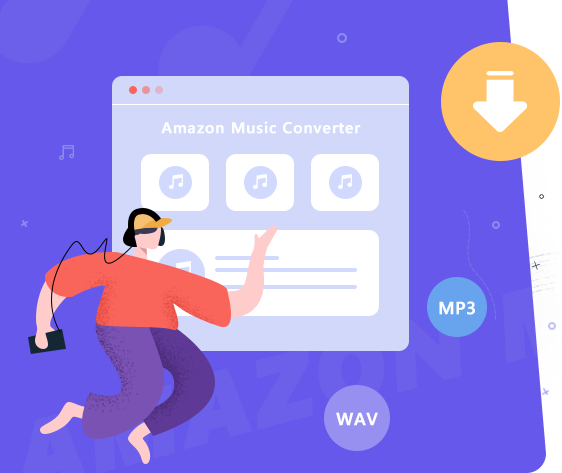 AudiFab Amazon Music Converter
Download Amazon Music with the original audio quality kept.
Convert Amazon Music to MP3/AAC/FLAC/WAV/AIFF/ALAC swiftly.
Remain the ID3 Tags information and lyrics of tracks after conversion.
Permanently save Amazon Music for offline listening.
Enjoy free updates & technical support.

Try It Free

Try It Free
*For macOS 10.14 or below, download V1.3.4.
Now we are going to learn how to use AudiFab Amazon Music Converter to download Amazon Music to plain format, let's read!
Double-click AudiFab Amazon Music Converter
You can get AudiFab Amazon Music Converter installed on your computer from the link above, then double-click to open it after installation, then choose App download. The program interface will be appeared as the below screenshot.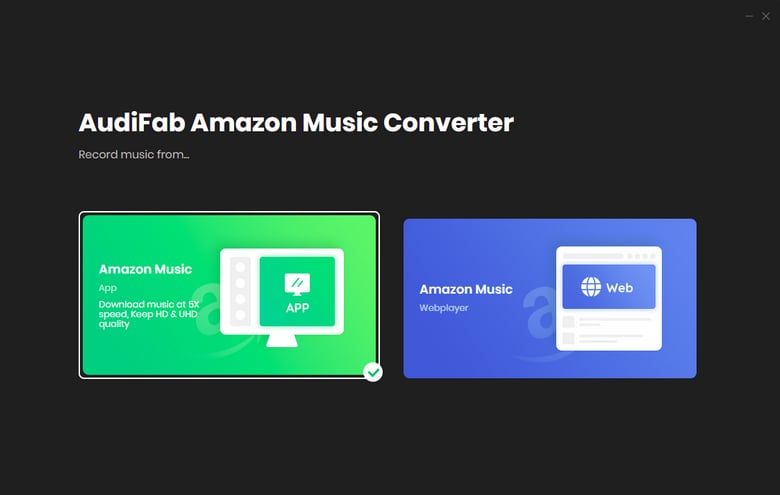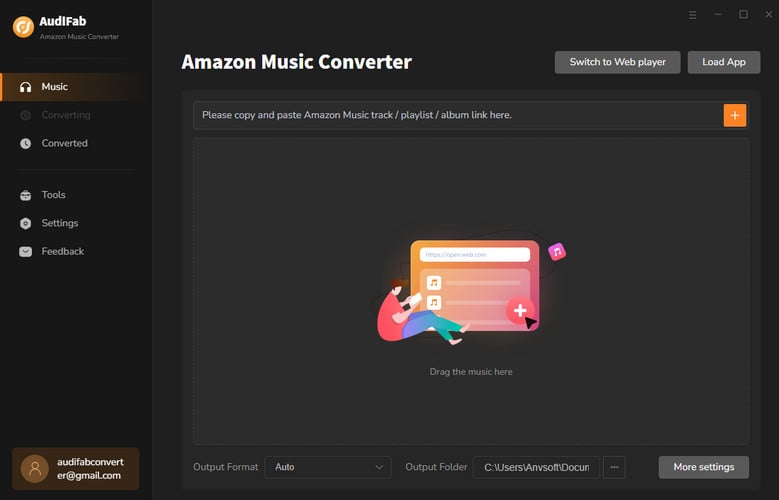 Note: Amazon Music will automatically run as you choose record music by app or web on AudiFab, but please do not operate the Amazon Music app/web while in conversion. It's normal that Amazon Music will be muted during the conversion, and it will be back to normal when the whole thing is done.
Drag & Drop Amazon Music to AudiFab
Please take a look at the Amazon Music app and decide which playlist you want to download, then drag & drop the song/album/playlist to AudiFab. It will parse the link automatically. With the poping-up window of the song list, you can simply single out the songs that you want to convert, then click 'Add'.
Note: There is no maximum for the one-time conversion, but for each playlist, you can only select up to 500 songs at one time.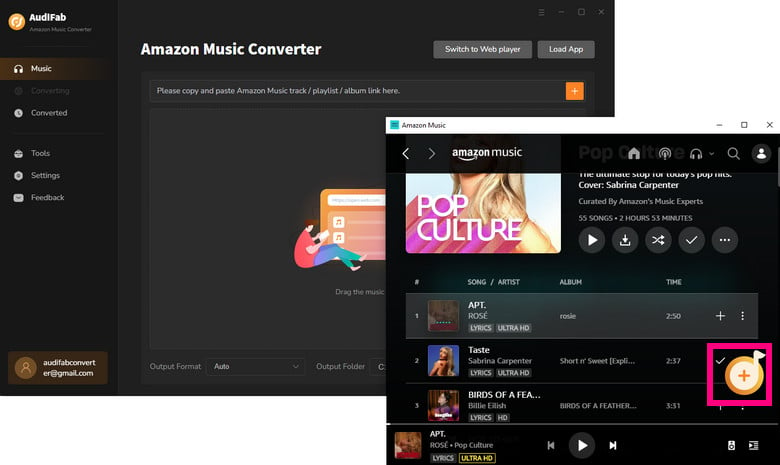 Optimize the Output Settings
There are multiple choices for you to choose to get your preferred settings. Here we recommend you to download Amazon Music as MP3, for that the format is supported by most of the electronic devices -- so you will be able to play them on other players if you want. Other settings can be adjusted to your preference.
Output Format: MP3, AAC, WAV, FLAC, AIFF, ALAC
Output Quality: 128kbps, 192kbps, 256kbps, 320kbps
Sample Rate: 44.1kHz, 48kHz, 96kHz, 192kHz
Output File Name: Tract Number, Title, Artists, Albums, Year, Playlist Index
Output Organized: None, Artist, Album, Artist/Album, Album/Artist, Playlists, etc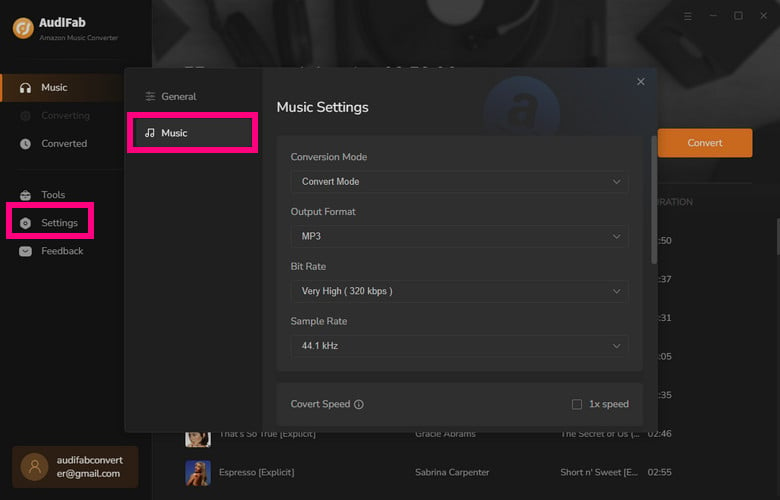 Start Downloading Amazon Music
Click Convert from Home, the whole downloading process will immediately start. AudiFab supports high-speed conversion, so it won't take much time for you to have the plain format files of Amazon Music.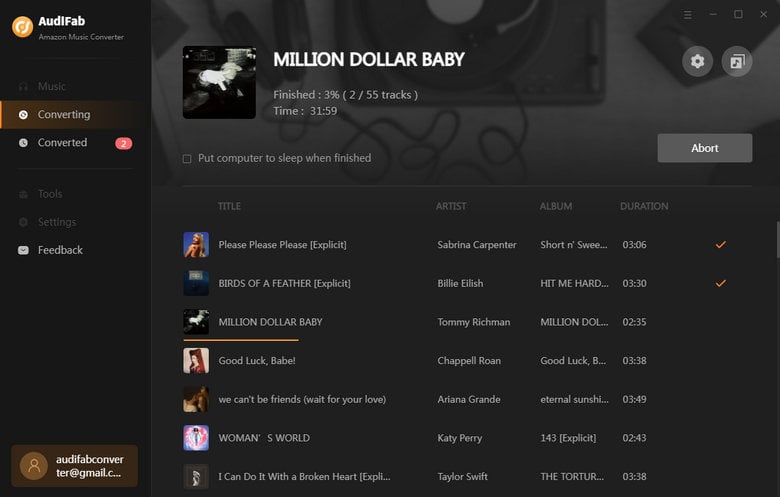 Tips: Webplayer download supports 10x speed conversion.
Transfer Amazon Music to Spotify Music
When the whole process is finished, please go to the 'Converted' section to check your downloaded files. As you move your cursor closer to the downloaded songs, a small folder icon will pop up, then you can click it to locate your specified folder.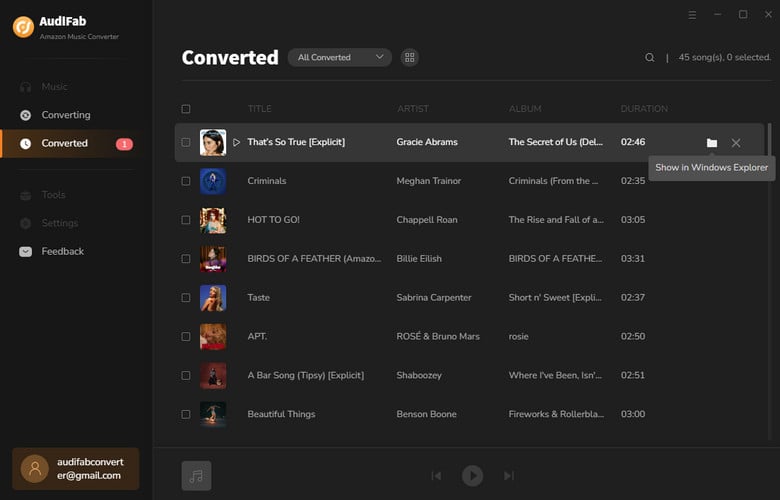 Now you can open Spotify Music to upload your downloaded Amazon tracks. Go to the settings of the app, and you will find there is an option for you to show local files. Enable the 'Local Files' option, click 'Add a Source', then choose the folder that you specified for saving downloaded songs. When the songs have been uploaded, you will be able to find them in your Spotify Library. Then connect the Spotify Music app to Google Nest, you will be able to play Amazon Music on Google Nest with its smart speaker!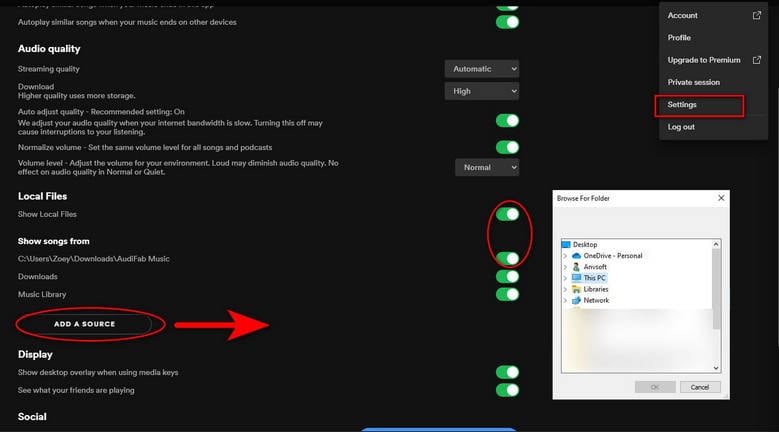 Final Words
The article introduces three ways of playing Amazon Music on Google Nest, and you can choose your preferred way to enjoy your tracks! Method 1 and Method 2 could be useful to a degree, but they all require users to operate Amazon Music on Google Nest with a specific app or device, which is not friendly to all, so we need a more flexible way.
Comparatively, Method 3 is the one that benefits all and enables users to directly play Amazon Music on Google Nest with its smart speaker. If you also want to listen to Amazon Music offline and need a working program to download them, don't forget AudiFab Amazon Music Converter could be the one you need!
Note: For trial users, AudiFab offers 1-minute free conversion for each song. To explore more features of AudiFab Amazon Music Converter, please buy the full version.