Music is the most indispensable spice in life, with the development of technology and the general environment, from CD - MP3 - APP, the way we listen to songs has been changing, and nowadays streaming media has become the primary channel for listening to music for most people. Among streaming music, Spotify has a wide range of music. Not just released albums, but also live music and new singles. Even the most niche music can be found on it. Plus, Spotify app is compatible with common devices, such as Windows, iPhone, Android devices, iOS, and Linux. The Spotify webplayer is accessible on all devices with the Internet.
Even so, due to the feature of streaming media, Spotify still doesn't fully satisfy the needs of some users, such as users who need to play Spotify music in some specific players. That's the point of this article, to solve the problem for Spotify Premium and Spotify Free users of how to play Spotify music on another player. This article will then go into detail about the reasons why Spotify cannot be played on other music players directly, how to play Spotify music playable on other music players, and frequently asked questions.
* The method introduced below is 100% easy to follow. Therefore, you don't have to worry that you are not computer savvy.
Spotify Music is known for its wide compatibility on multiple devices, such as Windows, iPhone, Android devices, iOS, Linux, MeeGo, Open Pandora, OS X, Roku, S60, Sonos, Playstation 3 and 4, Smart TV, etc. Although there are so many devices that support Spotify, music from Spotify can only be played on the Spotify app or web player, not on other music players. Even if you upgrade your account to Spotify Premium for downloading files from Spotify, you cannot transfer these downloads to other music players for offline playing and once your Premium subscription expires, all downloaded songs will also disappear.
These are all because Spotify belongs to streaming music and while there is a lot of music available to listen to, none of it is entirely yours, and all its downloads are encrypted. However, If you want to listen to Spotify music on other music players, it is not impossible. The answer is revealed below.
Want to enjoy Spotify music on other music player players? You need the help of a Spotify Music Converter. You may feel overwhelmed when faced with so many choices in the market, but it doesn't matter that AudiFab will be your best choice. AudiFab Spotify Music Converter is a software specially designed for Spotify users to download Spotify music in MP3/AAC/WAV/FLAC/AIFF/ALAC format. With AudiFab, you can permanently save high-quality Spotify music files with ID3 tags, such as title, artist, album, artwork, track number, disc number, and year, so that you can transfer these files to other music players to enjoy, allowing you to listen to Spotify music without restrictions. You can see the main functions of AudiFab listed below: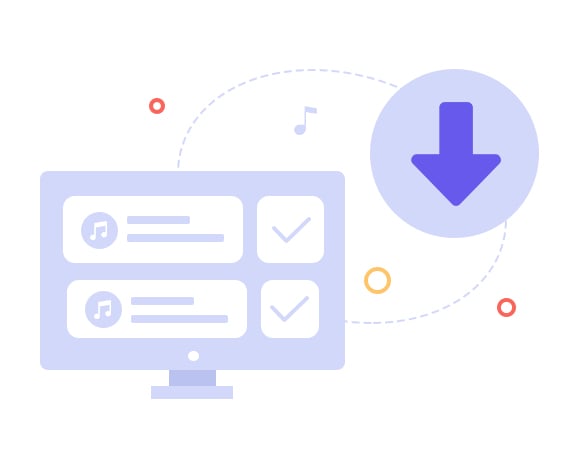 AudiFab Spotify Music Converter
Download music from the Spotify App to the computer.
Convert Spotify playlist to MP3/AAC/WAV/FLAC/AIFF/ALAC.
Keep original audio quality, ID3 tags and lyrics after conversion.
One click to burn Spotify music to CD.
Free updates and technical support.
Now we will start downloading Spotify music as MP3 to transfer Spotify music to other music players for playback. First, remember to download the AudiFab Spotify Music Converter for your computer.
Open AudiFab Spotify Music Converter
Double-click to launch AudiFab Spotify Music Converter, and Spotify will also open at the same time.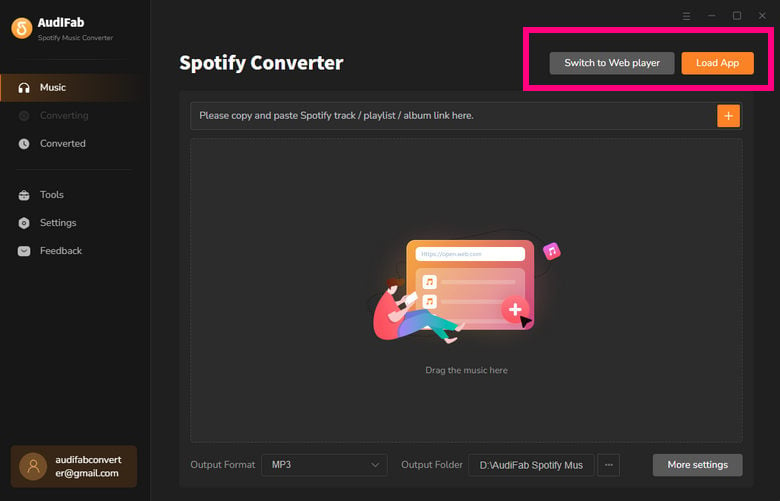 Choose App or Webplayer. For quick conversion, use Webplayer; for high-quality audio, use App.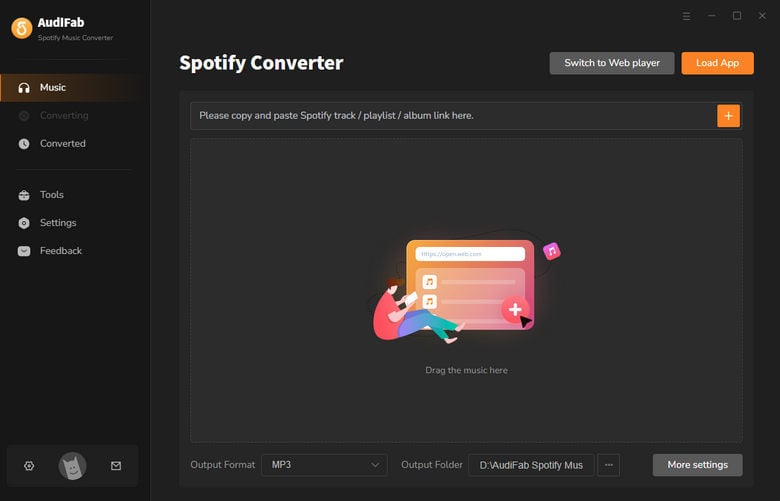 Import Spotify music to AudiFab
Drag and drop the Spotify music you want to play on other music players into AudiFab. After checking the list to download, click Add.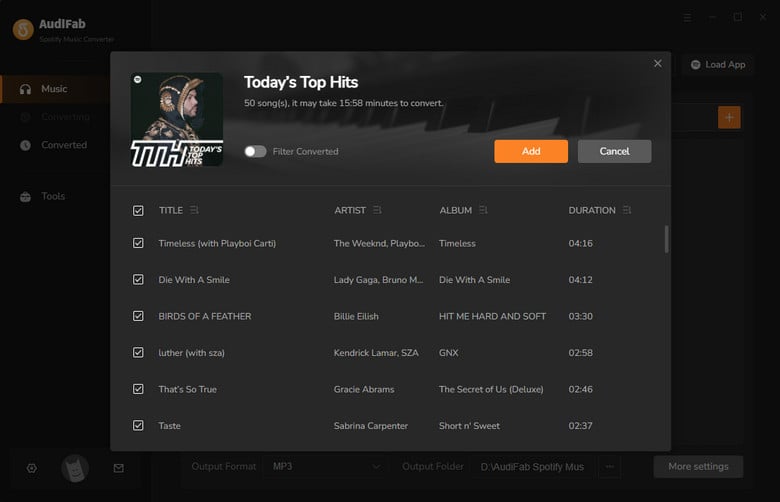 Set the output format to MP3
Click the settings button in the bottom left corner, and the settings window will open. Here, you can set the output format, output order, output folder, etc. Here we set the output format to MP3, which is a format supported by almost all music players.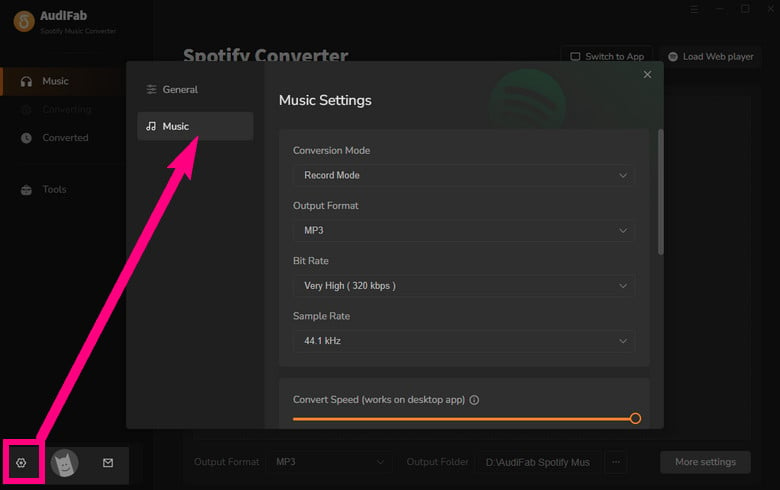 Start exporting Spotify as MP3
After the settings are complete, simply click the Convert button on main display to start converting Spotify music into songs that can be played by other music players.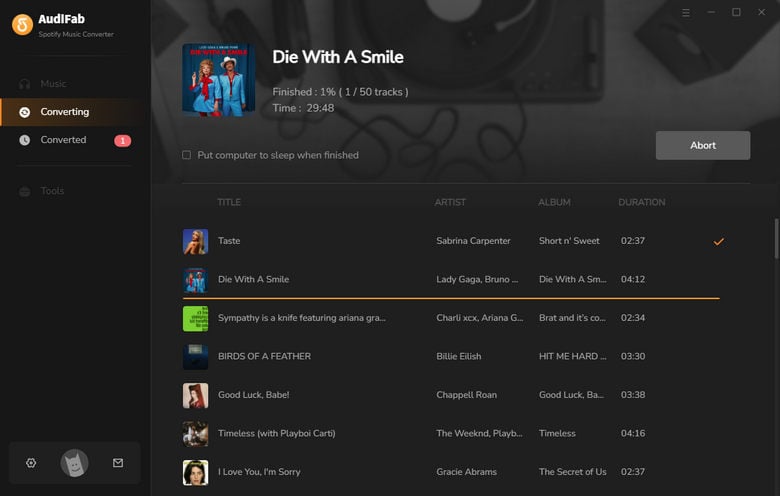 Play Spotify music on other music players
When Spotify is successfully downloaded as MP3, the output folder will pop up automatically. At this time, you can directly drag and drop the music to other music players to play, or right-click a song > Move the mouse to "Open with", and then select the music player you want to use to listen to Spotify songs. Now you can fully enjoy the happiness that music brings to you.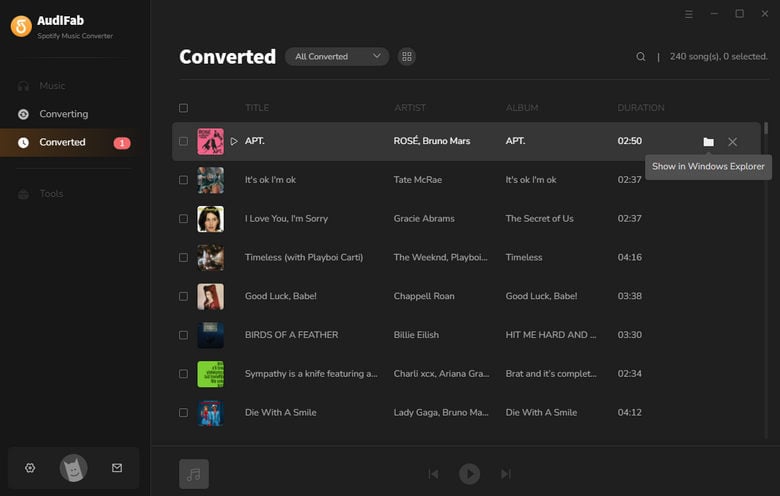 Can all music players play the music downloaded with AudiFab?
Whether the music player can play the music downloaded by AudiFab depends on the downloaded music format. If the downloaded music format is mp3, then almost any music player can play it.
What are the best free music players?
The following are some of the more popular music players on the market, you can pick according to your needs.
PowerDVD (Windows, Android, and iOS )
Groove Music (Windows and Android)
Vox (Windows and iOS)
Macgo Media Player (Windows)
Winamp (Windows, Android, and iOS)
VLC media player (Windows, Android, iOS, Linux)
Does AudiFab have a mobile version?
At present, AudiFab only supports Windows and Mac, and there is no mobile version. You can use AudiFab to download Spotify music locally and then transfer the downloads to your device.
Can I burn the MP3 files downloaded with AudiFab to CD?
Certainly. And AudiFab also has the function of burning CDs with one click. You don't need to install any other plugins.
Conclusion
If you want to play Spotify music on another music player, try AudiFab, which can help you download Spotify songs to MP3 format, and then you can add them to any of your music players for offline playback. AudiFab Spotify Music Converter is a smart tool to convert Spotify music to popular formats like MP3, AAC, FLAC, AIFF, WAV, or ALAC. It is feasible for both Spotify Free and Spotify Premium listeners.
AudiFab is free to try. It can be downloaded for free and converts the first minute of each audio file for sample testing. If the program meets your need, you can buy a license to unlock the time limit.