In the world of music streaming, the choice between platforms like Spotify and Tidal can be a tough one for music enthusiasts. While Spotify has long been a fan favorite, Tidal has emerged as a strong contender, offering a vast library of lossless audio and video content. If you're contemplating making the switch from Spotify to Tidal, this guide is here to assist you in seamlessly transferring your Spotify playlists to Tidal.
Before making the switch, it's important to understand the distinctions between Spotify and Tidal:
Extensive music catalog.
Offers both free and premium subscription options.
High-quality streaming.
User-generated playlists and recommendations.
Claimed to have more songs and higher sound quality.
Emphasizes lossless audio.
Curated playlists, exclusive content, and artist commentary.
Subscription-based with free trial options.
Yes, it is indeed possible to move your beloved Spotify playlists to Tidal, but there are some limitations to be aware of. Direct transfers only work for songs available on both platforms. Here's what to keep in mind:
It works by matching identical content on Spotify and Tidal.
You may encounter issues when transferring covers, remixes, or exclusive Spotify tracks.
Manual verification is often needed.
How to Transfer Spotify Playlists to Tidal with TurnMyMusic Online Converter
An effective method to achieve this transfer is by using TuneMyMusic, an online converter that supports various streaming platforms. Here's how to do it: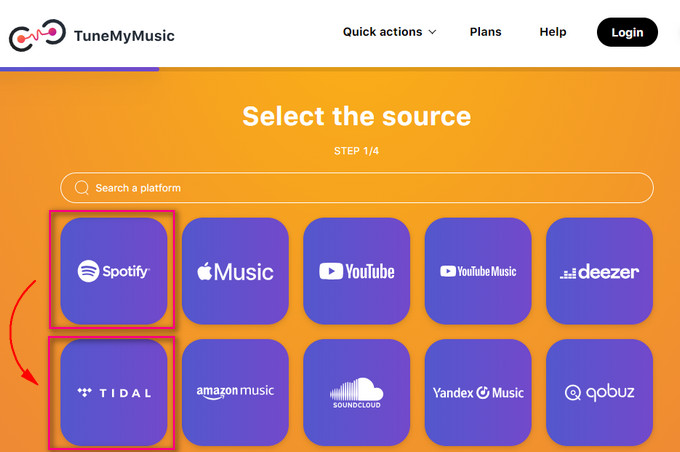 Visit TuneMyMusic's official website and click "Let's Start"
Choose Spotify as the source platform and log in with your Spotify account.
Paste the Spotify playlist URLs into the search box.
Choose Tidal as your destination platform and log in with your Tidal account.
Select the songs you want to transfer and click "Start Moving My Music" to sync your Spotify playlists with Tidal.
Tips: TuneMyMusic allows free transfers of up to 500 songs. If you need more songs or higher sound quality, you can subscribe for $9.99 per month.
For those looking to transfer their beloved Spotify playlists to Tidal, Turn My Music is a fantastic choice. However, if your goal is to keep Spotify playlists even after your subscription ends, or to enjoy Spotify songs without a premium account, AudiFab Spotify Music Converter is a noteworthy alternative. AudiFab's standout feature is its capability to convert playlists into MP3 format, facilitating offline listening and liberating you from the need for a constant internet connection. Its versatility in supporting multiple formats, user-friendly controls, and platform independence enables you to enjoy your music across a diverse range of devices and platforms.
Additionally, AudiFab adheres to legal standards, ensuring a secure and compliant music conversion process. With the added benefit of free lifetime updates and robust technical support, AudiFab proves to be a reliable choice for those seeking a comprehensive solution to extend their Spotify playlist enjoyment beyond a single platform. Here's how it works: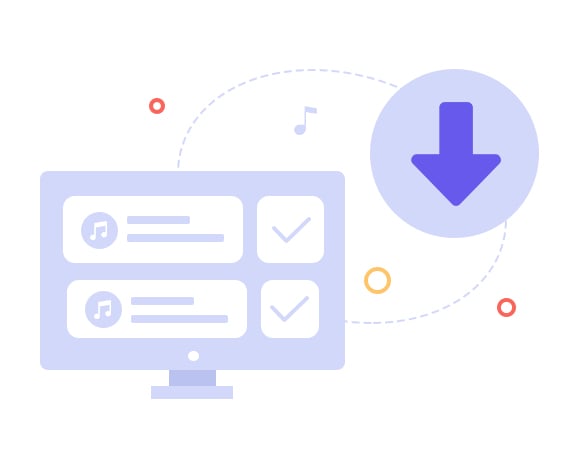 AudiFab Spotify Music Converter
Convert Spotify music to MP3/AAC/WAV/FLAC/AIFF/ALAC.
Download albums from the Spotify app to the computer.
Keep original audio quality, retain ID3 tags and preserve lyrics after conversion.
Fully support the latest Windows 11 & macOS 14 Sonoma.
Free updates and technical support.
Launch AudiFab Spotify Music Converter.
Open AudiFab Spotify Music Converter, tap record music from App and it will automatically launch the Spotify app. You'll see the program interface, which has a simple and intuitive navigation.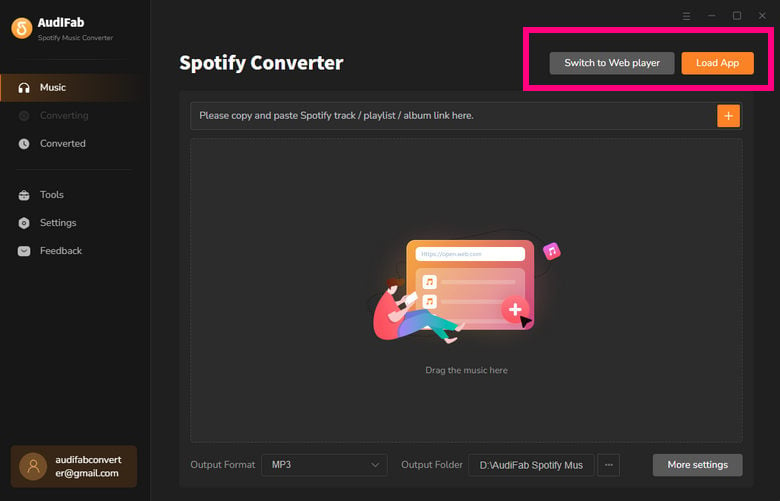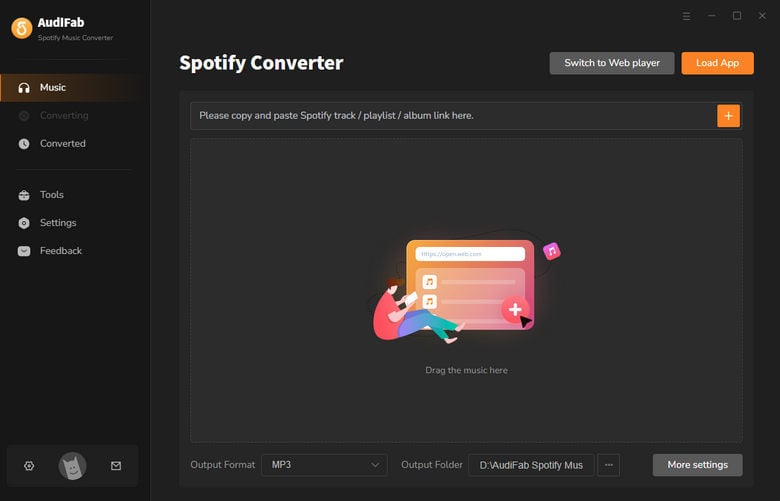 Note: AudiFab App download needs to work with the Spotify app simultaneously. Please do not operate the Spotify app when using AudiFab. You can also choose AudiFab Web download which work with Spotify webplayer and no need app.
Add a playlist from Spotify to AudiFab.
Drag and drop a playlist from the Spotify app to AudiFab, and it will list out all the songs. By default, all songs will be selected for download. If you want to exclude any songs from the conversion, simply uncheck them and click the Add button.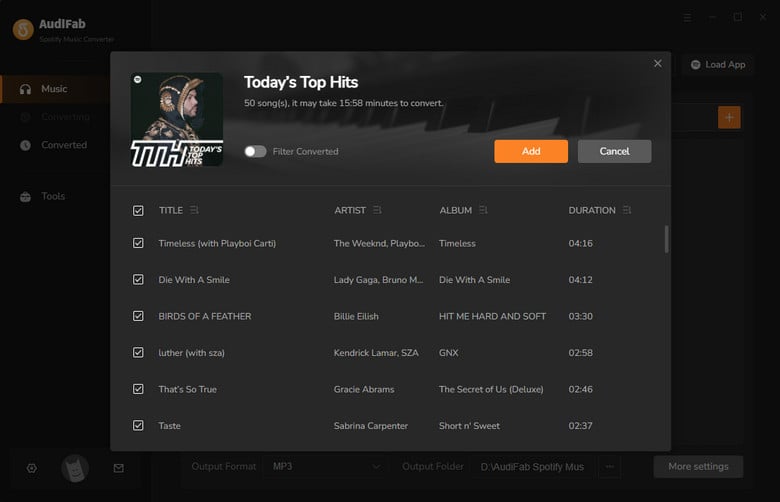 Choose output format.
Now that the music files have been imported, it's time to adjust some advanced settings before converting Spotify music. Click the Settings icon in the bottom left corner. Select the output format as MP3, and customize the output path, bit rate, and output file name as desired.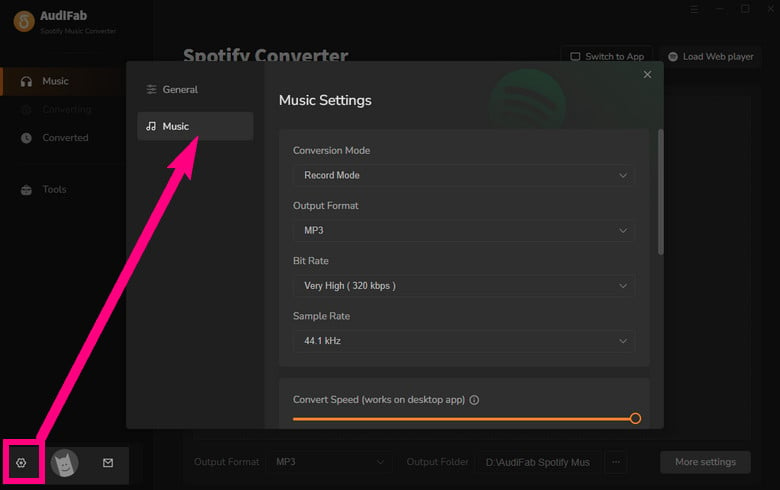 Start converting the Spotify playlist.
Click the Convert button to start exporting the Spotify tracks to plain MP3 tracks on your local computer.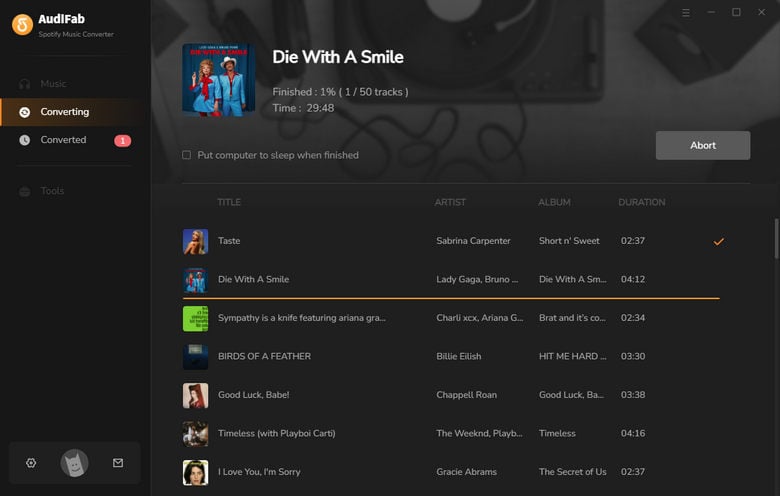 Find converted Spotify music files.
Once the conversion is complete, go to the output folder set in Step 3 to find all the downloaded Spotify tracks on your PC/Mac. Or directly click the Converted tab to locate converted Spotify music files.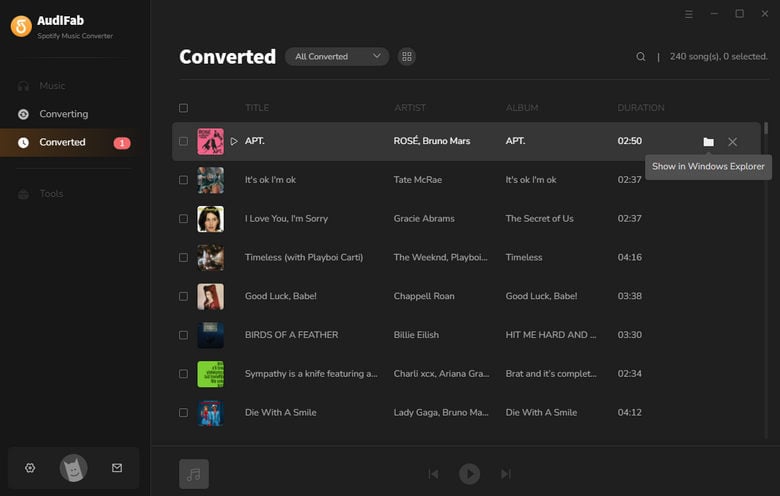 Tips: AudiFab Spotify Music Converter offers a secure and user-friendly experience, ensuring hassle-free offline listening to your Spotify playlists in MP3 format.
Conclusion
While direct transfers from Spotify to Tidal are feasible, it's crucial to consider the limitations. Alternatively, using AudiFab Spotify Music Converter to convert your Spotify playlists to MP3 format provides greater flexibility, particularly for offline listening. Choose the method that best suits your preferences, and start enjoying your music seamlessly on Tidal. Whether it's the extensive catalog and user-generated playlists of Spotify or the lossless audio and exclusive content of Tidal, your musical journey remains in your hands.
AudiFab Spotify Music Converter is free to try. It can be downloaded for free and converts the first minute of each audio file for sample testing. If the program meets your need, you can buy a license to unlock the time limit.