Compared to Xbox and PlayStation, which both have a variety of apps to download and install to retain players, Nintendo is not as active in this area. The Switch platform is not open, so many third-party programs are not supported, including Spotify. In this way, players who like to play games while listening to songs may be disappointed, or they can only comfort themselves that just focusing on playing games but not listening to music is also a good experience.
But actually, we do have a solution for you to play Spotify music on Nintendo Switch. That is, download Spotify music in a format supported by Nintendo Switch, then add the downloads to NS. Move on, this guide will tell you all the details and how to do it.
Before we learn the steps to download Spotify in a normal format for NS, you may have some questions in your mind. Here are listed some frequently asked questions. Hope they will be helpful to you.
Which music player is used to playing music on Nintendo Switch?
TriPlayer is a feature-rich audio player for Nintendo Switch. It is capable of playing music in the background. So if you want to listen to music, please first get TriPlayer on your Switch.
What formats does TriPlayer support?
TriPlayer supports the playback of MP3, FLAC, and WAV.
How can we convert Spotify music to the formats TriPlayer support?
As we know, Spotify Premium has the privilege to download Spotify music for offline playing. However, the downloads are encrypted and can only be played on the Spotify App. In this case, we have to use a third-party tool, a music converter to convert the Spotify music to a common format file. Are you looking for a music converter? If so, we highly recommend AudiFab Spotify Music Converter. Go through to get the details of AudiFab.
AudiFab Spotify Music Converter tailored for those who want to listen to Spotify music offline forever on different devices. It is a music converter for Spotify Premium or Free users. AudiFab can help you fast download (up to 10x speed) Spotify tracks to a popular format, such as MP3/AAC/WAV/FLAC/AIFF/ALAC. Plus, it downloads Spotify songs without any quality loss.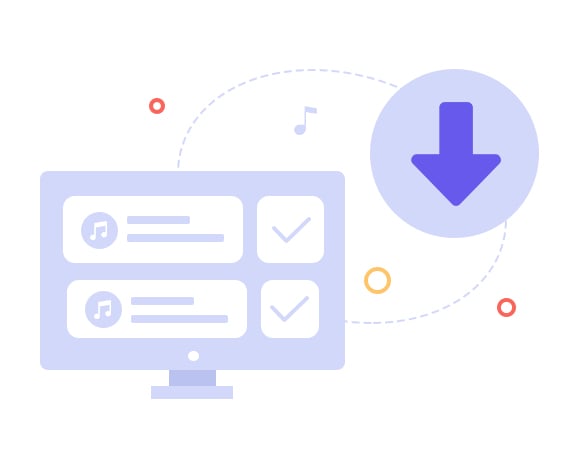 AudiFab Spotify Music Converter
Download music from the Spotify app to the computer.
Convert Spotify playlist to MP3/AAC/WAV/FLAC/AIFF/ALAC.
Keep original audio quality, ID3 tags and lyrics after conversion.
One click to burn Spotify music to CD.
Free updates and technical support.
You can refer to the following detailed steps to learn how AudiFab Spotify Music Converter downloads Spotify to MP3 for Nintendo Switch playing.
Open AudiFab Spotify Music Converter.
Double-click to launch AudiFab Spotify Music Converter on your desktop. Adjust record Spotify music by App. AudiFab has an intuitive interface that is easy for users to get started with. The Spotify app will also pop up in a few seconds.
Tips: Use Web recording for fast format conversion on Mac.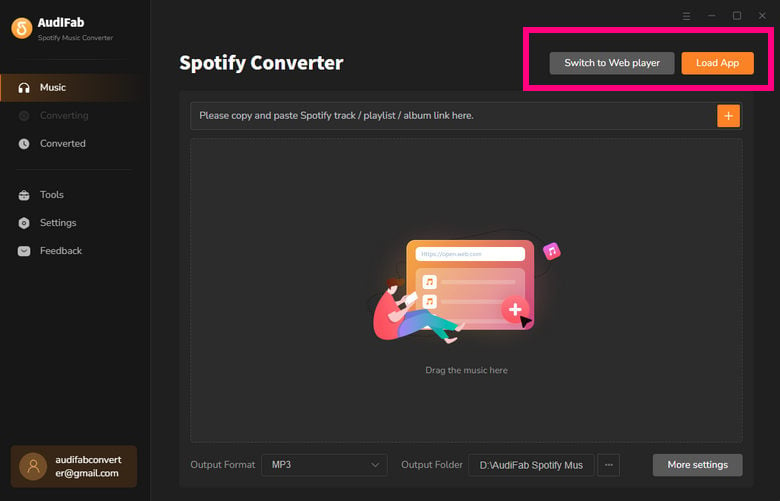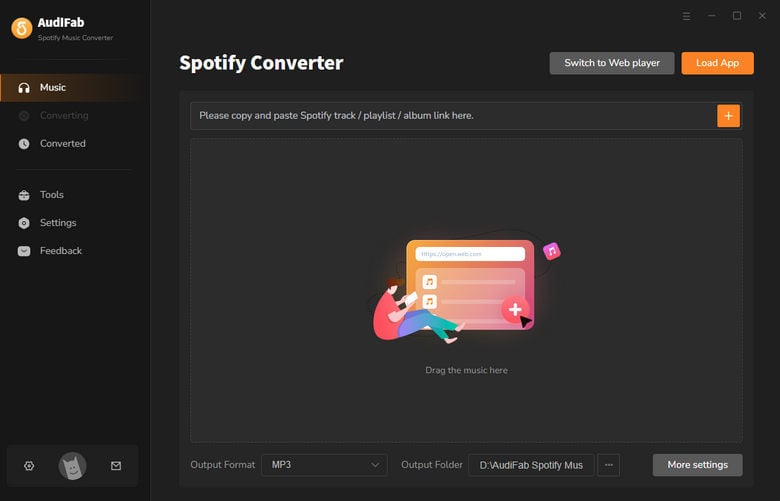 Import Spotify playlist to AudiFab.
Now you can add your AudiFab playlist to the conversion panel. Just drag and drop the Spotify playlist you want to play on Switch to AudiFab. You can check to see if the above are all the songs you want.
Tips: If you'd like to convert a playlist with more than 500 songs, please open the Spotify playlist, select all files in the playlist (click the first song, scroll down to the last song, and press shift+left-click it) and then drag & drop them to NoteBurner for converting. Or you can create some new playlists and convert them separately.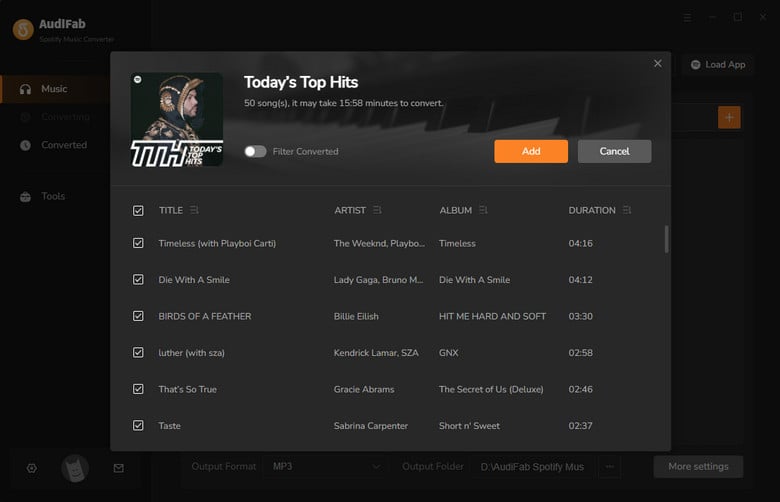 Set MP3 as Spotify output format.
Navigate to "Settings" in the bottom left corner, you can set up the Spotify music output format from MP3, FLAC, or WAV. Here we recommend the MP3 format, which is commonly used. Also, you are supposed to personalize the output parameters to your preference.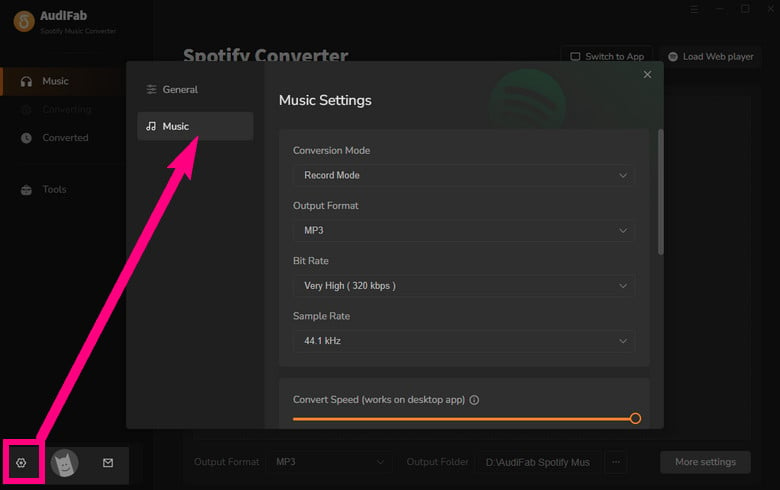 Start converting Spotify to MP3.
Once set up, simply Click "Convert" on Home windows and AudiFab will start downloading Spotify music in MP3 format for you. The final processing time depends on your internet speed and the number of songs.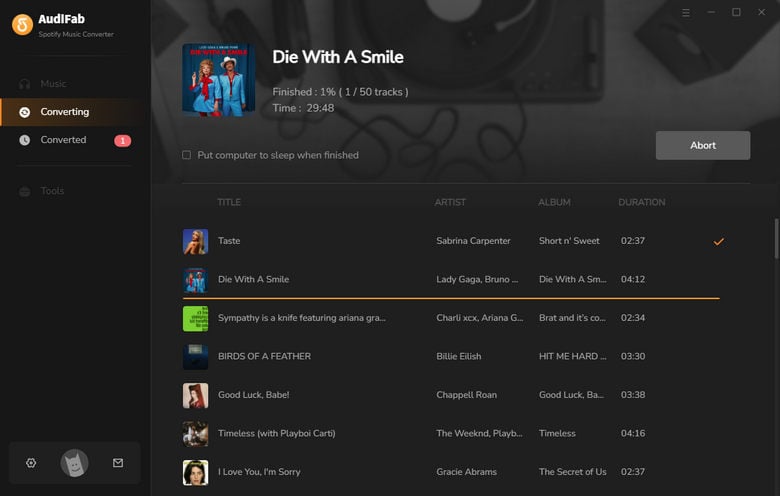 Once the download is complete, you can click on "Converted" to view the downloaded files. Move your mouse to the end of the song and a folder image will appear. Click on it and you will be able to open the folder where the Spotify downloads are stored. Now you can do whatever you want with the music, you can upload them to iTunes, add them to video editing software, or move them to other devices to play.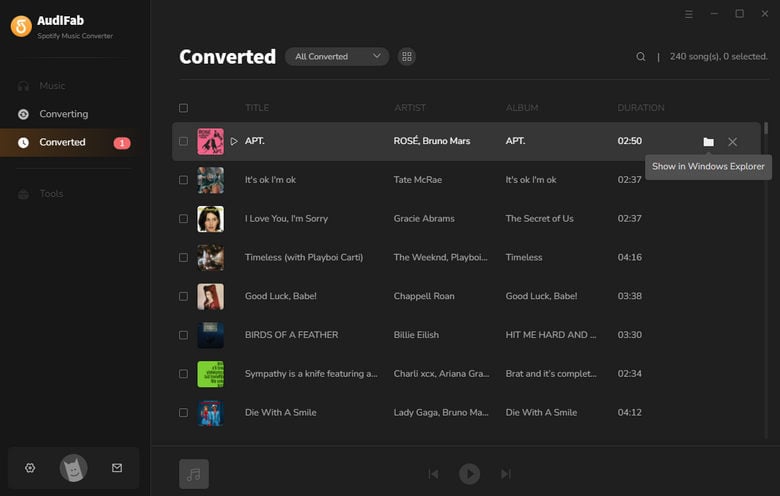 With the Spotify music files in MP3 format, we can easily move Spotify music to Nintendo Switch for playback.
Step 1: Add TriPlayer to Nintendo Switch.
1. Insert your Switch's SD card into the card reader.
2. Connect the card reader to your computer.
3. Download TriPlayer.zip on your computer, unzip it and copy it to the root directory of your SD card.
Step 2: Transfer Spotify music to the SD card.
1. Open the SD card's folder on your computer, then open the "Music" folder in the root directory.
2. Copy the downloaded Spotify music to the "Music" folder.
3. Once the copy is complete, put the SD card back into the Switch.
Step 3: Play Spotify music on Nintendo Switch.
1. Go to Nintendo Switch, find and open TriPlayer.
2. You will easily find the Spotify music you just added in.
3. Start playing Spotify music songs, then go back and start playing the game on Nintendo Switch.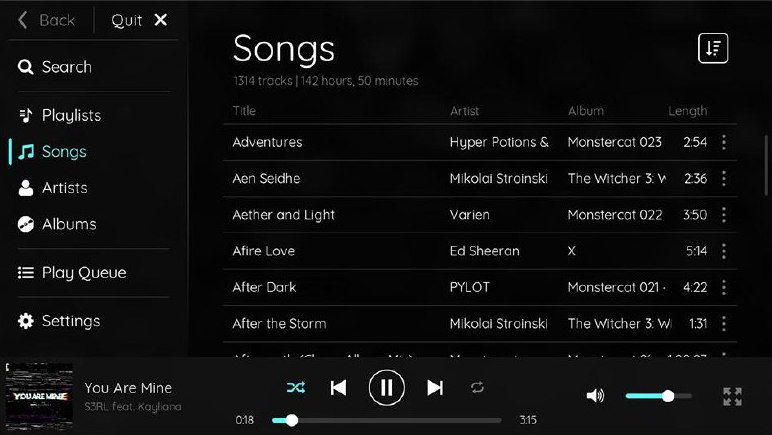 Final Words
Nintendo Switch cannot directly stream Spotify music. If you want to play Spotify music on Nintendo Switch, you need to use AudiFab to convert Spotify tracks to MP3 first, and then add them to Nintendo Switch. AudiFab Spotify Music Converter allows you to effortlessly convert Spotify songs to MP3/AAC/WAV/FLAC/AIFF/ALAC!
AudiFab Spotify Music Converter is free to try. It can be downloaded for free and converts the first minute of each audio file for sample testing. If the program meets your need, you can purchase a license to unlock the time limit.