The most awaited Christmas of 2023 is coming. On this day full of parties, are you ready for a series of parties, dates, and celebrations? When you have parties with your family, friends, or lovers, how can you feel the Christmas atmosphere without the Christmas songs that will heat the atmosphere in a second? 
Today we have come up with a list of the top Christmas songs that are suitable for constant replay and provide a way to download all the Christmas songs of 2023 to MP3 so that you can listen to them on any occasion and at any time. Also, you can add these songs to your video as background music. The Christmas songs in it range from traditional to popular, from domestic to foreign, and from adults to children are all available, so that you and your family, friends, and partners can have a fun Christmas. Let's have a crazy party and listen to these songs until 2024!
Let's enjoy some classic hit Christmas songs together. There are also share some Christmas playlists and tips on how to check the lyrics on Spotify at the end of this section.
All I want for Christmas is you! Every year when you hear Mariah Carey's voice, you know that Christmas is coming. This most classic Christmas pop song will be back at the top of the Billboard pop chart every December. It is written in 1994, and the interesting thing is it is still the most-played song in the world during Christmas today! If you hope the atmosphere of the party became high in a second, this song must be added to the playlist!

Guess which is the most-viewed Christmas song on YouTube? Not Jingle Bells, but the cartoon version of Deck the Halls for kids' Christmas parties, with nearly 1.7 billion plays so far! This song is simple and full of a Christmas atmosphere. It is very suitable to play when the family is having a party.
In the 2014 release of 'Santa Tell Me', Ariana sang a very girly Christmas wish. Perfect for girls to play it at parties and take beautiful MV clips together, then upload them to Instagram!
How can we not have the most representative Christmas We Wish You a Merry Christmas?
The song "Merry Christmas" was written by the popular British singer Ed Sheeran and Elton John, and was released in 2021, easily winning two weeks of number-one singles in the UK. The music video contains many scenes that pay tribute to famous Christmas songs of the past, which are quite Christmas-like.
The song "Merry Christmas Mr. Lawrence" has a tragic sense of fate in the beautiful and sad piano sound, which complements the theme of the movie "Merry Christmas, Mr. Lawrence". It draws on the traditional Balinese music of the gamelan and uses electronic synthesizers to produce a melody like clear water, and the gamelan music in it is full of Indonesian national characteristics, with a unique sense of exoticism and ethereal inspiration.

"The Twelve Days of Christmas" is a classic Christmas carol, sung during the Christmas season in the United Kingdom and the United States, and this custom has continued for more than two hundred years. The song is about the 12 days from Christmas (December 25th) to January 5th, when Westerners give each other gifts according to custom.
Christmas Tree is from the soundtrack to the premiere Korean drama "Our Beloved Summer" released by Choi Woo Shik and Kim Dami.
In addition to the above songs, we also prepared some playlists for you, hope there are some songs you like.
100 Greatest Christmas Songs Ever
Tips: If you want to check the lyrics on your Spotify desktop app, just click on the microphone icon from the "Now Playing" bar. On a phone, you can tap the "Now Playing" bar at the bottom of the screen. If you're on a tablet, tap album artwork in the side menu. Then tap "Lyrics". Tap again for a full-screen view.
Need to play these Christmas songs anytime, anywhere? Why not download them on your local computer as MP3? So you can have fun through the whole of Christmas. Now, this article will take Spotify, the largest music streaming platform, as an example to share a tool to download Christmas music as MP3. This tool is not only easy to use (only 5 steps to get MP3 files), but also applicable to Spotify Free users. Let's check it out!
For all those who want to listen to Christmas songs offline, AudiFab Spotify Music Converter is a powerful Christmas songs downloader program. It supports batch converting Spotify tracks to multiple formats, including MP3/AAC/WAV/FLAC/AIFF/ALAC. Plus, converted songs are ID3-tagged and have the same audio quality as on Spotify. Also, AudiFab has a free toolbox. No additional download plugins to use this toolbox. With just one click you can upload the converted files to iTunes, as well as burn CD. For more functions of AudiFab, please check below: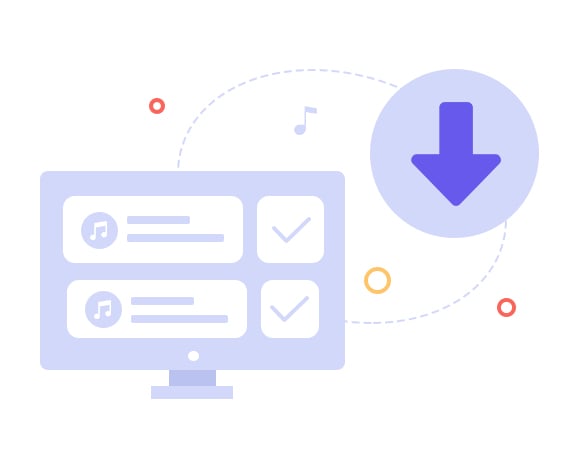 AudiFab Spotify Music Converter
Convert Spotify music to MP3/AAC/WAV/FLAC/AIFF/ALAC.
Download albums from the Spotify app to the computer.
Keep original audio quality, retain ID3 tags and preserve lyrics after conversion.
Fully support the latest Windows 11 & macOS 14 Sonoma.
Free updates and technical support.
Next are the tutorial steps of AudiFab Spotify Music Converter, each step is very simple. Before starting, remember to download the AudiFab on your Windows or Mac. Click "Download" above to start downloading.
Open AudiFab Spotify Music Converter
Open the installed AudiFab Spotify Music Converter, you will see a concise interface without ads.
Windows users: Choose the App for 10x faster downloads and excellent audio quality.
Mac users: Opt for the Web for 10x faster downloads or the App for superior audio quality (1x speed).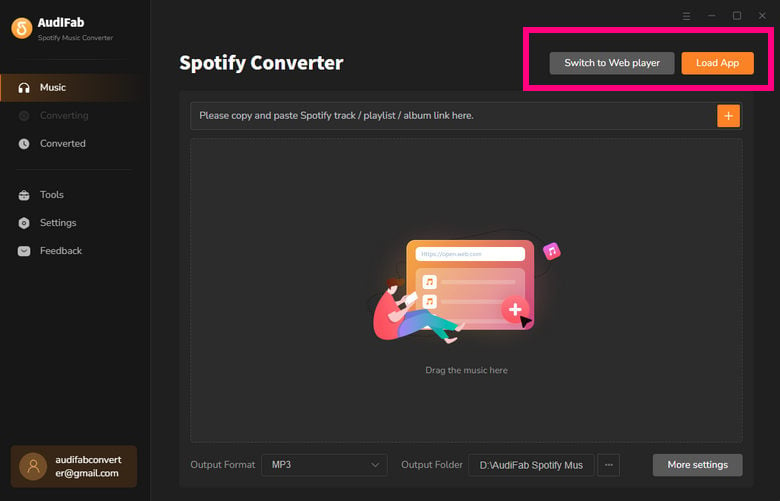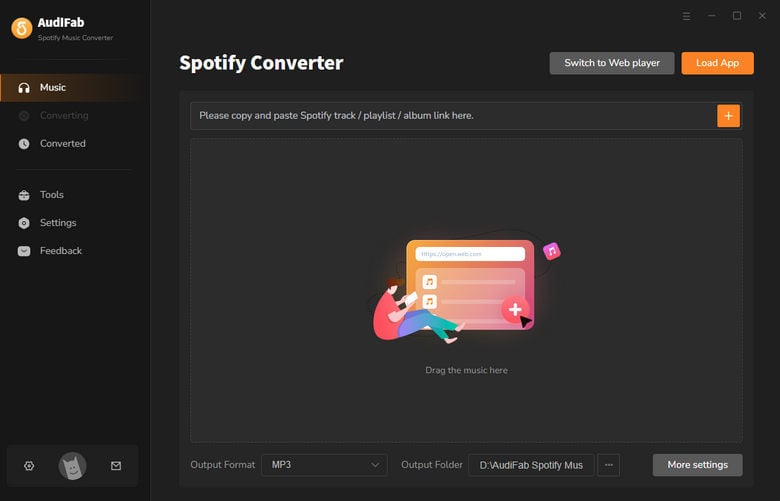 Import Christmas songs from Spotify to AudiFab
Click "Share" > "Copy Song link" to copy the link of the Christmas playlist you want to download from Spotify. Then press "Ctrl + V" to the search box of AudiFab and click "+". Then confirm the songs and click "Add".
Tips: You can also drag or drop a playlist from the Spotify app to AudiFab.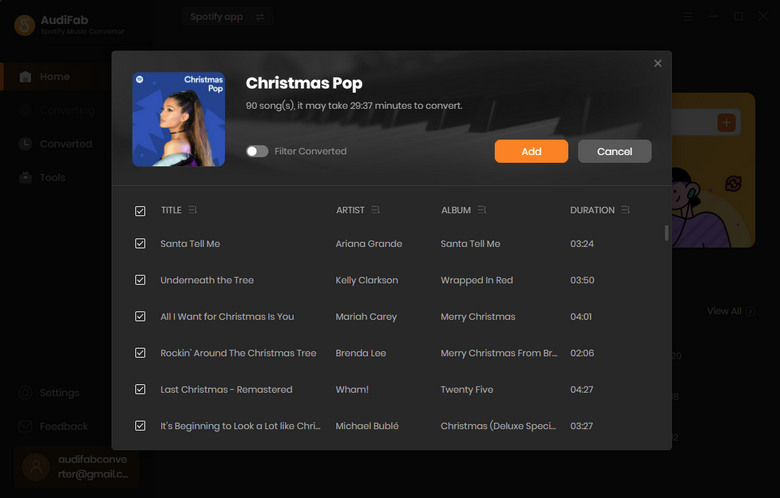 Choose MP3 Output Format for Christmas Songs
Christmas songs output settings can be made by clicking the Settings button in the bottom left corner. You can set MP3 as the output format and specify the output folder. Next, simply close the Settings window to apply the changes.
Output Format: Auto, MP3, AAC, WAV, FLAC, AIFF, ALAC
Bit Rate: 320kbps, 256kbps, 192kbps, 128kbps
Sample Rate: 44.1KHz, 48KHz, 96KHz, 192KHz
Output File Name: Track Number, Title, Artist, Album, Playlist Index, Year
Output Organized (way): None, Artist, Album, Artist/Album, Album/Artist, Playlist, etc.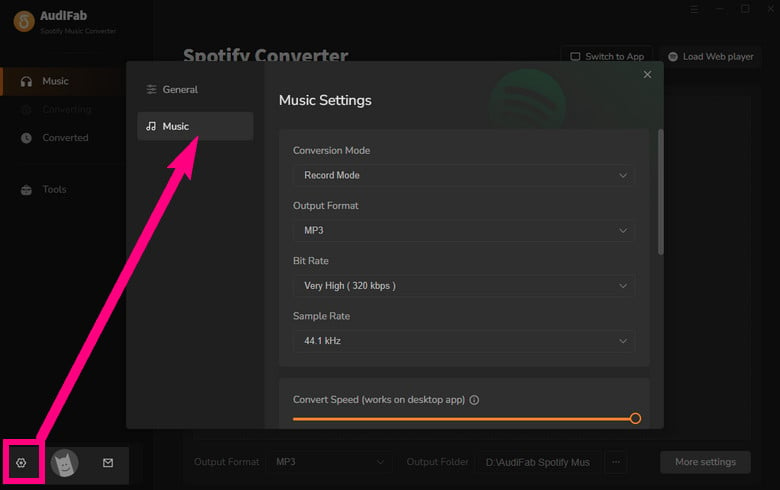 Start exporting Christmas songs to MP3
Click Convert in the upper left corner located on the home interface to start downloading Christmas songs from Spotify as MP3. Spotify supports ten times faster downloads, so you can have mp3 files in minutes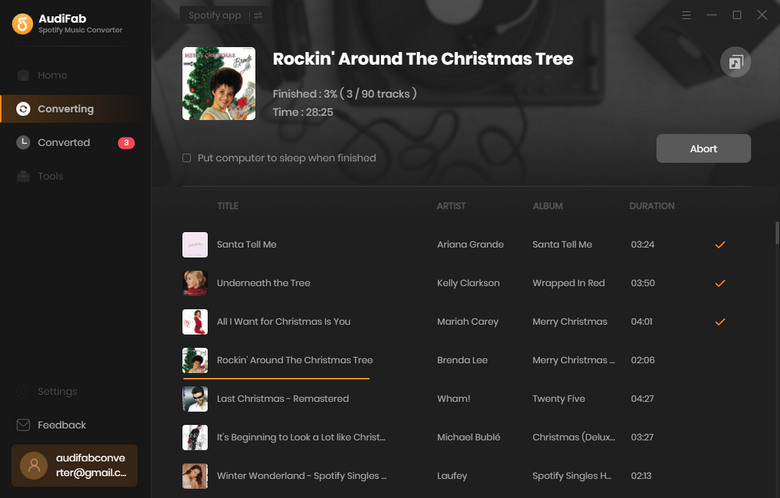 Enjoy Christmas songs offline anytime
After the song conversion is completed, the downloaded music folder will pop up automatically. Now, let this festive Christmas music accompany you through this wonderful time of winter celebration! Besides, you can transfer the downloaded wonderful Christmas songs to your mobile phone or iPad through a USB cable/iTunes to listen, and feel the magic of the coming Christmas. If you want to set these Christmas songs as ringtones, you may want to read on.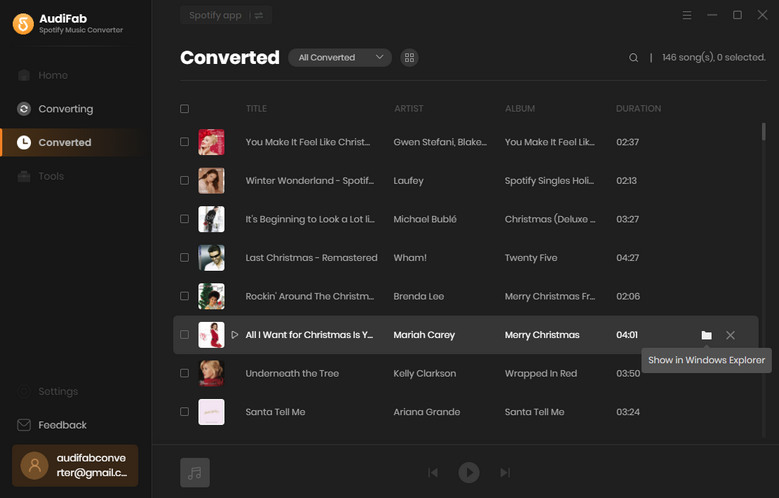 Tips: The converted files can also be added to various videos as background music. If you want to add some Christmas elements to your YouTube videos or others, recommend you take a look at some guides on Spotify Music Tips.
🎞 YouTube Video: Download the Hottest Christmas Songs of All Time!
---
You can set your favorite Christmas carols as ringtones or notifications and it will cheer you up whenever your phone rings. Let's see how it works.
If you want to set Christmas songs as ringtones on iPhone with iTunes.
Step 1. Come to AudiFab and click Converted.
Step 2. Choose the songs you want to set as ringtones and click "Export to iTunes"
Step 3. Click "Start Exporting".
Step 4. Come to iTunes, right-click the song > "Song Info" > "Options".
Step 5. Connect your iPhone to the computer with the USB cable, select "Tones" under your device > and click Sync.

If you want to set Christmas songs as ringtones on Android.
Step 2. Go to Settings > Sounds and Notifications > Ringtones > Add.
Step 3. Choose the song and click OK.
Syncios Mobile Manager (Both for Android & iPhone)
Syncios Mobile Manager is a very convenient and useful mobile data transfer management software that supports fast backup and transfer of personal data, including music, videos, photos, apps, eBooks, contacts, WhatsApp, messages and more. It also provides a tool called Ringtone Maker.
Step 1. Connect your phone to the computer with a USB cable.
Step 2. Launch the Syncios Ringtone Maker (Mac & Windows) > choose "Ringtone Maker".
Step 3. Import the converted MP3 track from the PC to the pop-up window.
Step 4. Edit the segment you want for the ringtone.
Step 5. Click "Import to device".
Conclusion
Christmas is coming, and on this joyful and lively day, Christmas songs are essential. Why not download your favorite Christmas songs and play them anytime anywhere? Or add it to your video as your background music? AudiFab Spotify Music Converter can help you download these Christmas songs to MP3 easily. Let this festive Christmas music accompany you through this wonderful time of winter celebration! Wish you all a Merry Christmas!
AudiFab Spotify Music Converter is free to try. It can be downloaded for free and converts the first minute of each audio file for sample testing. If the program meets your need, you can buy a license to unlock the time limit.