Music has a unique healing effect in regulating emotions and balancing the mind. Everyone listens to music, but the way we listen to music is changing . The vast majority of modern people listen to music by using streaming platforms. Of these, Spotify is the most popular worldwide. It gives you access to 100 million songs. Plus, Spotify generates a playlist based on your listening habits, which is released every Monday. This playlist uses a great algorithm and stands out from the competition. If you have a Spotify Premium subscription, you can use the Listen Offline feature, which allows you to download Spotify music for offline playback.
But as we know, the content downloaded from Spotify is encrypted as cached files which have various restrictions, rather than local files. So how can we get the Spotify tracks as local files so as to break the limits? In this article, we will recommend you use AudiFab Spotify Music Converter to solve all the limitations on Spotify, just check it out.
Before we start to introduce the AudiFab Spotify Music converter, please check the list following.
How to play Spotify music on different music players, such as Apple Music, Amazon Music, VLC, etc?
Is there any way to keep up with Spotify downloads without having to go online at least once every 30 days?
How can I skip ads and songs at will with Spotify Free account?
How can I download individual songs directly?
...
Now please check if you have the same questions when using Spotify? If yes, AudiFab Spotify Music Converter is tailor-made for you! It can help you solve the problems above.
AudiFab Spotify Music Converter is the perfect solution to the above issues. It is a professional, full-featured, and fast-converting application for downloading Spotify tracks. AudiFab helps both Spotify Free and Premium users to download any track they want with one click. It is feasible to save Spotify music forever if you use AudiFab.
In this part, we will list the main features of AudiFab Spotify Music Converter for you. We believe that after reading it, you will understand AudiFab better and know why we recommend it to you. Now, let's take a detailed look at AudiFab Spotify Music Converter:
(1) Batch Download Spotify music at up to 10x speed
AudiFab Spotify Music Converter can help both Spotify Free or Premium users to convert Spotify songs, playlists, albums, and podcasts to local files at up to 10x speed. Also, AudiFab supports batch download songs, so you don't need to worry if you have a large number of songs.
(2) Simple interface and easy operation
When you open AudiFab Spotify Music Converter, you will see a simple interface that is very friendly to novices. Each section is shown intuitively on it, so even if you are not very familiar with computer operation, you can easily convert songs successfully.
(3) Operating system support
AudiFab is currently compatible with most versions of Windows and Mac. If you are using a Windows computer, version Windows 11/10/8.1/8/7 will work fine. macOS 10.15~13 if you are using Mac. If you don't know how to check your computer version model, please check here for Win or Mac. After checking it out, you can download the correct version of AudiFab according to your own needs.
(4) Supports conversion of six formats
AudiFab Spotify Music Converter has as many as six formats for you to choose from, including MP3, AAC, WAV, FLAC, AIFF, and ALAC, which are the more commonly used formats. You can convert Spotify songs to any of them. Usually, we choose MP3 as the output format because it is the most widely used, and most software (OneDrive, iTunes, Amazon Music, VLC, InShot, etc.) and devices (MP3 players, phones, iPad) can accept MP3.
(5) Preserve ID3 tags and 100% original audio quality
You will find that the music you download is the same quality as the music you listen to on Spotify. And the ID3 tags will be preserved with title, artist, album, artwork, track number, disc number, and year.
(6) Customize output sorting
You can also customize the output sorting of the songs you want to convert on the Settings window, such as Playlist, Artist, Album, or Artist/Album, Album/Artist, etc.
(7) Upload converted songs to iTunes with one-click
If you want to upload your downloaded Spotify music to iTunes, don't open iTunes yet, you can do it directly on AudiFab with one click. Once your music is converted, click "Converted" to view your converted songs, and then tick the boxes in front of the songs to select the songs you want to upload to iTunes. After selecting, click on iTunes, the platform you want to upload and follow the instructions on AudiFab to upload your songs successfully!
(8) Useful Gadgets
In addition to the above-mentioned functions, AudiFab has other uses. It can convert not only Spotify songs to normal files but also your local files to other formats such as MP3/M4A/FLAC/WAV/OGG/AIFF. AudiFab also supports burning your music to CD, so you can play it on various CD players. In addition, you can edit your ID3 tags, you can change the cover of ID3, edit its title, etc. You can tap the "Tools" section to find these tools.
(9) Two skins for you
AudiFab has dark and light skins for you to choose from, so you can choose the skin that fits your computer style. You can change the skin on Settings > Appearance.
(10) Various article and video guides
AudiFab has various topic guides, which are illustrated with clear and detailed steps. Moreover, we have interesting video tutorials. If you prefer to watch videos, you can go to the AudiFab YouTube channel to watch the tutorials and follow them step by step.
(11) Timely technical support & Free updates
If you still have doubts after watching the guide and video, or have any suggestions for our products, please feel free to contact our support team. Our support team will usually reply within 48 hours. Additionally, AudiFab will keep the program maintained and updated frequently. During your use of the program, AudiFab will continue to provide you with free updates, so that you have a better experience!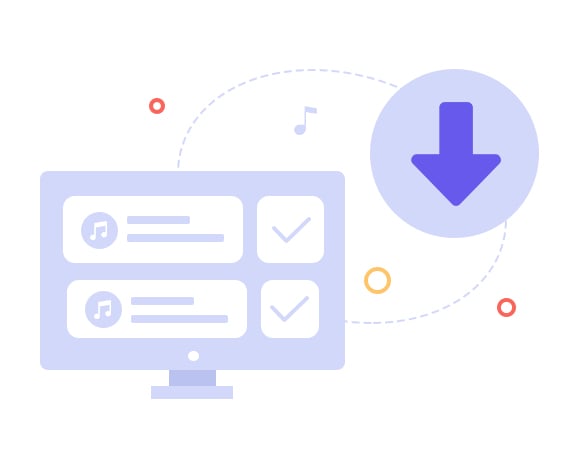 AudiFab Spotify Music Converter
Convert Spotify music to MP3/AAC/WAV/FLAC/AIFF/ALAC.
Download albums from the Spotify app to the computer.
Keep original audio quality, retain ID3 tags and preserve lyrics after conversion.
Fully support the latest Windows 11 & macOS 13 Ventura.
Free updates and technical support.
AudiFab Spotify Music Converter has three renewal modes, one is a monthly subscription, which is $14.95 per month, and the second is an annual subscription, $59.95 per year. The best deal is the lifetime plan, which costs only $129.9, and you can use the software for life! If you want to know more details, you can check Here.
Now it is time to know how to use AudiFab Spotify Music Converter to convert Spotify to MP3 or other formats, Follow the step-by-step instructions below. Before you start, remember to install the version of the AudiFab Spotify Music Converter you need.
Open AudiFab Spotify Music Converter. 
After installing the AudiFab Spotify Music Converter, double-click to open it. Then opt to record Spotify music by App, you will see a clean program interface as follows. Due to App option needing to work with the Spotify app, a few seconds later, Spotify will also open.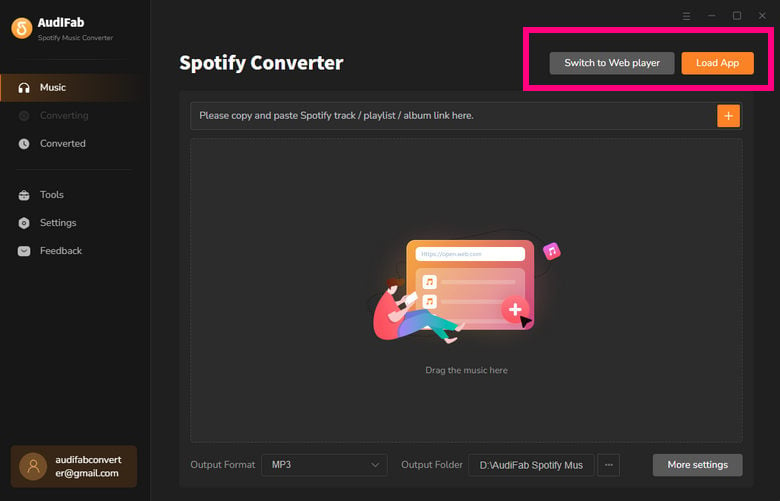 Note: Record by Web for quick speed conversion on Mac.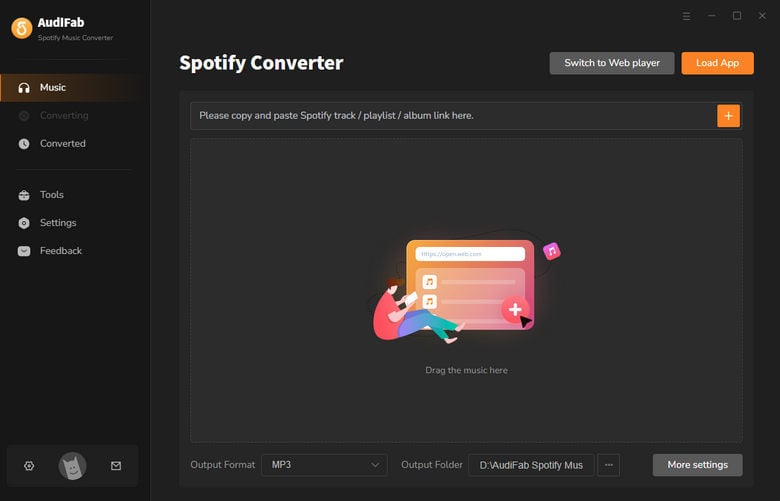 Add Spotify songs to AudiFab 
Now pick the songs/playlists/podcasts you want to download to Spotify and drag and drop them from Spotify to AudiFab. You can copy the links and paste them into the search box. When all songs you want to download are added to the AudiFab task list, you can click "Add".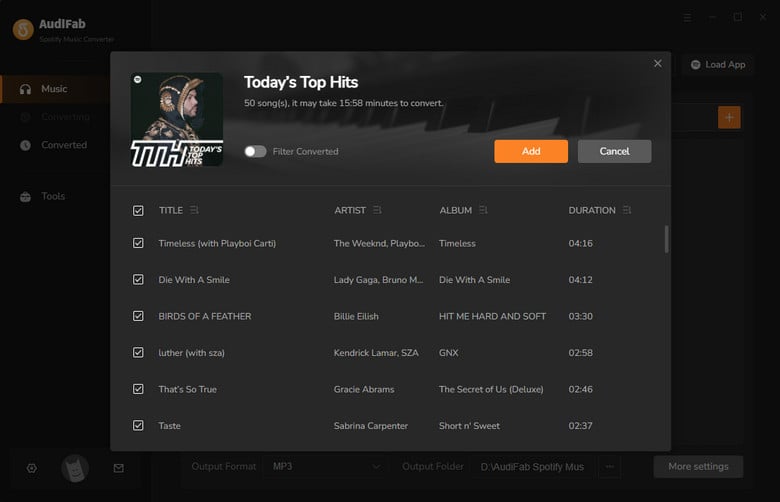 Note: Our AudiFab Spotify Music Converter is limited to being added to up to 500 songs from a playlist at one time. If you'd like to convert a playlist with more than 500 songs, please open the playlist on Spotify, select all files in the playlist (just click the first song, scroll down to the last song, and press shift+left-click it) and then drag & drop them to the AudiFab program for converting. Or you can create some new playlists and convert them separately.
 Customize the Output Parameters.
Move the mouse to the gear icon in the bottom left, and click on it. Immediately, the Settings window displays. Then you can adjust the output parameters, such as the output format, bit rate, sample rate, output folder, output file name, and output organized setting. After customizing, just proceed to the next step.
Output Format: Auto, MP3, AAC, WAV, FLAC, AIFF, ALAC
Bit Rate: 320kbps, 256kbps, 192kbps, 128kbps
Sample Rate: 44.1KHz, 48KHz, 96KHz, 192KHz
Output File Name: Track Number, Title, Artist, Album, Playlist Index, Year
Output Organized (way): None, Artist, Album, Artist/Album, Album/Artist, Playlist, etc.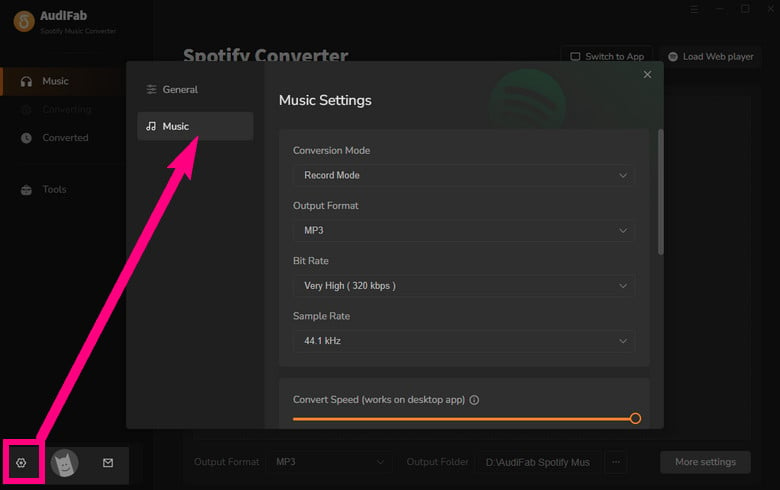 Start to convert Spotify songs to your local computer.
Change to Home section. Click the "Convert" button to start the conversion. AudiFab will download the music at up to ten times the speed, and in no time you will get the local files of Spotify.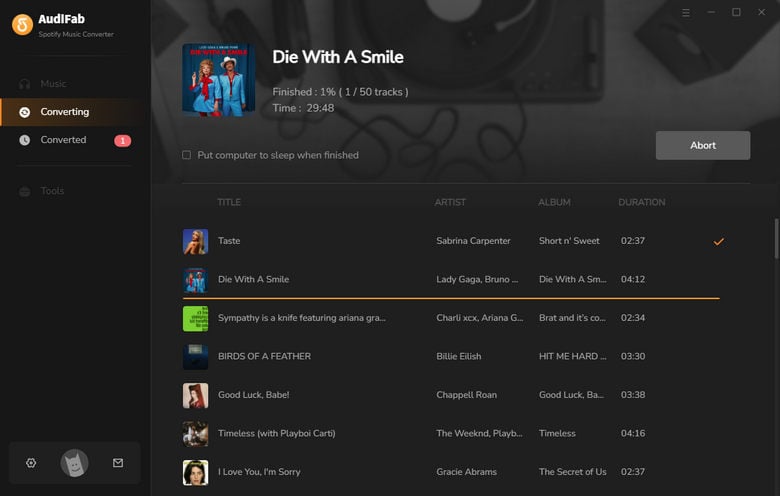 Check your Spotify downloads
Once the song has been downloaded, you can check your download history by going to the "Converted" section. You can open the music folder by clicking on the folder logo behind the song. Now you can enjoy your Spotify songs without limitation.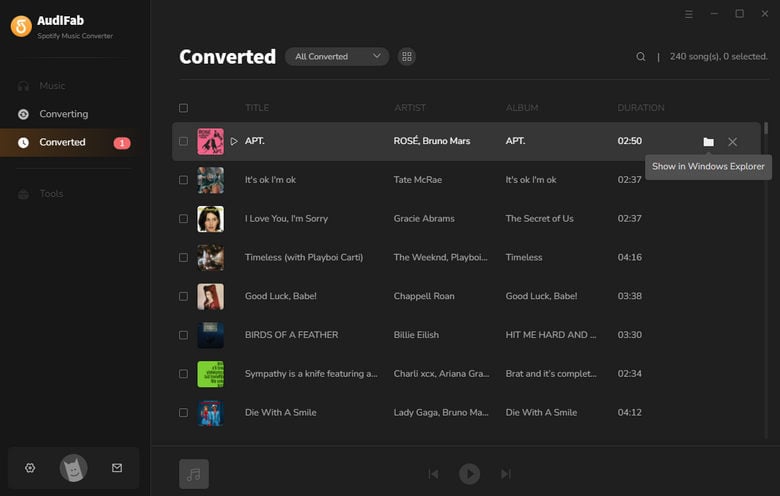 Is AudiFab Spotify Music Converter only applicable to Spotify Premium users?
Not really. Both Premium and Free users of Spotify can use AudiFab to download Spotify songs to MP3 or other common formats for offline playback.
Can I use the same method to download a Spotify playlist to my phone?
Currently, AudiFab only has Win and Mac versions, but no mobile version. If you want to download Spotify tracks to your phone, you can first download them on your computer and then transfer them to your phone via USB cable or iTunes.
Will these downloaded MP3 files expire?
Because the Spotify music files saved with AudiFab are local files, none of this music will expire and they will always be saved on your computer. You can listen to them without worry.
Can we try AudiFab for free?
Of course, you can, AudiFab is a shareware, which means you can test it before buying it. You can download different types of music to see if they meet your requirements. Please note that each piece of music can only be downloaded for one minute, and the one-minute limit can be lifted if you purchase a license.
Summary
After reading this review, you should have a comprehensive understanding of the AudiFab Spotify Music Converter. If you want to save your Spotify music permanently, AudiFab is definitely the best choice. Why not have a try?
AudiFab Spotify Music Converter is free to try. It can be downloaded for free and converts the first minute of each audio file for sample testing. If the program meets your need, you can buy a license to unlock the time limit.