Is there anything worse than being in the middle of a great song, only to have it suddenly cut out?
Spotify, with its massive music collection and cross-device compatibility, is an awesome tool for any music lover - but we all know how frustrating it can be when Spotify keeps pausing out of nowhere. Fear not, my friends - there are some quick and easy fixes you can use for PC, Mac, iOS, and Android devices to get your groove back on track. Don't let those interruptions keep you down - read on to find out the fixes for Spotify 's pausing issues and keep your tunes flowing smoothly.
Spotify may pause your music due to a variety of reasons, and here are some of the most common causes:
▶ Connection Interruptions: If your internet connection drops or becomes unstable, Spotify may pause the music to prevent playback issues and buffering.
▶ Account Switching: If you log in to the same Spotify account on another device and start playing music there, the music playing on the previous device might pause.
▶ Battery Saving Mode: On some mobile devices, when the battery saver mode is enabled and the battery level is low, certain apps, including Spotify, might be affected, leading to music pausing.
▶ App Backgrounding: If you switch to another app while Spotify is playing in the background, the app may pause the music.
▶  Region Restrictions: Some tracks or content on Spotify may have regional restrictions due to licensing agreements, which could result in the music being paused if you attempt to play it in a restricted location.
▶ Explicit Content Warning: If a track has explicit content, and you have enabled the explicit content filter in your settings, Spotify might pause the music and display a warning before playing the track.
▶ App Crashes or Bugs: Occasionally, software glitches or bugs can cause Spotify to pause unexpectedly.
▶ Account Activity: In some cases, if there is suspicious activity or unauthorized access to your Spotify account, the service may automatically pause playback for security reasons.
---
Before delving into the advanced solutions, let's first explore a range of 17 quick fixes designed to effortlessly and efficiently address Spotify keep pausing issue. These solutions are universally applicable across all devices, whether you're using a PC, Mac, iPhone, iPad, or Android phone/tablet. Consider these quick fixes:
Check Internet Connection:
Ensure you have a stable and reliable internet connection. Random pausing might occur due to connectivity issues. You can switch to another Wi-Fi network or use cellular data if available.
Restart Spotify Application:
Close and reopen the Spotify app completely. Often, restarting the app can resolve minor glitches causing interruptions.
Update Your Spotify App:
Make sure you're using the latest version of the Spotify app. Outdated apps can sometimes lead to playback problems.
On Win/Mac, a blue dot next to your username signals an available update. Click your username and select "Update Available."
For Android, update Spotify through the Google Play Store app, and for iOS, update through the App Store app.

Close Background Apps:

Terminate other background applications that might be interfering with Spotify's performance.

Reinstall Spotify:

If the issue persists, consider uninstalling and then reinstalling the Spotify app from the respective app store (App Store for iOS, Google Play Store for Android, official Spotify website for Win/Mac).

On PCs and Macs, you can clear the Spotify cache by accessing Settings > Show Advanced Settings > Offline Songs Storage > Clear Cache.
On iOS and Android, open the Spotify app and tap on the Home icon > Settings > Scroll down and tap on Storage > Tap on Delete cache.

Restart Your Device:

Sometimes a simple device restart can help resolve various issues.

Check for System Updates:

Ensure your operating system is up-to-date with the latest patches.

Sign Out Everywhere on Spotify and Re-login:

One of the reasons why Spotify may pause is because your account is being used on multiple devices at the same time. This can cause conflicts and interruptions in your playback.

1. Go to Spotify Account Overview on your browser > Head to the Profile tab > Click Sign out everywhere.
2. Log back into your device and try playing Spotify again.

Disable Battery Saver Mode:

Deactivate battery saver mode on mobile devices, as it may impact Spotify's functionality.

On PC: Click the battery icon in the taskbar and click "Battery saver" to disable it if enabled.
On Mac: Click on the Apple logo in the top-left corner, choose "System Preferences," go to "Battery," and uncheck the "Low Power Mode" box to disable it.
On iOS: Open the "Settings" app on your iOS device, go to "Battery," and toggle off "Low Power Mode" if enabled.
On Android: Open the "Settings" app on your Android device, and toggle off "Battery" or "Battery Saver" in the settings menu.

Review Firewall and Antivirus Settings (for PC/Mac):

Check if your firewall or antivirus software is blocking Spotify's access to the internet. You can try the following steps to fix this issue:

On PC: Open Control Panel > System and Security > Windows Defender Firewall. Check if Spotify is allowed for both private and public networks. If not, add it by browsing for Spotify.exe.
On Mac: Access Apple menu > System Preferences > Security & Privacy > Firewall. Unlock with your password, click Firewall Options. Set Spotify to Allow incoming connections. To add, use the plus sign and find Spotify app.
If using third-party antivirus, check its documentation or website for instructions to whitelist or exclude Spotify. Add Spotify as a trusted app or create an exception in antivirus settings.

Adjust Audio Quality:

Opt for a lower audio quality setting in Spotify's preferences.

On Windows or Mac, click the three-dot menu button and select Edit > Preferences.
On Android, iPhone, or iPad, go to Settings > Music Quality > Streaming Quality and choose a lower option.

Disable Data Saver Mode in Spotify

Spotify's Data Saver mode reduces data usage during cellular streaming. However, it may impact playback quality and stability, particularly in areas with weak or unstable signals.


Tap the Home icon on Spotify > Settings > Music Quality > Data Saver, and toggle the switch off.

Check Headphone Connection

Sometimes, Spotify may pause because your headphones are not properly connected to your device. This can happen if your headphones have a faulty wire, a loose jack, or a low battery.


Reconnect the headphones firmly to audio port.
Test with different headphones/speakers.
Ensure full charge and pairing for wireless headphones.
Delete and re-download corrupted files:
If you're listening to Spotify offline, corrupt or incomplete files may pause playback. You can delete them from the playlist/album, then re-download them.
Turn off Low Power mode (iPhone/Android):
Turn off Low Power mode on iPhone by swiping down and tapping the battery icon or going to Settings > Battery > Low Power Mode.
On Android, go to Settings > Battery > Battery Saver or swipe down and tap the battery icon to access the Battery Saver option.
Disable Hardware Acceleration (Win/Mac):
Hardware Acceleration in Spotify may cause playback pause on incompatible or low-spec devices. To turn off Hardware Acceleration in Spotify app on Windows or Mac:
Click the three-dot menu > Edit > Preferences > Compatibility > Uncheck 'Enable hardware acceleration' > Restart app.
These are some of the common fixes for Spotify music problems. However, if none of them work for you, or if you want to avoid these problems from happening again in the future, you may want to try the advanced solution.
---
Had enough of Spotify music issues? AudiFab Spotify Music Converter is here to save the day. With this remarkable converter, you can effortlessly download all your cherished Spotify songs to MP3, AAC, WAV, FLAC, ALAC, and AIFF locally. And you can:
Unencrypt the Spotify Ogg format and play Spotify music on any device or app you like, such as MP3 players, car stereos, or other music players.
Keep Spotify music forever on your local drive or cloud storage, even if you stop your subscription or have no internet connection.
Maintain the original audio quality and ID3 tags of Spotify music, such as artist, album, genre, etc. You can also customize the output parameters according to your needs.
In this way, say goodbye to interruptions and unexpected pauses, and embrace the freedom of playing your music on any music player without worries about bugs or compatibility issues. 
AudiFab is easy to use and compatible with both Win and Mac systems. Just download the free trial version and follow simple steps to start converting your Spotify music.
Run AudiFab Spotify Music Converter 
To begin using AudiFab, open the app and choose "App Download". If you already have Spotify App installed, it will open automatically. If not, you can use the "Spotify web" option.
Tips: For original audio quality, use "App Download" in AudiFab. For faster conversion, choose "Web Download".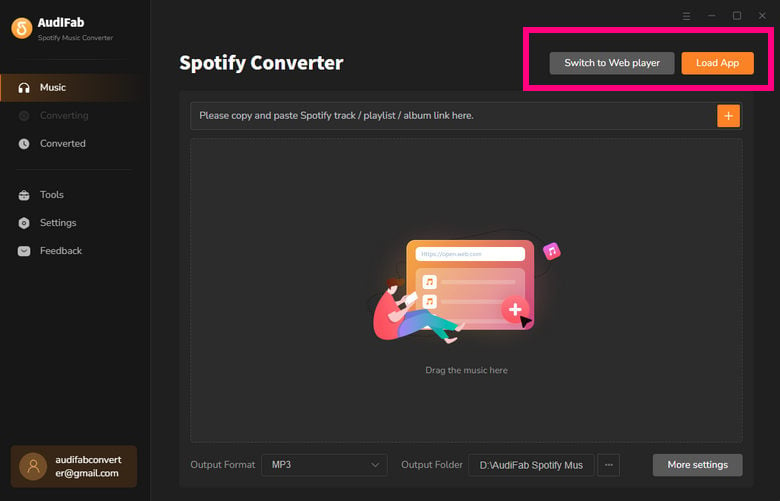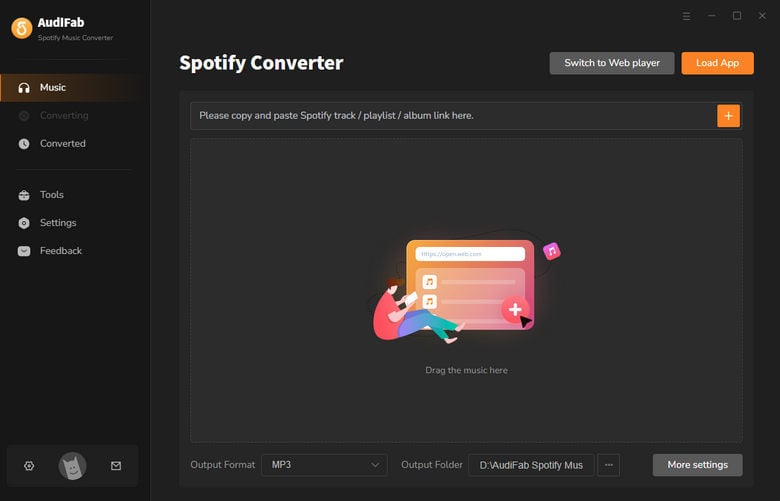 Drag and drop the songs from Spotify to AudiFab. 
Locate the songs you want to convert in Spotify and drag and drop them over to the AudiFab interface. 
Tips: To convert a Spotify playlist with more than 500 songs, select all files by clicking the first song, holding shift, and left-clicking the last song. Then, drag and drop the selected songs to AudiFab.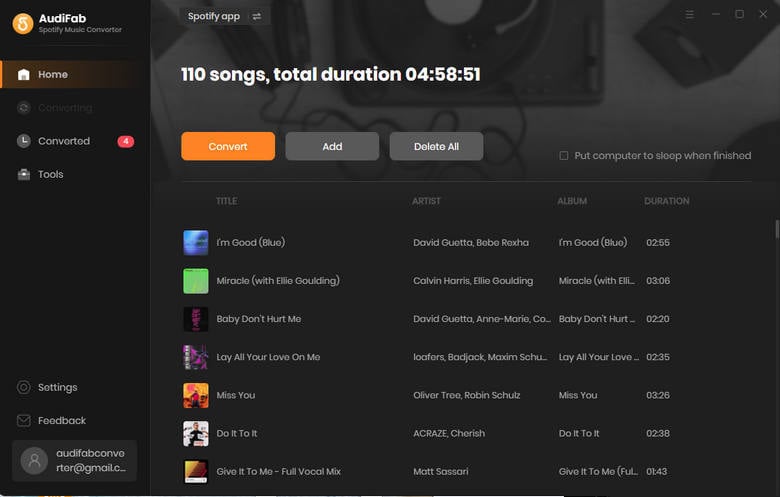 Pick MP3 as the output format  
In Settings, pick "MP3" as the output format. Customize other parameters as needed. For a large number of tracks, use "Put system to sleep" in After converting to save power and resources automatically.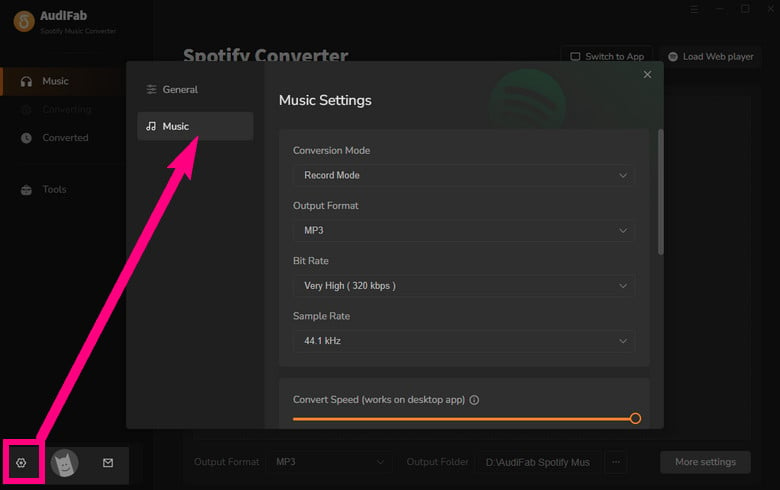 Converting Spotify Music to MP3 
Return to the main interface and start the Spotify tunes to MP3 conversion process by clicking "Convert".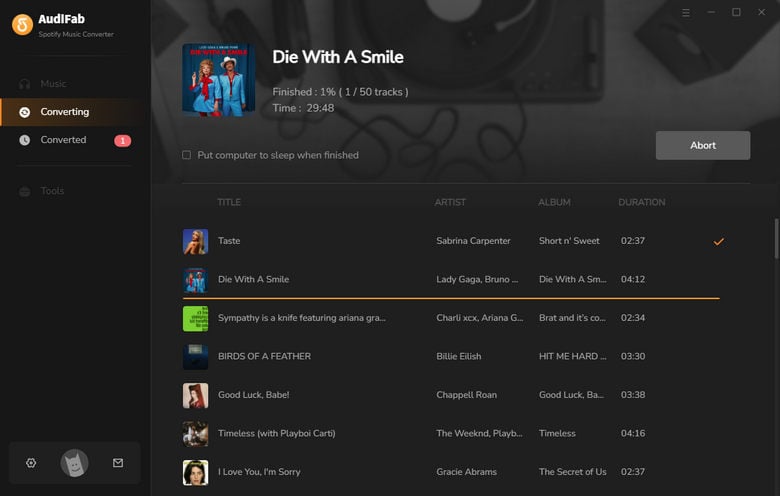 Find the Converted MP3 Files
Once the conversion is finished, you will find the converted MP3 files in the output folder you selected in Step 3. With these files, you can now play your music in apps outside of Spotify permanently, allowing you to avoid any future Spotify music-related issues indefinitely.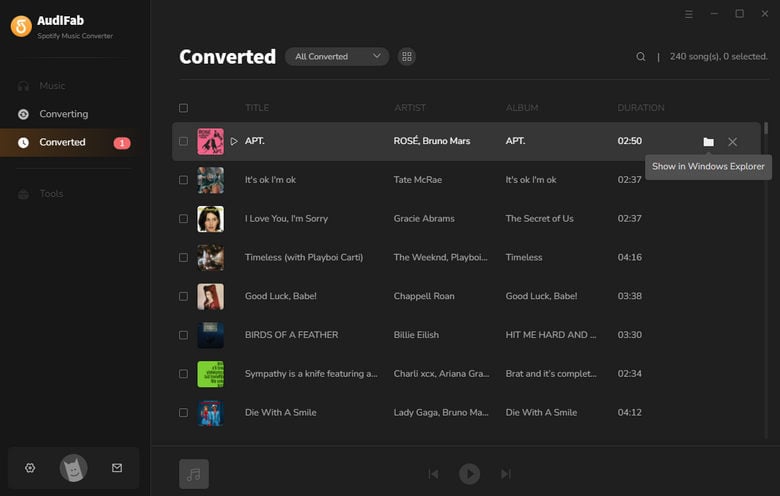 ---
Summary
You have just read an article that explains why your Spotify keeps randomly pausing and how to fix it quickly across different devices, such as PC, Mac, iOS, and Android.
However, for a permanent solution to avoid Spotify music problems, AudiFab Spotify Music Converter offers an advanced option. With AudiFab, you can rip Spotify music to MP3 on your local drive, whether you have a Spotify Free or Spotify Premium account. This means you can enjoy your favorite music not only on the Spotify app, but also on other devices and players.
Download AudiFab for free to convert the first minute of each audio file for sampling. Purchase a license to remove time limitations if satisfied.