Are you facing the frustrating issue of Spotify lyrics not working when you want to sing along to your favorite tunes? Music streaming on Spotify becomes an even more immersive experience when you can see the lyrics to sing along or just appreciate the poetic essence of the songs. However, there are instances where Spotify lyrics may not display as expected, leaving you wondering how to fix this issue. In this guide, we'll walk you through troubleshooting methods to make lyrics on Spotify show up again and even teach you how to download lyrics and songs from Spotify.
👉Related articles: How to See & Share Spotify Lyrics on Phone & Desktop & TV 2023
Lyrics not showing or displaying on Spotify can be frustrating. Various factors, such as a poor internet connection, outdated app, or server issues, may cause this problem. Now, Let's explore the following 9 effective solutions to fix the issue of Spotify lyrics not loading lyrics on any device:
Try Playing Another Song
Try playing another track to see if you get Spotify lyrics to appear. If lyrics appear for the new song but not the original one,it might be due to song-specific lyric availability. If no songs display lyrics, move on to the next solution.
Tips: To add lyrics to Spotify songs, see How to Add Lyrics to Spotify.

Check Your Internet Connection
Make sure your network is fast and stable. If using mobile data, switch to Wi-Fi if possible. Restart Spotify and see if the lyrics show up.
Sign Out and Sign Back In
By signing out and signing back in, you can refresh your Spotify session and potentially resolve any issues related to lyrics not showing.
Open Spotify and go to Settings (top-right corner).
Choose Log Out and confirm.
Sign back in with your username and password.
Check if the lyrics now appear.
Check Spotify's Server Status
Go to Spotify Status website and see if there are any issues or outages in your area.
If yes, wait for Spotify to fix them before using lyrics.
Clearing the cache can fix Spotify issues, particularly those related to lyrics not loading, and improve its performance.
For iOS/Android/Smart TV:
Open Spotify and tap Settings (gear icon) > Storage > Delete Cache.
For Windows:
Open Spotify and click Profile (top-right corner) > Settings.
Go to Storage > Cache > Clear Cache and confirm.
For Mac:
Quit Spotify and go to Go > Go to Folder in the menu bar.
Enter ~/Library/Caches/com.spotify.client and press Enter.
Select and delete all files and folders in the cache folder.
Update the Spotify App
Updating the Spotify app can fix some issues and bugs that may affect the Spotify lyrics feature.
To update the Spotify app on different devices, follow these steps:
For Android: Go to Play Store > Menu > My apps & games. Find Spotify and tap Update.
For iOS: Go to App Store > Updates. Find Spotify and tap Update.
For Windows: Go to Microsoft Store > Menu > Downloads and updates. Find Spotify and click Update.
For Mac: Open Spotify and click Spotify > Check for Updates. Follow the instructions to install the update.
For Smart TV: Open Spotify and go to Settings > About. Click Update and wait for it to finish.
Disable or Change VPN Servers
VPNs may affect Spotify's features, such as lyrics display. If using a VPN, turn it off or switch to a different server location. After making changes, retry Spotify to view if the lyrics are visible.
Check Time and Date Settings
Make sure the time and date are correct and automatic. Spotify's lyrics feature may be affected by the time and date settings on your device, as they need to be synchronized with Spotify and Musixmatch.
For Android: Go to Settings > System > Date & Time.
For iOS: Go to Settings > General > Date & Time.
For Windows: Go to Settings > Time & Language > Date & Time.  
For Mac: Go to System Preferences > Date & Time.
For Smart TV: Go to Settings > General > System Manager > Time.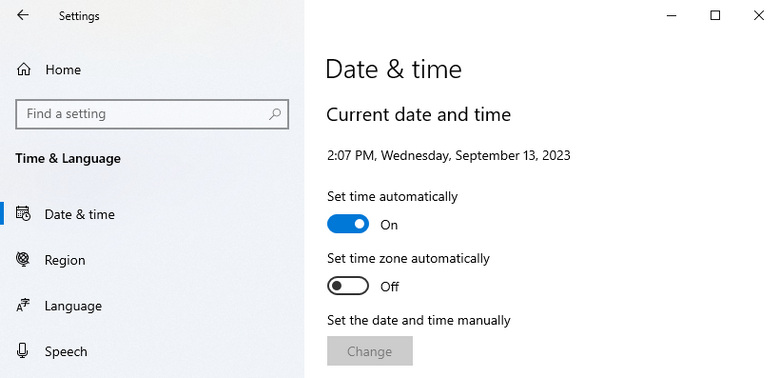 Reinstall Spotify (if necessary)
If you're experiencing persistent issues with Spotify's lyrics feature, consider reinstalling the Spotify app as a potential solution.
iOS:


Press and hold the Spotify app icon on your home screen until it starts shaking.
Tap the "X" icon on the Spotify app to uninstall it.
Go to the App Store, search for Spotify, and reinstall the app.
Android:


Go to Settings > Select "Apps" > Spotify and tap Uninstall.
Go to the Google Play Store, search for Spotify, and reinstall the app.
---
In our previous discussion, we discussed how to address the issue of lyrics not showing or functioning on Spotify. Now, let's dive deeper. Spotify serves both Free and Premium users, offering real-time lyrics. However, Spotify doesn't have a built-in lyric download feature.
To save Spotify lyrics offline, you can use a Spotify lyrics downloader like AudiFab Spotify Music Converter. AudiFab enables all Spotify users to record Spotify Songs to MP3 files in 100% original audio quality. While ripping songs to MP3, it can also extract Spotify lyrics for local storage, enhancing your singing along, language learning, and addressing lyrics display issues, etc.
Check more details about AudiFab Spotify Lyrics Downloader: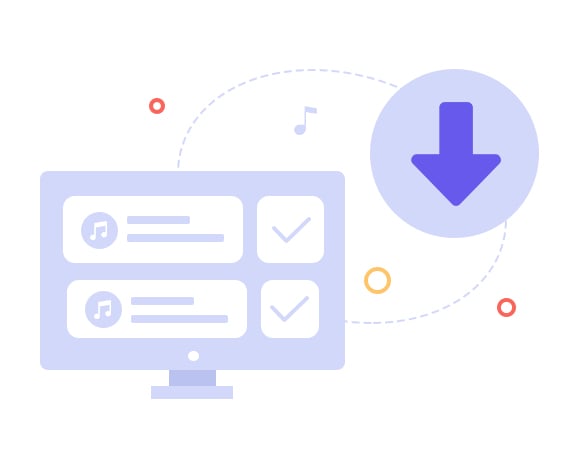 AudiFab Spotify Music Converter
Download music from Spotify app/web to the computer.
Convert Spotify playlist to MP3/AAC/WAV/FLAC/AIFF/ALAC.
Keep original audio quality, ID3 tags and lyrics after conversion.
One click to burn Spotify music to CD.
Free updates and technical support.
The steps in AudiFab are simple. Just follow:
Launch AudiFab Spotify Music Converter 
Open AudiFab and select the App mode (For Windows) or Webplayer mode (For Mac) based on your preferences.
Tips: Both App and Webplayer modes can save lyrics on Spotify. You can check the online help for more details - AudiFab Online Help.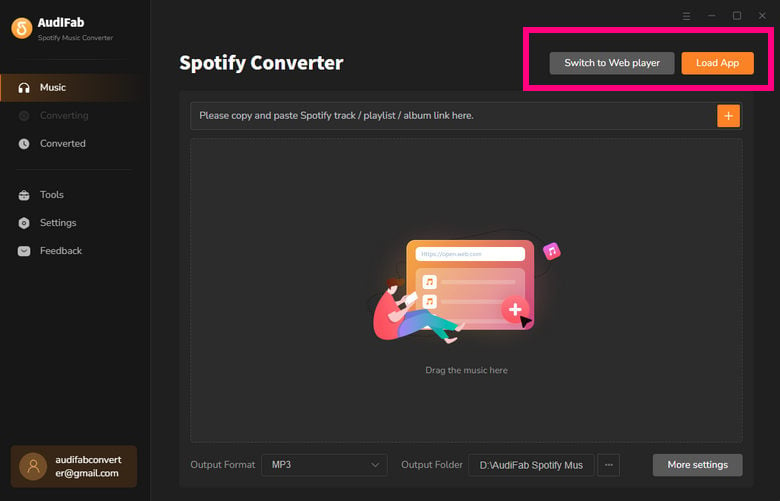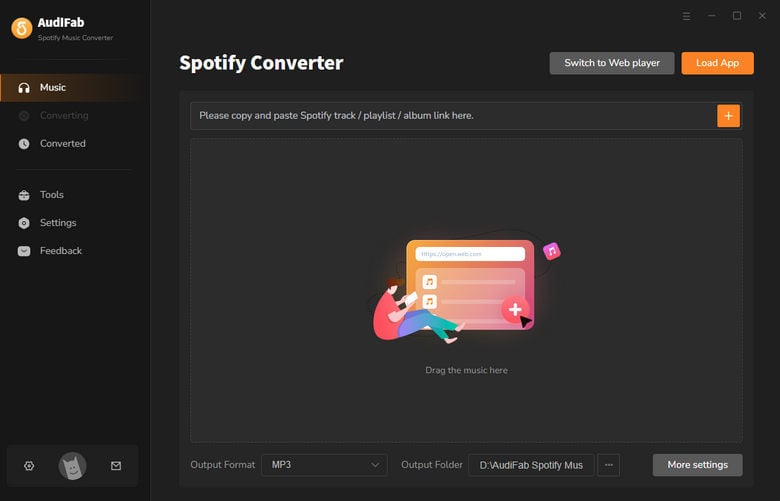 Configure Settings for Lyrics and Quality 
In the settings, choose your desired audio quality. If you want to play the songs on multiple devices and save memory, select MP3 format. For better audio quality, consider using Spotify Record mode + Auto format.
Remember to enable "Save lyrics (if provided)" for saving Spotify lyrics.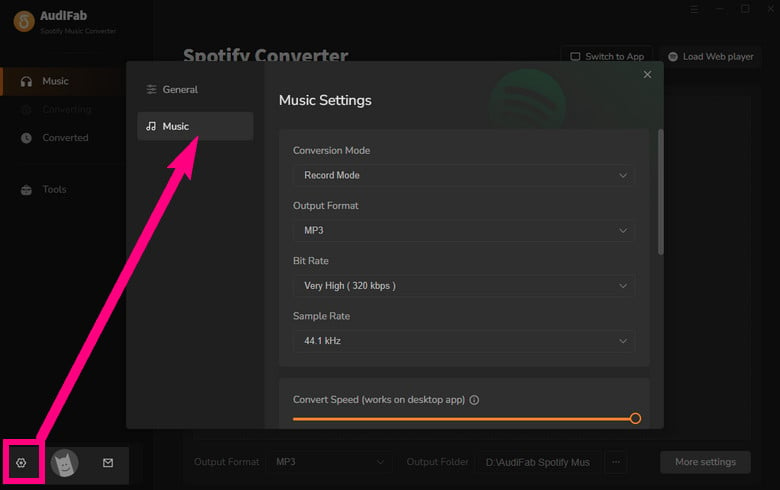 Add Spotify tracks to AudiFab to save lyrics 
Drag and drop the Spotify tracks for which you want to save the lyrics into AudiFab.
Alternatively, you can copy the track's link and paste it into AudiFab's search box.
Confirm your selection by clicking "Add."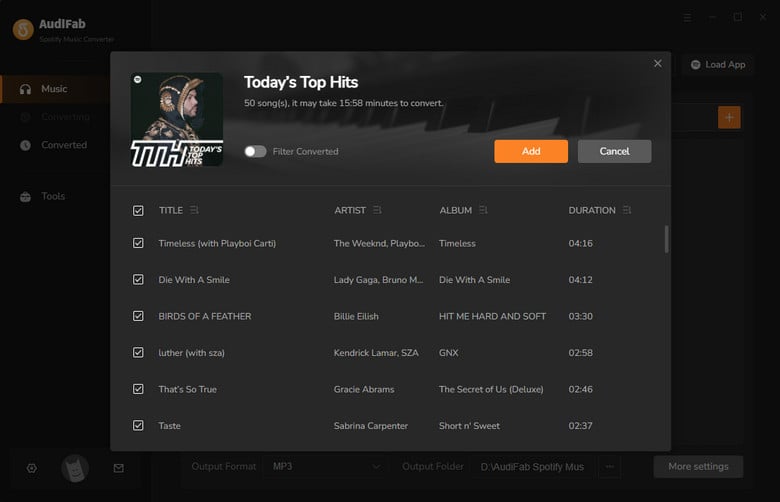 Start Downloading Spotify Songs with Lyrics  .
Click "Convert" to initiate the download process for Spotify songs with lyrics.
Tips: The downloaded lyrics will be in LRC format if the song has a time-stamped lyrics file or in TXT format if it doesn't.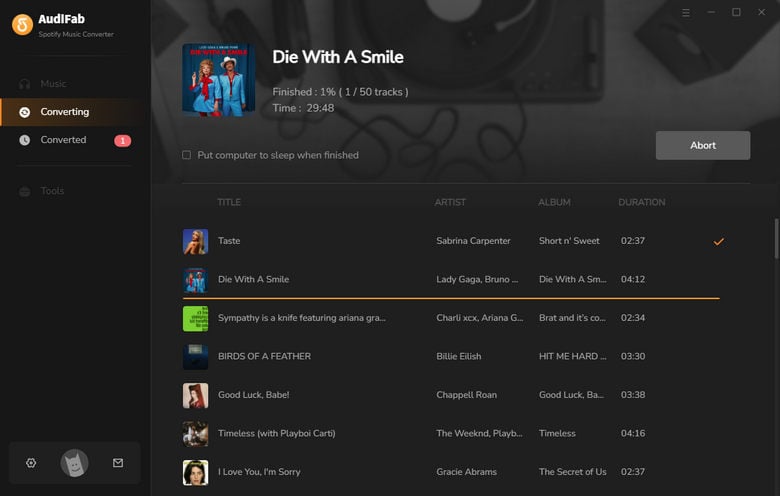 Locate and Play Recorded Songs with Lyrics 
AudiFab provides high-speed downloads, allowing you to download multiple songs in a minute. After downloads, navigate to the output folder to access your converted content. You can now play the downloaded songs along with their saved lyrics.
Tips: Place matching lyrics and music files in one folder for players like GOM Audio and Mp3nity to display lyrics.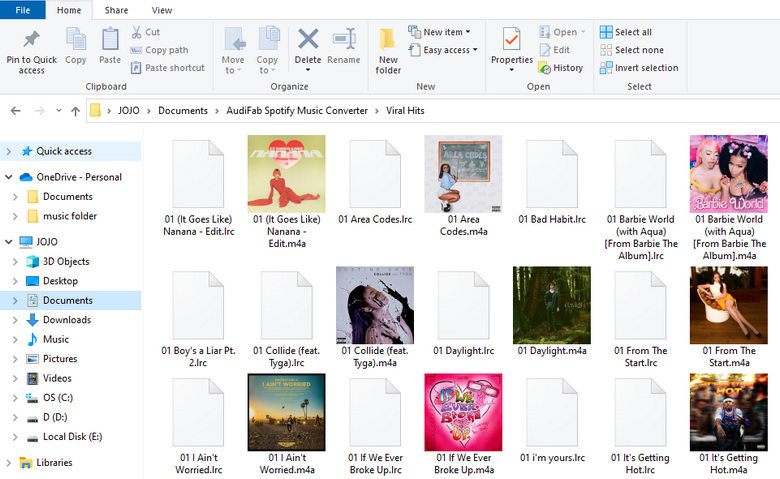 🎞 YouTube Video: Fix Spotify Lyrics Not Working/Showing
---
If Spotify songs don't display lyrics, it may be because the song itself doesn't come with lyrics. Here's how to add lyrics to Spotify songs:
Step 1. Be a verified artist on Musixmatch, the platform that syncs lyrics for Spotify.
Step 2. Sign up for a Musixmatch account and verify your identity.
Step 3. Claim your artist page.
Step 4. Add or edit your lyrics and sync them with your songs on Spotify.
Unfortunately, you can't directly add lyrics to songs on Spotify if you're not the artist or a verified contributor. Spotify relies on services like Musixmatch to provide lyrics.
Summary
This guide has tackled the issue of Spotify lyrics not working/showing, with clearing the cache being a helpful solution. We've also covered how to download lyrics and songs from Spotify with AudiFab Spotify Music Converter. Additionally, we answered regarding adding lyrics to Spotify.
AudiFab Spotify Music Converter offers a free trial allowing you to convert the first minute of each audio file, including Spotify lyric downloads. If it meets your requirements, consider purchasing a license to remove time limitations.