Imagine you're about to enjoy some music on Spotify, but when you open your playlist, you see that some of your favorite Spotify songs are greyed out and unavailable. How frustrating is that? You're not alone. Spotify is one of the most popular music streaming services in the world with millions of users and subscribers worldwide, but it also has some limitations and challenges that can affect your music experience.
In this article, we will explain why some Spotify music might be greyed out in your playlists due to various reasons such as regional restrictions, licensing issues, etc. More importantly, we will show you the top 8 proven solutions to make those Spotify songs playable again. Plus, we will introduce you - a tool to enhance your Spotify music experience - AudiFab Spotify Music Converter, which can help you download Spotify music files into any format easily, so you can keep your favorite Spotify songs forever and transfer them to any device or platform without limits, even if they get removed from Spotify in the future. Don't you want to solve Spotify songs greyed-out issues once and for all? Then read on and discover how!
There are several reasons why a song on Spotify may be greyed out and unplayable. Here are nine common reasons:
▶ Network issue: The song may not be available due to a poor network connection or offline mode.
▶ Licensing or copyright issues: The song may be unavailable because the rights to the song have not been obtained by Spotify, or the rights have expired or been revoked.
▶ Regional restrictions: Some songs may not be playable in certain countries due to regional restrictions or licensing agreements.
▶ Removal by the artist or record label: The song may have been removed from Spotify by the artist or record label due to a dispute over royalties or creative control.
▶ Technical issues: Occasionally, technical issues on Spotify's end may cause certain songs to be unavailable for streaming.
▶ Premium-only content: Some songs may be available only to users with a premium subscription to Spotify.
▶ Explicit content: Some songs may be marked as explicit and may not be playable on Spotify if the explicit content filter is turned on.
▶ Compatibility issues: Some songs may not be playable on certain devices or operating systems due to compatibility issues.
▶ Age restriction: Some songs may have an age restriction or parental advisory warning, and may not be playable on Spotify if the appropriate settings are not enabled.
The specific methods and detailed steps to get your Spotify songs back and avoid missing a beat again may vary depending on the cause of the issue. Here are some general guidelines that may help.
Make sure you have a stable and strong internet connection to stream Spotify music. You can try to switch between Wi-Fi and mobile data, restart your router or diagnose your network issues. Here are the detailed steps for diagnosing Network issues:
Go to Settings and navigate to Network & Internet (Network on Mac).
Use the built-in Network troubleshooter to diagnose and fix any network issues.
Log out and log back into Spotify
Logging out and then logging back into Spotify can help fix some issues with the app, including greyed-out songs on Spotify. Here's how to do it:
Open the Spotify app on your device.
Tap on your Profile in the top right corner of the app.
Click on Log Out from the drop-down menu.
Once you're logged out, tap on "Log In" and enter your Spotify login credentials.
Tap on your Profile in the top right corner of the app.
Click Settings > Scroll down to "Storage" > click "Clear cache".
📢 More details: Clear Spotify Cache: Step-by-Step Guide for All Devices
Re-add greyed-out songs to your Spotify playlist
Open a playlist on Spotify with greyed-out songs.
Type the greyed-out song title in the search box.
Find the songs and click the three dots next to the song title.
Select "Add to playlist" from the drop-down menu and choose the playlist you want to add it to.
Go to the playlist, and you will find you can access the song again.
Delete the greyed-out song.
Change your region settings with VPN
Download and install a VPN (Virtual Private Network) on your device. There are many free and paid VPN services available online.
Connect to a server located in the country where the content is available.
Delete and reinstall the Spotify app
Open Settings and navigate to the Apps.
Scroll down to find Spotify.
Click Uninstall.
Then install Spotify again.
If you're tired of dealing with greyed-out songs on Spotify, there's a solution that can fix the issue once and for all. The secret is to use a music converter tool that can download Spotify songs to your device as local files. This way, even if the songs are not available on Spotify anymore or you have expired your Spotify subscription, you can still listen to them locally. While there are many music converters available, not all of them work well with Spotify. That's why we recommend you use AudiFab Spotify Music Converter, which is one of the best tools for all Spotify users.
This amazing tool lets you download and convert any Spotify song, playlist, album, podcast, or audiobook to your preferred format with just a few clicks. Whether you want MP3, AAC, WAV, FLAC, ALAC, or AIFF, AudiFab can handle it. You can also keep all the ID3 tags and metadata of Spotify songs, such as artist, album, genre, etc. AudiFab music converter is easy to use and compatible with both Windows and Mac systems.
With AudiFab, you can say goodbye to greyed out Spotify songs forever. You can enjoy your Spotify music offline on any device or player without any restrictions. You can also share your music with your friends or family without any hassle.  Don't miss this opportunity to fix greyed out Spotify songs forever. Click the following link to download AudiFab Spotify Music Converter now: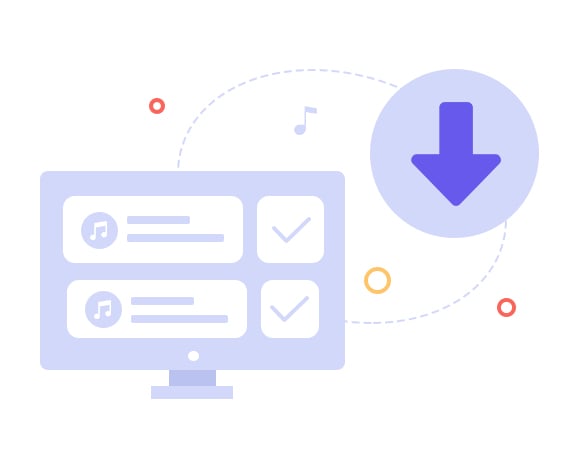 AudiFab Spotify Music Converter
Download music from the Spotify app to the computer.
Convert Spotify playlist to MP3/AAC/WAV/FLAC/AIFF/ALAC.
Keep original audio quality, ID3 tags and lyrics after conversion.
One click to burn Spotify music to CD.
Free updates and technical support.
Here are the simple steps to use AudiFab and permanently avoid Spotify songs greyed out:
Launch AudiFab Music Spotify Converter
Open AudiFab Music Spotify Converter on your computer. Select App download. Then Spotify App will open automatically.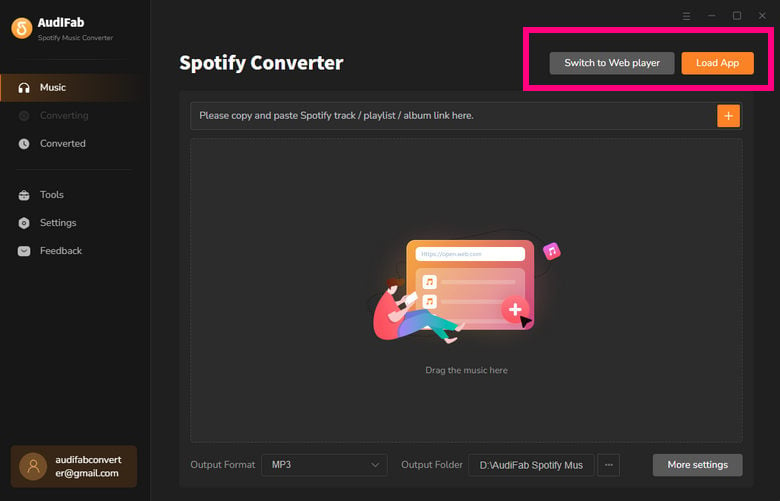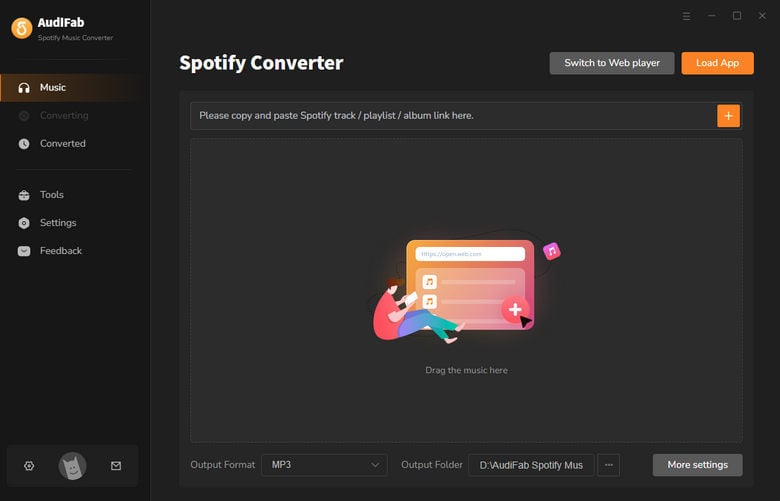 Import Spotify songs to AudiFab
Drag and drop the Spotify songs that you want to download and convert from Spotify to the main interface of AudiFab. Then click Add.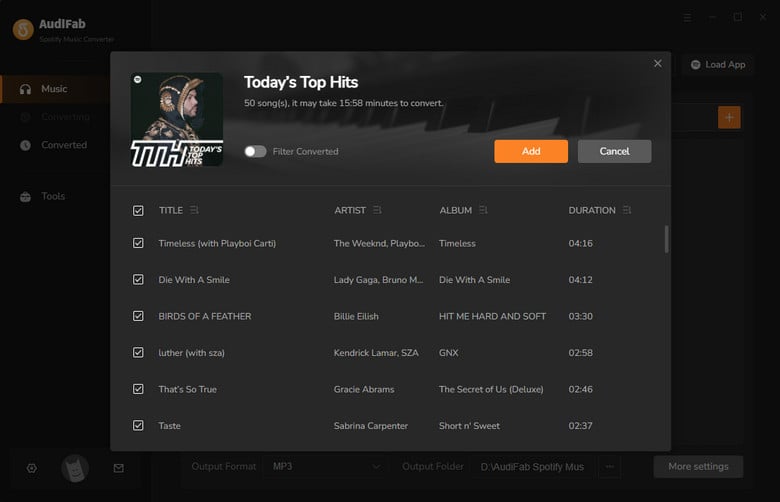 Download Spotify to MP3
Click the gear icon to access the Settings menu. Here, you can choose the output format (We suggest MP3, which is the most commonly used format) and adjust the output settings to your liking, such as selecting the output quality and output folder.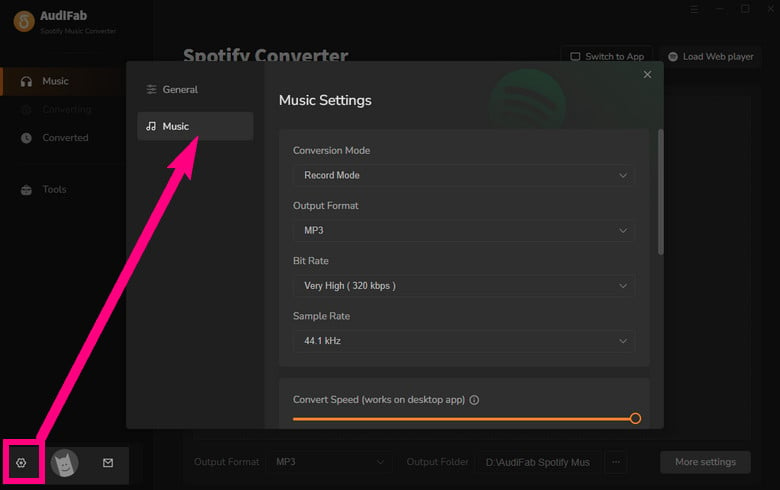 Start to convert Spotify music
Click on the "Convert" button to start the conversion process. AudiFab will start converting the Spotify songs to the chosen output format.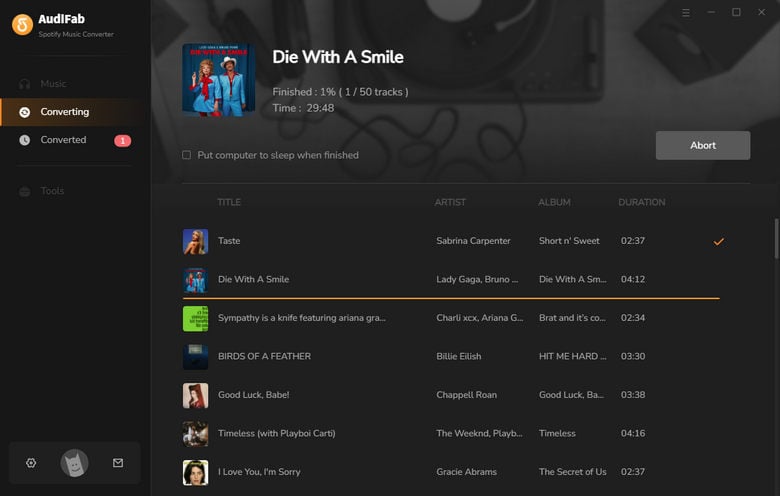 Fix Greyed Out Spotify Songs Forever
Once the conversion process is complete, you can easily locate the converted songs in the output folder. Congratulations, you have successfully found a permanent solution to the annoying greyed out songs on Spotify. From now on, you can enjoy your favorite Spotify music offline on any device or player without any limitations or restrictions. No more dealing with broken music or incomplete playlists.
🎞 YouTube Video: How to Play Unplayable Songs on Spotify
Why Spotify songs are greyed out but still able to play?
This may be due to the songs having been reuploaded by the artist or labeled with different metadata, making them appear as new songs on Spotify. You can check this by comparing the song URLs and seeing if they are different.
In any case, if you're able to play the greyed-out songs, you don't need to worry too much. However, if you're having issues playing songs or are encountering greyed-out songs frequently, you can try the solutions mentioned in my previous answer or contact Spotify support for further assistance.
How to find the greyed out songs?
To find the greyed out songs on Spotify, you need to enable the option to show unavailable songs in playlists. You can do this by following these steps:
Go to Settings on the Spotify app.
Under the Display Options section, turn on "Show unavailable songs in playlists".
Then, you will see the playlist of all the Spotify songs greyed out.
How to sync local files to Spotify?
To import your favorite music to Spotify on your computer, go to Settings, switch on "Show Local Files", and add your music folder. Only .mp3, .mp4, and .m4a files are supported. Then, go to "Your Library" and select "Local Files" to see your imported music.
📢 More details: How to Upload Your Music to Spotify?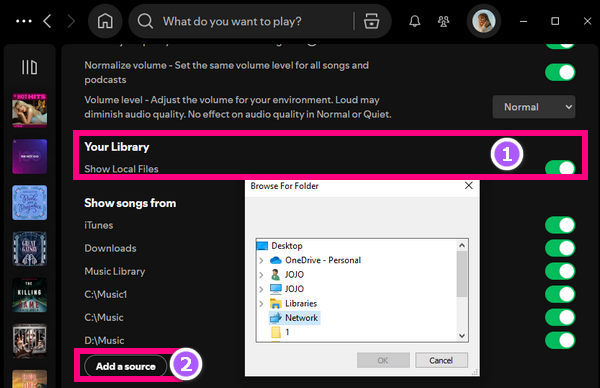 Another Way to Fix Spotify Greyed Out Songs:
One way to fix greyed out songs on Spotify is to try searching for them on other music platforms. If you find them, you can download them locally and then upload them to Spotify (Check Q3). Another option is to use tools to transfer the songs to Spotify. More details:
📢 Download Apple Music songs to MP3
📢 Download Amazon Music as MP3
📢Top 5 Tools: Transfer Streaming Playlists to Different Platforms
Final Words
We hope this article has helped you understand why some Spotify songs are greyed out and how to fix them. If you want to enjoy Spotify music without any restrictions or limitations, you should try AudiFab Spotify Music Converter. This tool can convert Spotify music to various formats at 10x speed, with lossless quality and complete ID3 tags. You can download it for free now. Don't miss this opportunity to get AudiFab Spotify Music Converter and unlock the full potential of Spotify music!
AudiFab Spotify Music Converter is free to try. It can be downloaded for free and converts the first minute of each audio file for sample testing. If the program meets your need, you can purchase a license to unlock the time limit.