If you are a Spotify user, you might have heard of the Spotify Pie Chart. Based on your Spotify listening data, it is a cool and entertaining way to visualize your musical preferences. It displays your favorite musical genres and artists in a visually appealing pie chart. You can compare your friends' musical tastes by sharing your pie chart with them.
But how do you create your Spotify Pie Chart? How do you download the songs from your Spotify Pie Chart for free? And what are some frequent problem solutions? All of these queries and more will be addressed in this post. Let's get started!
What Is Spotify Pie Chart?
On the website Spotify Pie Chart, you may view a pie chart of your monthly music listening patterns. It shows you the genres and artists you listen to the most in a bright and entertaining way. For example, you might see that your pie chart is mostly pop, rock, and indie, with some slices of rap, metal, and jazz. You might also see that your top artists are Beyoncé, Taylor Swift, The Weeknd, and Rihanna, among others. Additionally, you may view how similar or dissimilar your friends' choices are by comparing your pie chart with theirs.
How to See a Spotify Pie Chart
So how do you make your Spotify Pie Chart? It's enjoyable and really simple. All you need is an active Spotify account and a web browser. The steps are as follows:
Step 1. Visit the Huangdarren1106 Website to create Spotify Pie Chart.
Step 2. Click Spotify Login to begin. After that, you must give the website permission to access your listening history.
Step 3. Watch for the website to automatically generate a pie chart using your favorite Spotify artists.
Step 4. Enjoy and share your Spotify Pie Chart with your friends!
How to Share the Spotify Pie Chart:
Sharing your Spotify Pie Chart can be an exciting way to interact with them and show off your musical preferences. Here are several methods for spreading it:
Social Media: Take a screenshot or capture(Window Hotkey: Windows + Shift + S /Mac Hotkey: Shift + Command + 4) the Spotify Pie Chart image and share it on your preferred social media platforms such as Instagram, Twitter, or Facebook. Add a caption or description to invite others to explore and discuss their own music preferences.
Collaborative Playlists: Create a collaborative playlist based on the categories highlighted in your Spotify Pie Chart. Send the playlist URL to your friends or post it on social media to invite others to add their favorite music from those genres.
While the Spotify Pie Chart provides valuable insights into your music library, you might also want to download your top artists and genres for offline listening or to have a local copy of your data. With the help of the robust AudiFab Spotify Music Converter, you may download and convert Spotify music to a number of different formats.
AudiFab Spotify Music Converter supports both Spotify Free and Spotify Premium to download any Spotify content to MP3/AAC/WAV/FLAC/AIFF/ALAC files on your Windows PC or Mac computer. Without losing any quality or ID3 tags, you can quickly convert any Spotify song, playlist, or podcast to the format of your choice using AudiFab. On any device or platform, you may listen to as much Spotify music offline as you want.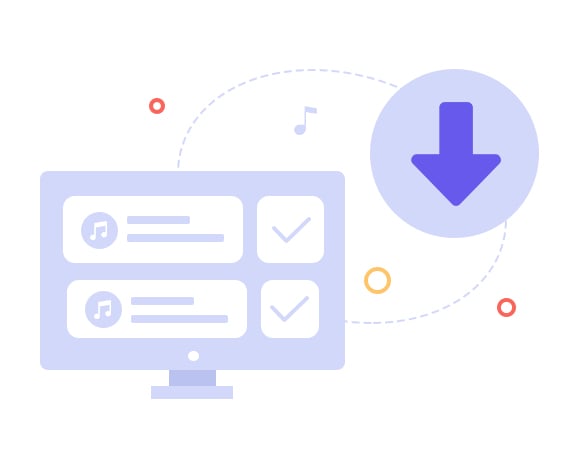 AudiFab Spotify Music Converter
Download music from the Spotify app to the computer.
Convert Spotify playlist to MP3/AAC/WAV/FLAC/AIFF/ALAC.
Keep original audio quality, ID3 tags and lyrics after conversion.
One click to burn Spotify music to CD.
Free updates and technical support.
Install AudiFab Spotify Music Converter
Begin by downloading and installing AudiFab Spotify Music Converter on your computer. AudiFab is available for both Windows and Mac operating systems. Tap App. The Spotify app will launch automatically.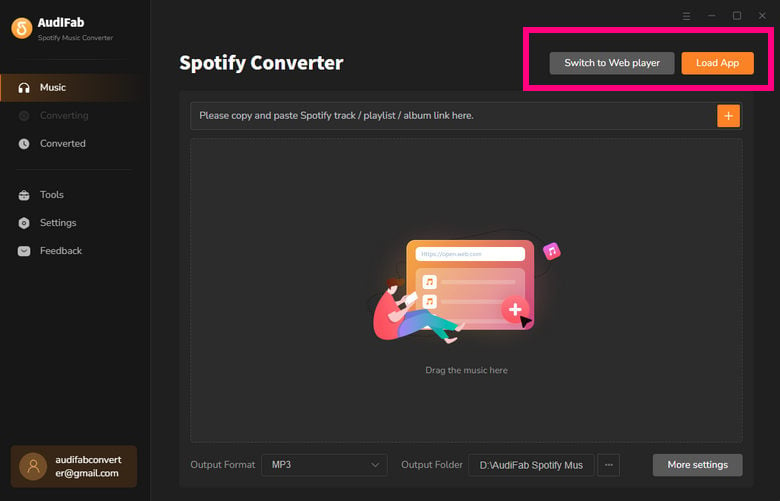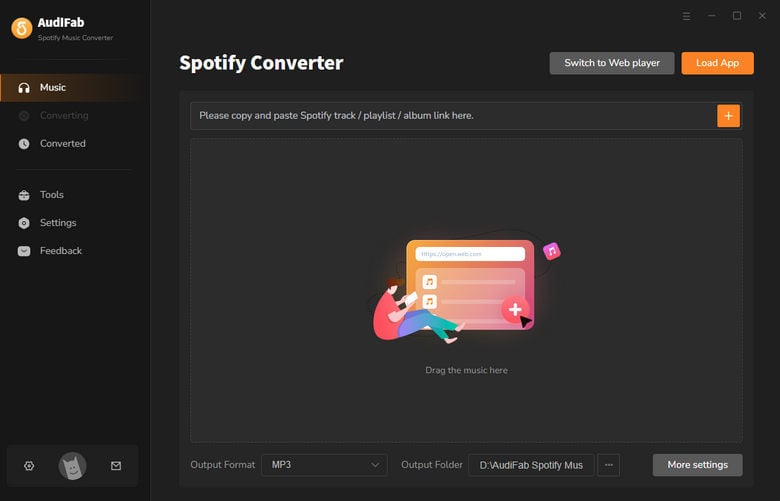 Import Spotify Pie Chart tracks to AudiFab
Identify the top artists or genre tracks that you want to download in the Spotify app. Then you can copy & paste the Spotify track URLs into the AudiFab search box or drag and drop the track files directly into the AudiFab interface.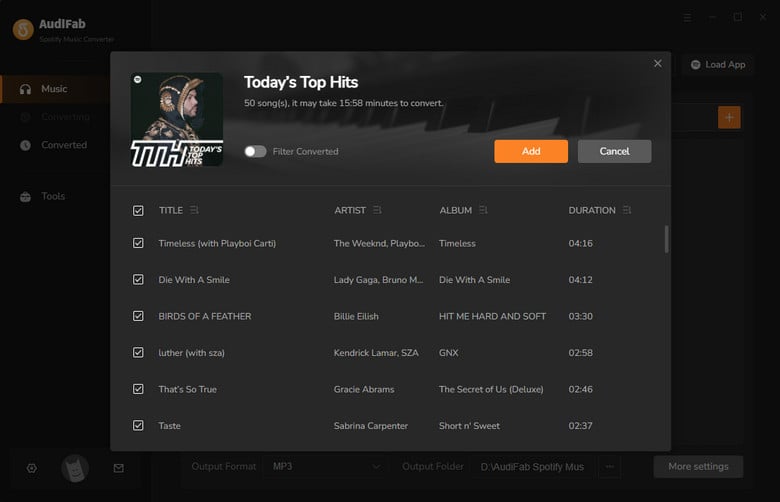 Choose Output Settings
You can either select Setting (which resembles a gear icon) in the bottom-left corner to change the output parameters. Select the desired output format and quality settings in AudiFab for your tracks. Popular formats like MP3, FLAC, WAV, and others are available for selection. According to your tastes, change any other options, such as the bitrate or sampling rate.
Tips: To satisfy your first demand, it is advised to use the "Spotify Record Mode + MP3 + 320kbps + 48kHz" settings.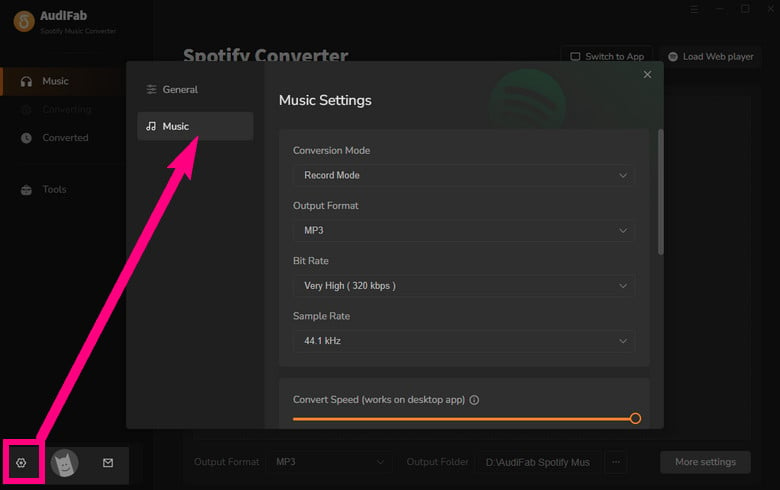 Download Spotify Pie Chart tracks from Spotify to Computer
After configuring the output settings, click the button "Convert" to initiate the conversion process. The program will begin downloading and converting the ID3-tagged, high-quality Spotify tracks.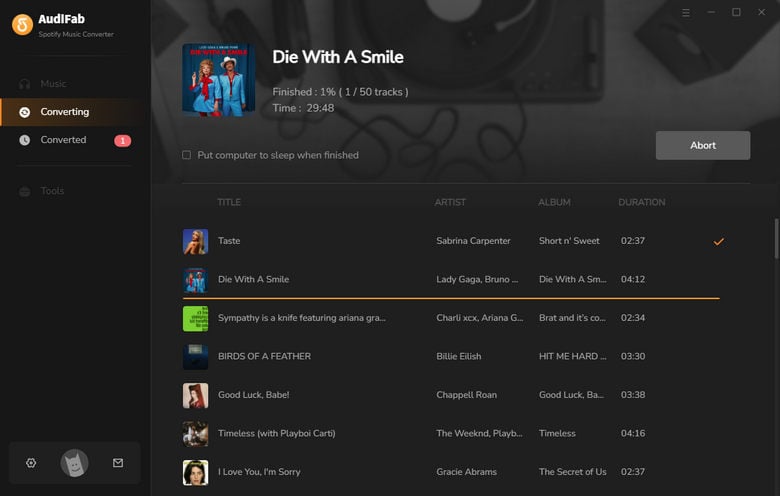 Locate the Downloaded Spotify Files
Once converted, AudiFab Spotify Music Converter will save the downloaded files to your specified output folder. You can access the downloaded tracks and transfer them to your USB, or chosen devices for offline listening.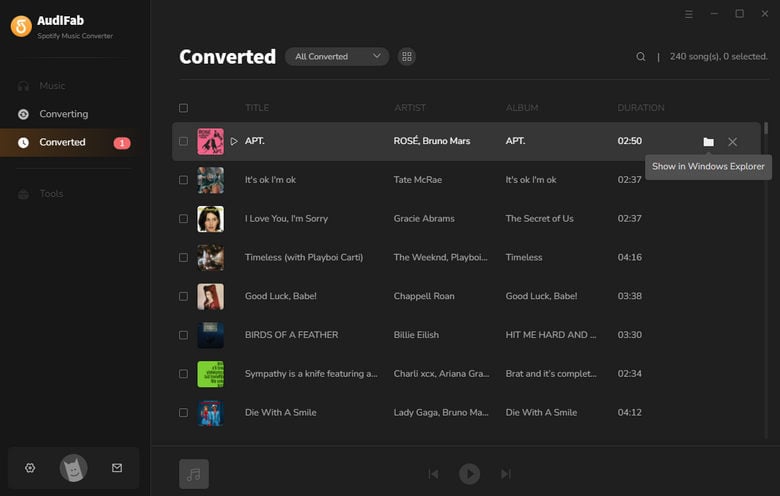 Where else to find your Spotify listening statistics?
You have various alternatives to discover your Spotify listening data besides the Spotify Pie Chart. Spotify Wrapped is an annual feature that showcases your top songs, artists, genres, and podcasts of the year. Third-party apps like Last.fm, Spotistats, and Stats for Spotify offer more detailed and personalized insights into your music habits. Furthermore, within the "Your Library" section on Spotify, you can discover personalized playlists, recommended tracks, and the Spotify AI DJ feature, all of which provide further insights into your listening habits.
Can you make a Pie Chart for Apple Music or Amazon Music?
Unfortunately, Spotify Pie Chart only works for Spotify music. Apple Music Replay is a comparable service offered by Apple Music, however, it lacks social media-friendly charts and other functionality. It only generates a playlist of the 100 songs a user listened to the most in a given year, as well as a list of artists.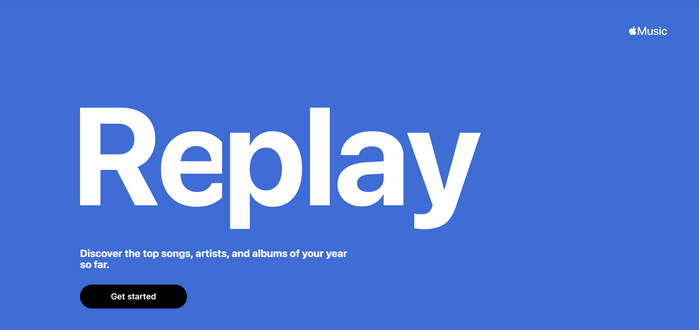 Is Spotify Pie Chart safe and trustworthy?
Due to the fact that Spotify Pie Chart does not record or share any of your personal information or musical preferences, it is safe and reliable to use. It simply needs temporary access to your Spotify account before disconnecting on its own. Use it as you see fit, at your own risk.
What to do if Spotify Pie Chart is not working?
Sometimes, Spotify Pie Chart might not work properly due to various reasons, such as network issues, server errors, or browser compatibility. If you encounter any problems with Spotify Pie Chart, you can try the following solutions:
Refresh the page or try a different browser.
Clear your browser cache and cookies.
Check your internet connection and firewall settings.
Contact the developer of Spotify Pie Chart for support or feedback.
Summary
Everything you need to know about the Spotify Pie Chart and how to get it has been covered in this post. You now know what it is, how to create and share it, how to download your top artists and genres for free, and how to discover more Spotify listening data. You have also learned how to troubleshoot some typical issues. We hope you have enjoyed this post and found it useful. Now go ahead and create your Spotify Pie Chart and share it with your friends!
AudiFab Spotify Music Converter is a valuable tool for Spotify users who want to download their favorite songs. It allows you to listen to Spotify music offline on any player or device without quality degradation or advertisements.
AudiFab Spotify Music Converter is free to try. It can be downloaded for free and converts the first minute of each audio file for sample testing. If the program meets your need, you can buy a license to unlock the time limit. Try it now and see for yourself!