Spotify, the world's leading music streaming service, has recently unveiled a revolutionary new feature called Spotify AI DJ. This feature uses artificial intelligence technology to help users create personalized DJ mixes that suit their tastes and preferences. If you love discovering and enjoying music, you'll want to try this innovative feature.
In this guide, we'll explore Spotify AI DJ in-depth, including what it is and how to use it effectively. You'll also find solutions for resolving the issue of Spotify AI DJ not appearing, along with tips for discovering new songs. We'll also provide extra guidance on downloading Spotify DJ playlists for offline listening, so you can enjoy your music experience even more. So, sit back, relax, and let Spotify AI DJ take you on a musical journey. Let's get started!
The Spotify AI DJ feature is a game-changer for music streaming. By utilizing personalization technology and OpenAI's dynamic AI voice platform, Spotify AI DJ understands the user's music taste and creates a continuous radio-style music stream tailored to the individual. Just like a live radio DJ, the AI voice provides realistic commentary on the music, including explanations for why a certain song was chosen and when the user last listened to it. This feature gives users a unique and interactive music experience that no other platform can offer.
Spotify AI DJ is in beta and available exclusively to selected U.S. and Canadian Spotify Premium subscribers who speak English. It can be accessed on Android and iOS Spotify apps. If you're interested in using Spotify AI DJ, here are the steps to follow:
Open the Spotify mobile app on your iOS or Android device.
Navigate to the Home screen and head to your Music Feed.
Tap on the "Play on the DJ" card.
Tips: You can tap the circular icon in the bottom right corner to change the theme of the music.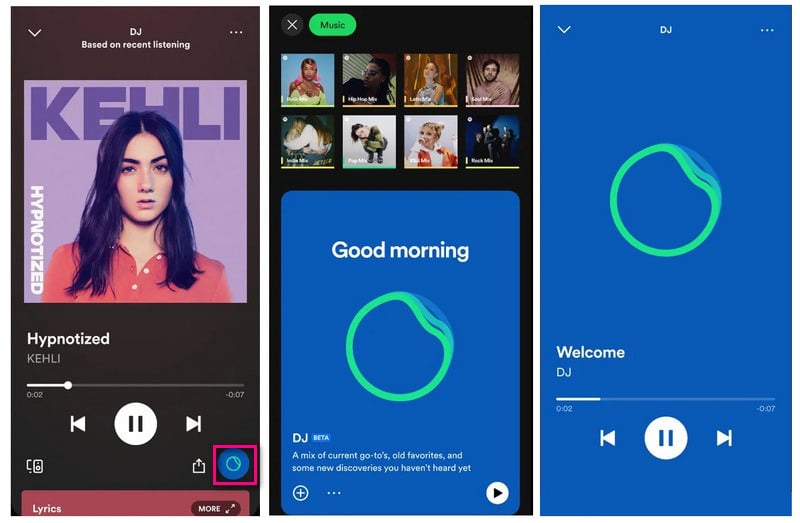 Here are some ways to fix the issue of Spotify AI DJ not showing up:
Check if you have access to Spotify AI DJ.
Log out and log back in.
Clear cache and data.
Contact Spotify support.
🎞 YouTube Video: Simple Fixes on Spotify
| Spotify AI DJ | Find New Songs |
| --- | --- |
| Uses personalization technology and generative AI to create a personalized lineup of music recommendations based on a user's listening history and preferences | Provides music recommendations based on the user's listening history and preferences. |
| Features a dynamic AI voice platform that brings to life realistic voices from text | Does not include an AI voice platform. |
| Provides a continuous radio-style music stream that is unique to each user. | Provides a list of recommended songs that the user can add to their own playlists or library. |
| Offers a highly personalized and interactive music experience. | Offers a personalized music discovery experience, but is not as interactive as Spotify AI DJ. |
| Offers a seamless listening experience that adapts to a user's preferences over time. | Offers a more traditional browsing experience for discovering new music. |
| Available only to Spotify Premium users. | Available to both Spotify Free and Premium users. |
Overall, Spotify AI DJ offers a more immersive and personalized experience. Find New Songs (Discover Weekly, Release Radar, Daily Mix, etc), on the other hand, provides a more traditional music discovery experience.
---
Spotify Free can also discover new songs without the use of Spotify AI DJ. Here are some common methods you can use to discover fresh tracks:
Discover Weekly, Daily Mix
Discover Weekly and Daily Mix are personalized playlists by Spotify. Discover Weekly is updated weekly and Daily Mix is updated in real-time based on users' listening.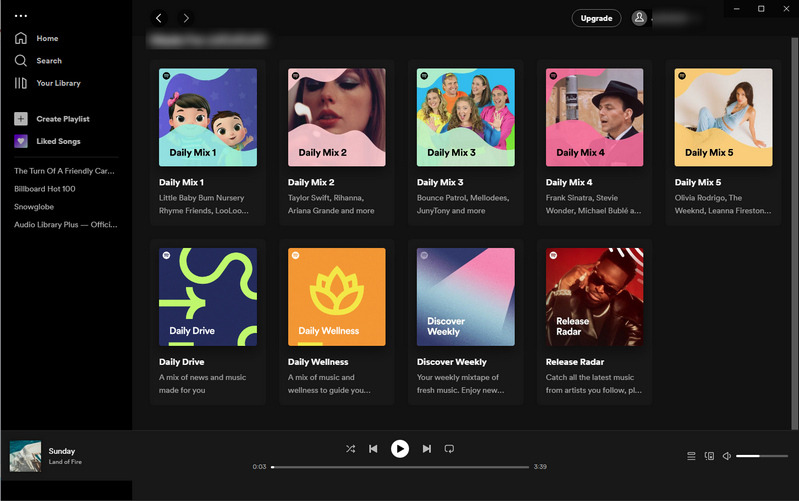 Users can create a radio station based on any song, album, artist, or playlist, and Spotify will play a series of related music.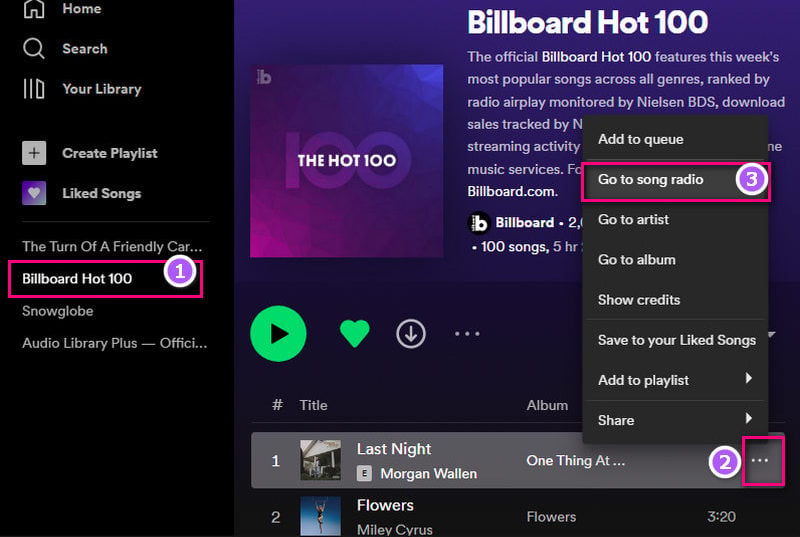 Spotify offers various browsing options, including New Releases, Concerts, Podcasts, Charts, and Moods, among others. Users can explore these options to discover new songs.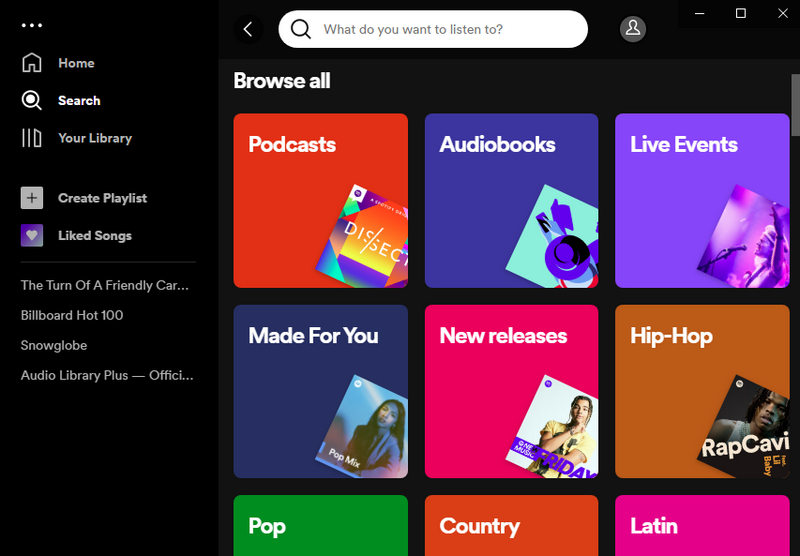 Check out Related Artists:
When a user views a specific artist on Spotify, the platform displays other artists related to that artist. Users can explore these related artists to discover new songs.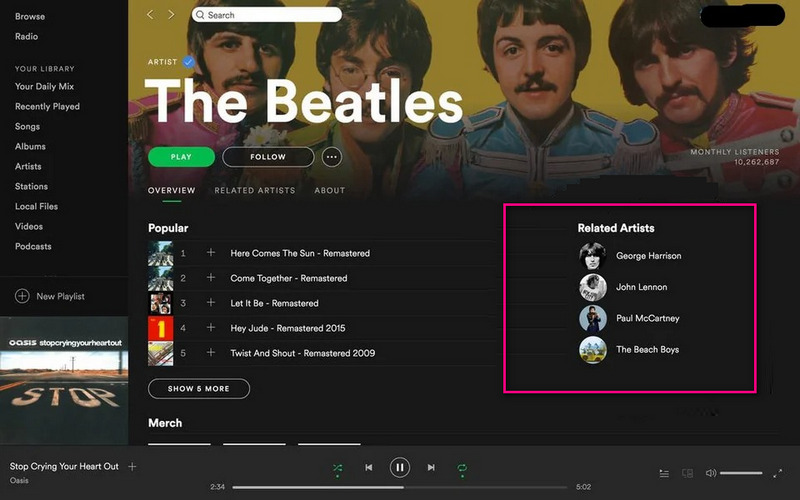 To create a seamless listening experience, users can switch on the DJ mode on Spotify:
Open the Spotify app on your device and go to the "Settings" menu.
Scroll down to the "Playback" section and toggle on the "Crossfade" switch.
Adjust the length of the crossfade to your preference, ranging from 1-12 seconds.
Go back to your music and start playing a song. As the song is about to end, the next track will start playing with the crossfade effect.
To turn off DJ mode, simply go back to the "Settings" menu and toggle off the "Crossfade" switch.
By using the DJ mode feature, you can create a seamless listening experience with no breaks between songs, just like a professional DJ.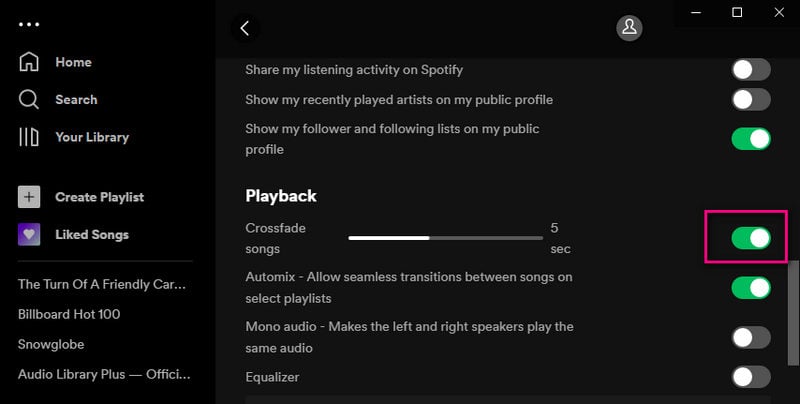 ---
If you're a DJ or music enthusiast, you know how important it is to have access to your playlists, even when you don't have an internet connection. And that's where AudFab Spotify Music Converter comes in handy.
AudiFab Spotify Music Converter is a powerful music converter tool that offers a lot of features to its users. Whether you have a Spotify Free or Premium account, you can easily download your Spotify songs, albums, and playlists in high-quality MP3, AAC, FLAC, ALAC, AIFF, and WAV formats. With AudFab, you don't have to worry about losing any important details of your songs. The tool downloads all the meta details like album names, singers' names, artwork titles, and more with each song, ensuring that you have a complete and organized music library.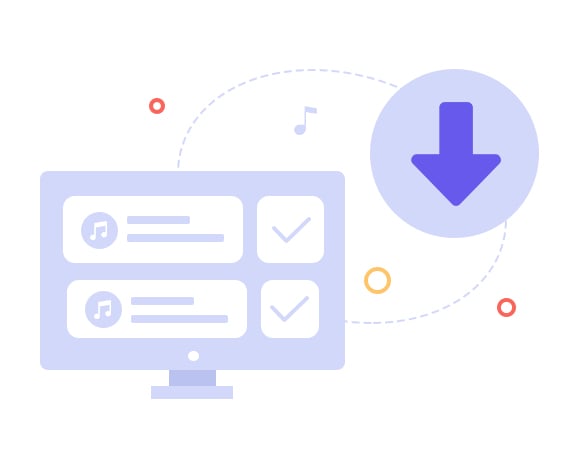 AudiFab Spotify Music Converter
Download music from the Spotify app to the computer.
Convert Spotify playlist to MP3/AAC/WAV/FLAC/AIFF/ALAC.
Keep original audio quality, ID3 tags and lyrics after conversion.
One click to burn Spotify music to CD.
Free updates and technical support.
Now let's use AudFab to start converting your Spotify music in just a few clicks.
Launch AudiFab Spotify Music Converter 
Once you've installed AudFab on your computer, launch it, click App and the Spotify app will also open automatically.
Notes: Click Webplayer on Mac for 10x speed.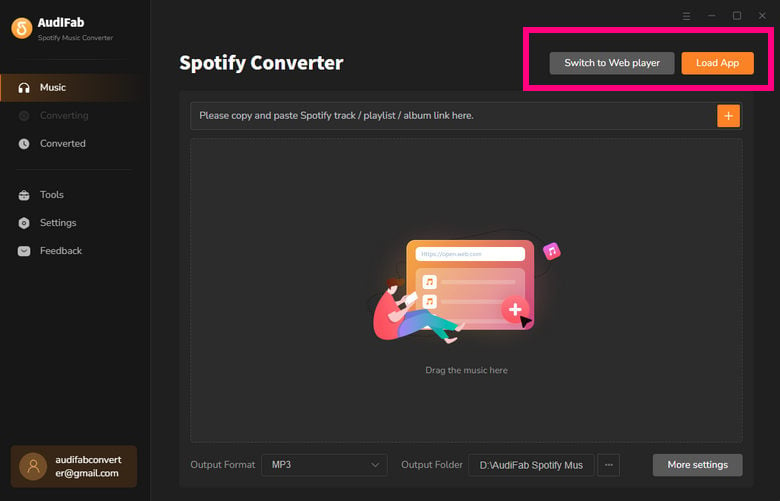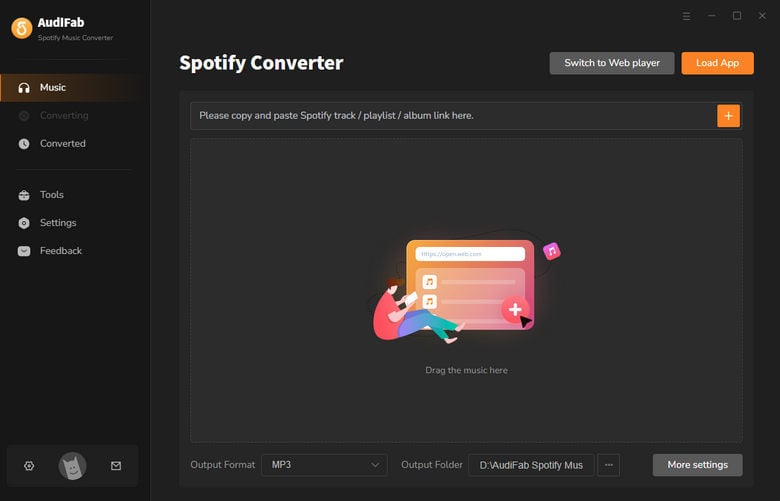 Browse and select the playlists 
Find the playlists that you want to download from Spotify, and drag and drop them into the AudFab interface. You can select multiple songs at once.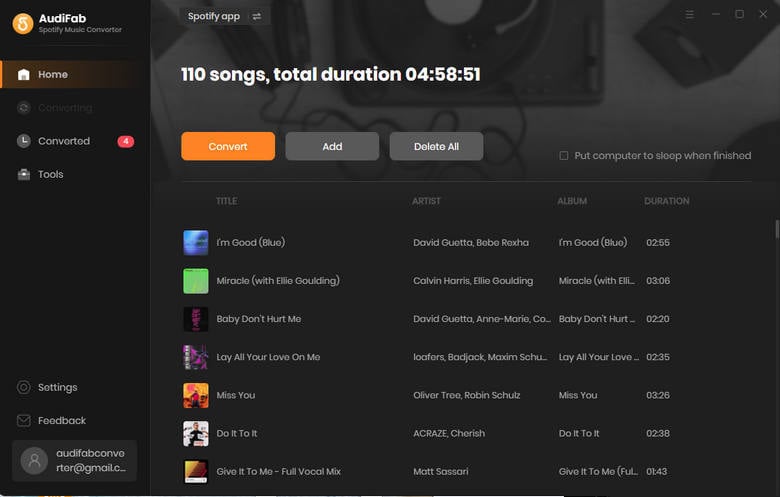 Choose the desired output format and quality 
Click the gear icon to customize your settings. You can choose the desired output format and quality for your downloaded files. You can also customize other settings like the output folder and the conversion speed.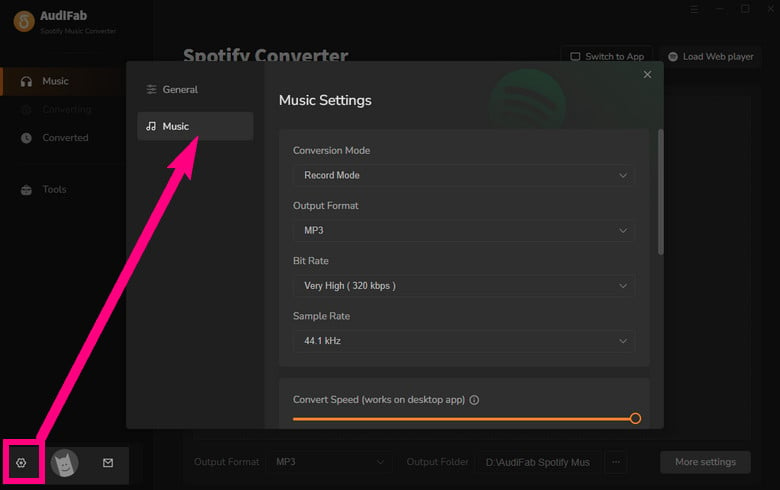 Start to download the DJ Playlists 
Once you've selected your settings, click the Convert button on home to start the conversion process. AudFab will start downloading and converting your Spotify playlists.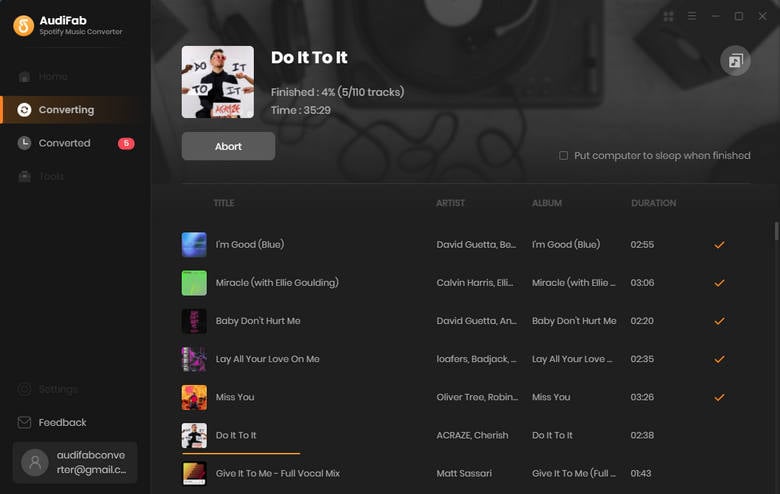 Transfer the files to your preferred device
After the conversion process is complete, you can transfer the downloaded files to your preferred device, such as your smartphone, tablet, or MP3 player. With this method, you can enjoy your favorite DJ playlists on the go and always have the latest music at your fingertips.

Summary
In conclusion, this practical guide shows all of Spotify AI DJ, including information on what it is, how to use it, troubleshooting tips, and additional tips for enhancing the music experience.
Using a reliable tool like AudFab Spotify Music Converter to download Spotify DJ playlists is a great way to enhance your music experience and ensure that you can always have access to your favorite tracks.
AudiFab Spotify Music Converter is free to try. It can be downloaded for free and converts the first minute of each audio file for sample testing. If the program meets your need, you can buy a license to unlock the time limit.