"Today we're introducing Jam,a personalized, real-time listening session for your group to tune into together." - Spotify announces Jam on Sept. 29th, 2023
Spotify offers a multitude of playlist-sharing features, such as Collaborative Playlists, Blend, SharePlay, etc. Now, alongside these options, Spotify introduced a new feature called Spotify Jam to connect with your friends over music. It allows you to start and join personalized, real-time listening sessions with your group, no matter where they are.
Whether you're hosting a party, studying together, or just chilling, Spotify Jam can help you find the perfect songs for the occasion. In this article, we'll explain how to start a Spotify Jam and share some tips on how to make the most of it. Now sit back, relax, and get ready to press play on your ultimate Spotify jam.
A - Jam on Spotify is an exciting new feature that enables you to create real-time listening sessions with your friends and family. It's designed to bring people together through music. With Jam Spotify, you can collectively listen to songs, contribute to the playlist, and enjoy a social music experience.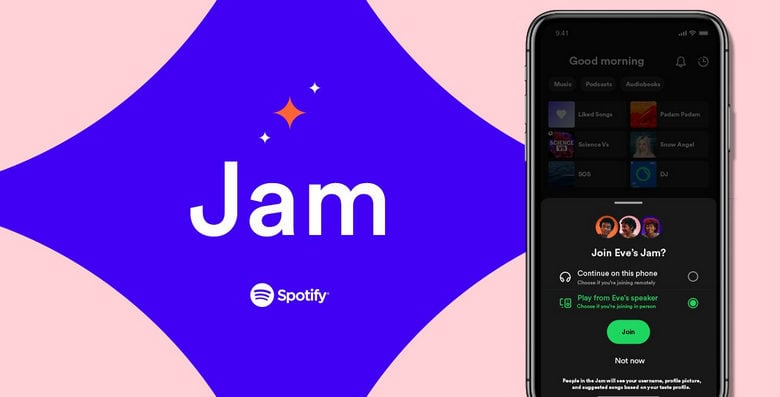 🎧 Accessibility
Jam Spotify is available to all Spotify users. However, there are differences in how it's accessed:
Spotify Premium Subscribers: Premium subscribers have the privilege of creating and hosting a Jam, giving them control over the session.
Spotify Free Users: Free users can join a Jam initiated by others and participate by adding songs to the shared queue.
🎧 Compatibility:
This feature is compatible with various devices, including smart speakers and most Bluetooth speakers, ensuring a seamless listening experience.
🎧 How Spotify Jam Works:
To start a Jam, simply share a link or QR code with your chosen participants. Once they join, you can collaboratively add songs to the shared queue and listen to the same tracks simultaneously. Spotify even offers dynamic song recommendations during your session based on your group's listening activity.
🎧 Management:
Within the Jam, you have control over both the volume and the music selection. You can see who added which songs, fostering transparency. However, the host retains the ability to manage participants, modify the song order, and remove inappropriate tracks, ensuring a smooth and enjoyable listening experience for all.
---
To begin a Jam session on Spotify, ensure you have the latest app version and a Spotify Premium subscription. Follow these steps:
Step 1. Open the Spotify app on your device.

Step 2.

Navigate to the "Your Library" section.

Step 3.

Select a song or playlist that.

Step 4.

Tap the speaker icon at the bottom of your screen or the three-dot menu next to the song or playlist.

Step 5.

Select "Start a Jam" from the options.

Step 6.

Tap Invite.

Step 7.

Share a QR code, a link, or tap your phones together with your friends if you are logged in to Spotify and your Bluetooth is turned on.

Step 8.

Once they join, everyone can contribute and add songs to the playlist.
Note: Currently, a Spotify Jam can have up to 32 participants.
---
Here are some tips to manage your Jam.
How to Remove Someone From a Jam
Click Profile on the top > Click ... next to the name of the participant you want to remove > confirm Remove from Jam.
How to Add Songs to a Jam
Open a playlist > Tap ... of a song > select Add to queue.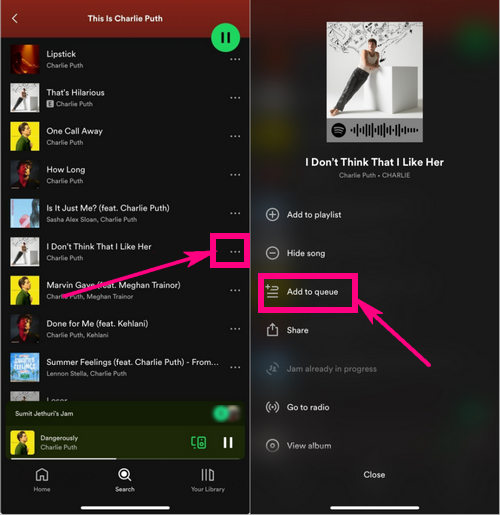 How to Remove Songs From a Jam
Tap the Circle icon before the song > Remove.
How to Control the Volume in a Jam
Tap the current device you're listening on and then switch Let guests change volume on. Note that shared volume control is only supported on Chromecast and Amazon Cast devices.
How to Control What's Playing in a Jam
Tap the current device you're listening on and then switch Others can control what's playing on. Note that when you turn this off, guests can only add songs to the Jam.
How to End or Leave a Jam
Only the host has the authority to end a Jam. Participants can only leave a Jam and if the host decides to end the Jam, it will end for all participants automatically.
Host: Tap on the End button > End Jam
Participant: Tap on the Leave.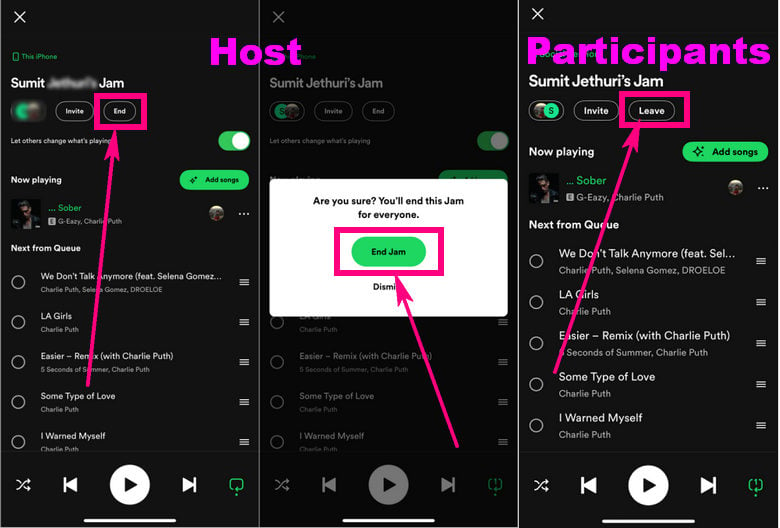 ---
Spotify Jam is a fun way to bond over music with friends, but it does come with limitations. These include participant limits, playback control restrictions, a limited song queue size, no offline mode, and mobile app exclusivity.
To break these limitations, you can try using AudiFab Spotify Music Converter. It lets you download Spotify playlists as local files, allowing easy sharing of them via USB, CD, Discord, and more. AudiFab can effortlessly convert Spotify music into popular formats like MP3, FLAC, WAV, ALAC, AIFF, and AAC while retaining high-quality sound, lightning-fast conversion speeds, and an easy-to-use interface.  Plus, it preserves ID3 tags and lyrics, perfect for music enthusiasts.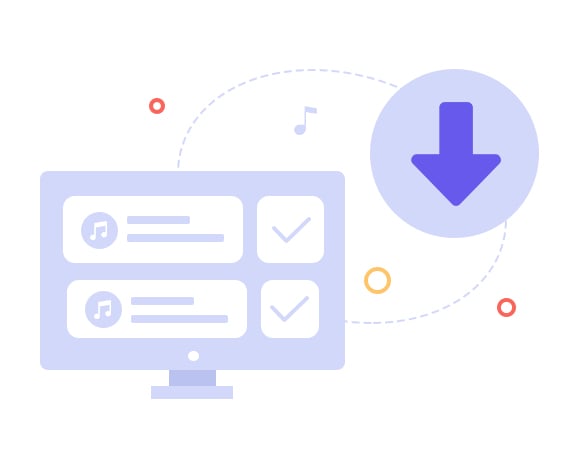 AudiFab Spotify Music Converter
Download music from the Spotify app to the computer.
Convert Spotify playlist to MP3/AAC/WAV/FLAC/AIFF/ALAC.
Keep original audio quality, ID3 tags and lyrics after conversion.
One click to burn Spotify music to CD.
Free updates and technical support.
To use AudiFab Spotify Music Converter, begin by downloading and installing AudiFab Spotify Music Converter on your computer. It's available for both Windows and macOS.
Open AudiFab after installation. Select either the Spotify App or the web, depending on your preference. We'll opt for Spotify App mode in this guide. The Spotify App will pop up.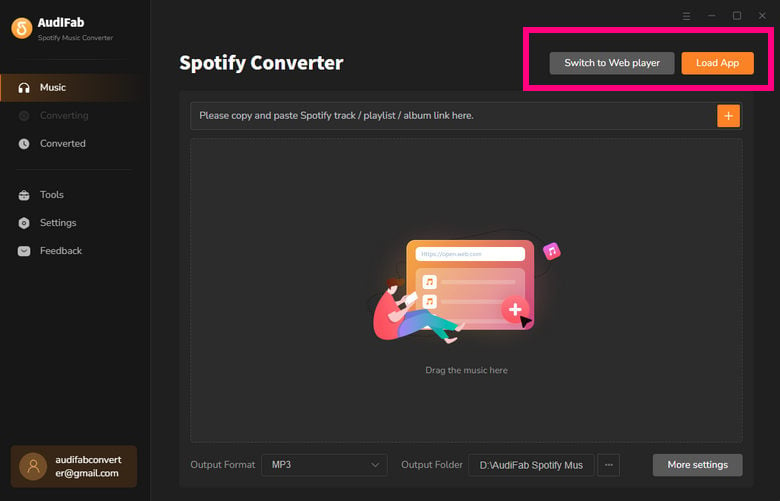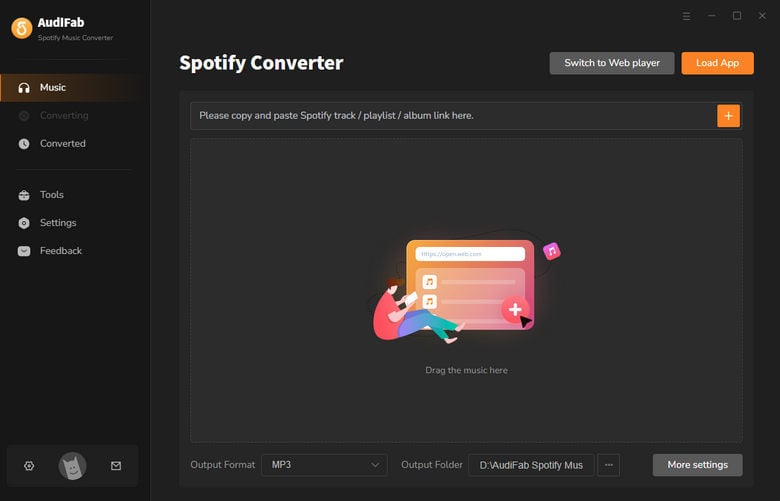 In the Spotify App, find the playlist link or directly drag and drop songs into AudiFab Spotify Music Converter, then click "Add."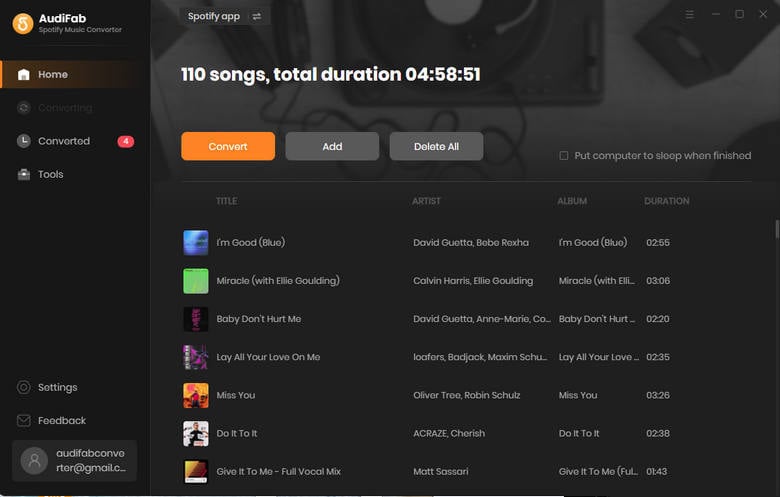 On the settings window, pick your desired output format from options like MP3, FLAC, WAV, ALAC, AIFF, and AAC. Customize settings like bitrate, sample rate, output folder, and more if needed.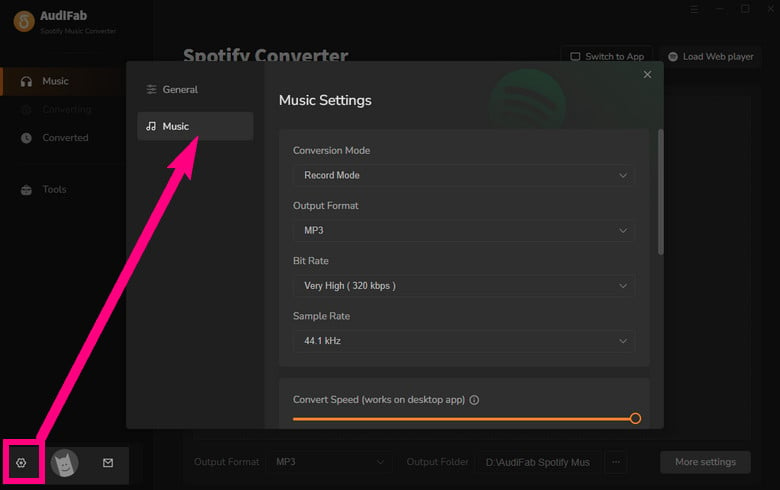 Click the "Convert" button to start converting the Spotify music.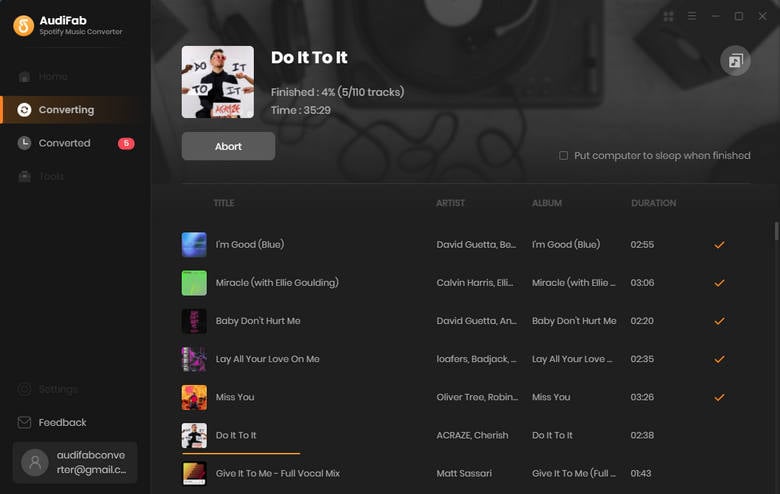 After conversion, AudiFab will open the output folder on your computer. Now, you can share your music via USB, CD, Discord, or any preferred method, breaking free from Spotify Jam limitations.

Summary
Spotify Jam, a new feature, offers real-time listening sessions that bring people closer through shared melodies. With Spotify Jam, you can create a session, invite others, and collectively listen to music while adding songs to the playlist queue and more. In this guide, we've introduced what a Spotify Jam is, how to start a Jam on Spotify, and how to manage your Spotify Jam sessions.
Additionally, we introduced AudiFab Spotify Music Converter as a solution for sharing Spotify playlists without limits. It allows you to save Spotify tracks locally for sharing easily. AudiFab is available for free, offering a one-minute conversion limit for sample testing. To remove this limit, please purchase a license.