Spotify is one of the most popular music streaming services in the world, with over 100 million songs and 5 million podcasts to choose from. But with so many options available, how can you find new songs on Spotify that suit your taste and mood? And how can you save them for offline listening, so you can enjoy them anytime and anywhere?
In this article, we will show you how to do both with tips and tricks. We will also answer some frequently asked questions about Spotify and its features, so you can further enhance your Spotify experience. By the end of this article, you will be able to discover new music and refresh your playlist on Spotify with ease.
Are you tired of listening to the same old songs on your Spotify playlist? Do you want to discover new music that suits your taste? If so, you're in luck! Here are 7 ways to find new songs on Spotify and refresh your playlist:
🎧 Personalized Playlists: Daily Mixes, Discover Weekly, Release Radar
Spotify offers several personalized playlists, including Daily Mixes, Discover Weekly, and Recommended Songs. These playlists are tailored to your listening habits and are updated regularly with new music.
🔸 Daily Mixes:
These playlists are updated every day with new songs and a different order of songs.
🔸 Discover Weekly:
This playlist is updated every Monday with 30 new songs.
🔸 Release Radar:
It updates every Friday with new releases that Spotify thinks the user will enjoy.
To access these playlists, simply go to the Home tab on the Spotify app and scroll down until you see the "Made for You" section.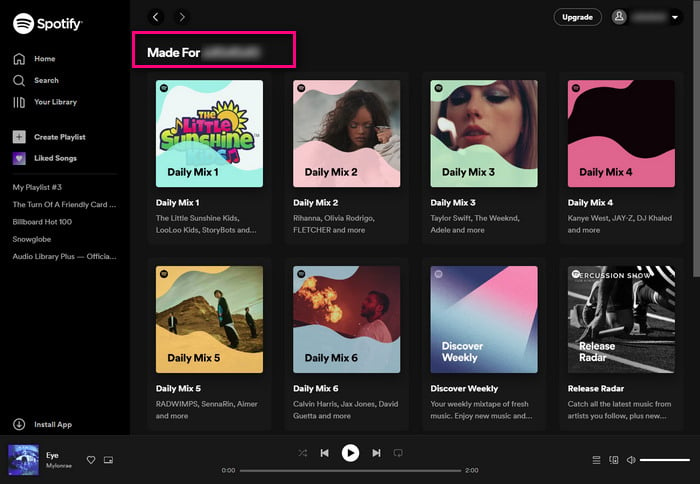 🎧 Browsing Options: New Releases, Concerts, Podcasts, Charts, and Moods
The Browse tab on Spotify offers a range of sections to explore, including New Releases, Concerts, Podcasts, Charts, Moods, etc. You can also filter by genre or mood to find new music that suits your taste.
Simply tap on the Search tab on the left of the app/website, scroll down to "Browse all", and start browsing through different sections to find new music.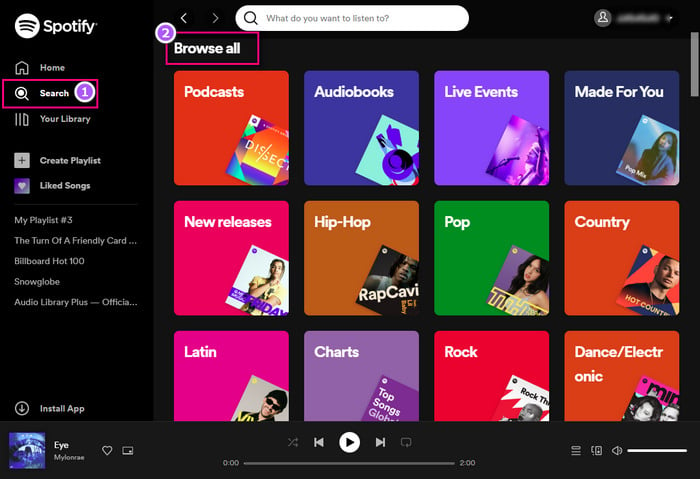 🎧 Spotify Radio: A personalized radio station
Spotify Radio creates a personalized radio station based on a song, artist, album, or playlist. 
To start a radio station, simply search for a song, artist, album, or playlist and select the "..." icon. From there, select "Go to radio" to start a personalized radio station based on your selection.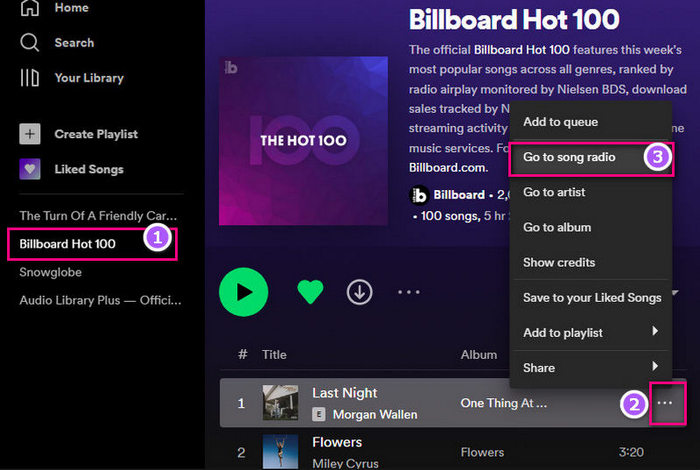 🎧 Following Artists: Stay updated on the latest releases
Following your favorite artists on Spotify is a great way to stay updated on their latest releases and recommended songs. To follow an artist, simply search for them on Spotify, tap on their profile, and hit the "Follow" button.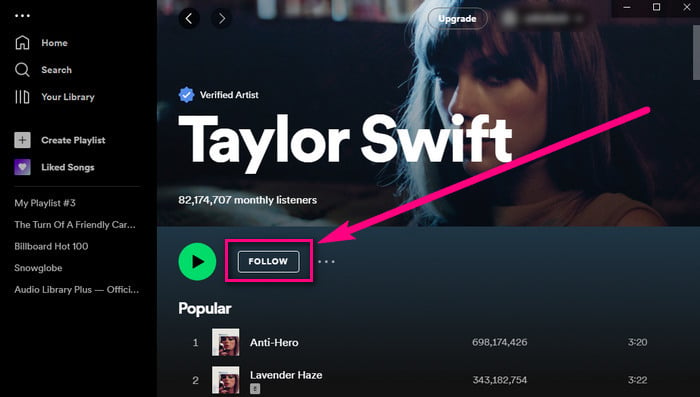 🎧 Related Artists: Favorite artists or genres
Check out related artists to your favorite artists or genres to discover new music. To find related artists, simply search for an artist or genre on Spotify, and scroll down to the "Fans Also Like" section.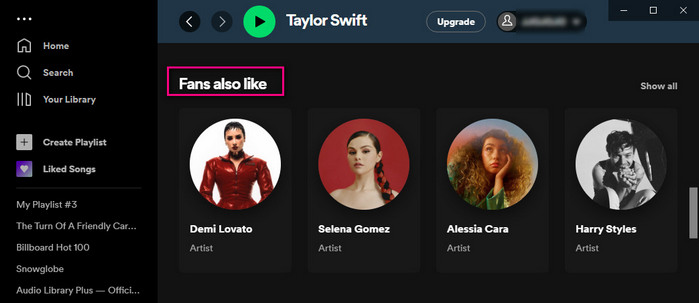 🎧 Social Media: Follow friends, public playlists, or sharing own playlists
Find new songs on Spotify through social media by following your friends, public playlists, or sharing your own playlists.
🔸 Browse your friends' playlists:
You can link up with your friends on Spotify and view the playlists they have made available. Then click the "Follow" button to subscribe to a playlist you like.
🔸 Follow public playlists:
You can also follow playlists created by other Spotify users, celebrities, or brands. You can find them by browsing different genres, moods, or categories on the Browse tab, or by searching for keywords on the Search tab. 
For example Today's Top Hits, RapCaviar, Lofi & Chill, Rock Classics, New Music Friday, Hot Country, Peaceful Piano, Indie Pop, Latin Party Anthems, Jazz Classics, etc.
🔸 Sharing own playlists:
Collaborative playlists are a great way to discover new songs on Spotify through sharing your own playlists with friends or other Spotify users. To create a collaborative playlist, simply tap on the "..." icon on any playlist and select "Invite collaborators". You will then receive a link that can be shared via social media platforms, messaging apps, or any other method of your choosing. Anyone with access to the link can join the playlist and add songs to it, providing an opportunity to explore new music genres and discover new artists.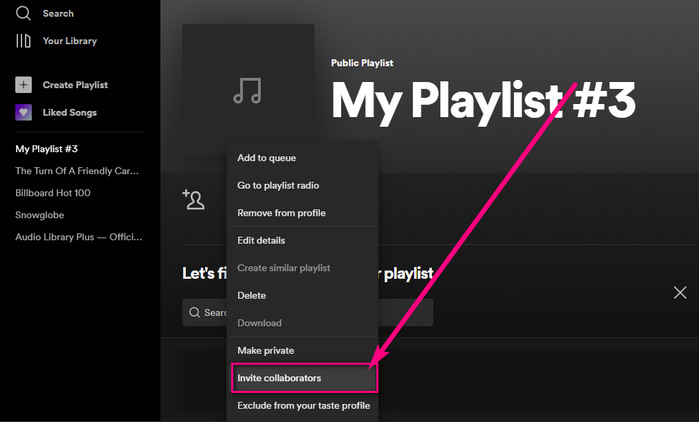 🎧 Spotify AI DJ (Invited Spotify users only)
Spotify AI DJ is a new feature that creates a personalized mix of songs based on your listening history. To access this feature, simply navigate to the Home screen in the Spotify app and head to your Music Feed. Then Tap on the "Play on the DJ" card.
More details: Spotify AI DJ: A Practical Guide on Enhancing Your Music Experience
---
Spotify Premium users can easily save their favorite new songs for offline listening by downloading them directly to their devices. Here are the steps for saving your favorite new songs on Spotify for offline listening with Spotify Premium:
Step 1. Open the Spotify app on your device and log in to your account.
Step 2. Navigate to the song or playlist you want to download for offline listening.
Step 3. Click the "Download" button next to the song or playlist.
Step 4. The song or playlist will now begin downloading to your device. You can view the download progress by clicking on the "Download" icon located in the top-right corner of the screen.
Step 5. Once the download is complete, you can listen to the song or playlist offline by going to the "Your Library" tab in the app and selecting the "Downloads" section.
Step 6. From here, you can access all of the songs and playlists you have downloaded for offline listening.
Note: 
These steps only apply to Spotify Premium subscribers.
You will need to periodically connect to the internet to renew the licensing for your offline songs.
For those who want to download Spotify songs to a local device, we recommend using the Spotify music converter. This tool allows you to convert Spotify songs to various formats, preserve metadata, and download songs in batches. More details in part 3: Listen to New Songs Offline with Ease (Spotify Free & Spotify Premium).
---
Spotify is a fantastic platform for finding new music, but it has some limits when you listen to songs offline. If you have a limited data plan, a poor internet connection, or the downloaded songs can only be available on Spotify app, you may feel like you are missing out on the best musical experience.
That's where the AudiFab Spotify Music Converter can help you. This tool allows Spotify Free and Premium to easily download and save any Spotify song in various audio formats that are compatible with your device, such as MP3, FLAC, WAV, AAC, ALAC, and AIFF. It also preserves the original quality and metadata of Spotify tracks, such as artists, albums, genres, etc. Moreover, it can work at 10X faster speed on Windows and Mac computers, saving you much time and effort.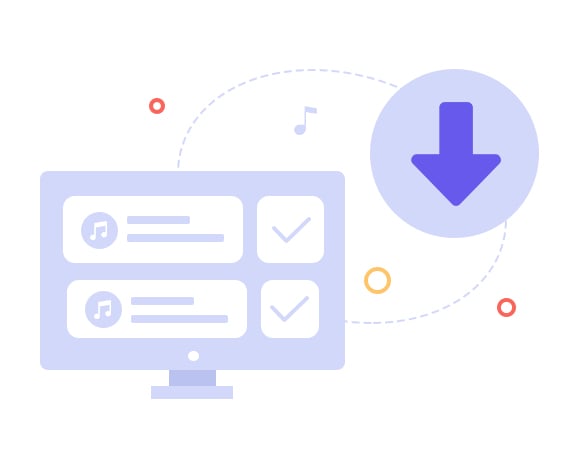 AudiFab Spotify Music Converter
Download music from the Spotify app to the computer.
Convert Spotify playlist to MP3/AAC/WAV/FLAC/AIFF/ALAC.
Keep original audio quality, ID3 tags and lyrics after conversion.
One click to burn Spotify music to CD.
Free updates and technical support.
Here are the steps to download your favorite new music on Spotify with AudiFab:
Open AudiFab Spotify Music Converter 
Download and install AudiFab Spotify Music Converter on your Windows or Mac computer. Launch the program, choose App and it will automatically open Spotify app as well.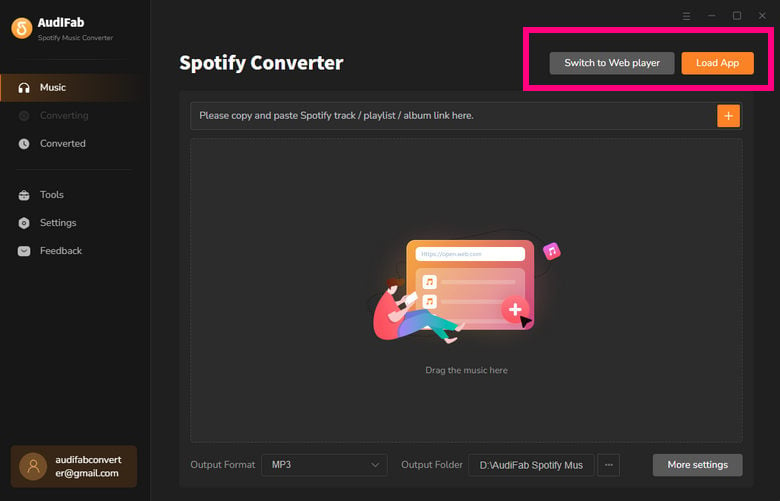 Want 10x speed conversion on Mac? Choose webplayer.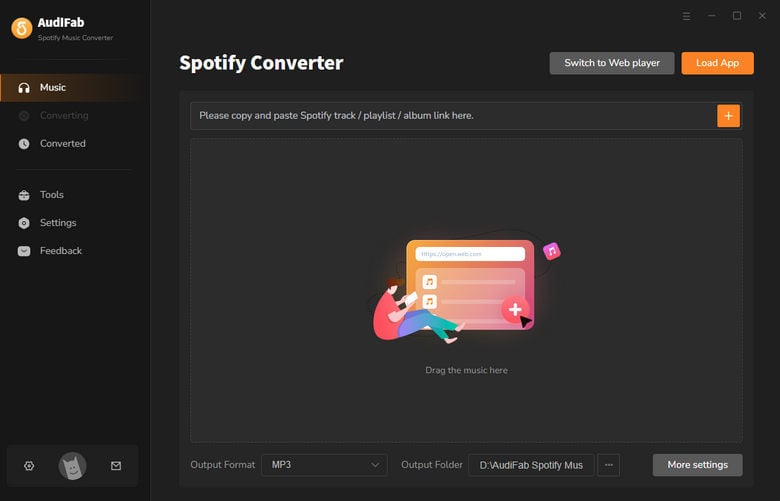 Add new music you want to download to AudiFab  
Browse the new top songs or playlists that you want to download on Spotify. Drag and drop them to the main interface of AudiFab or copy and paste the URL of the songs or playlists to the search box of AudiFab.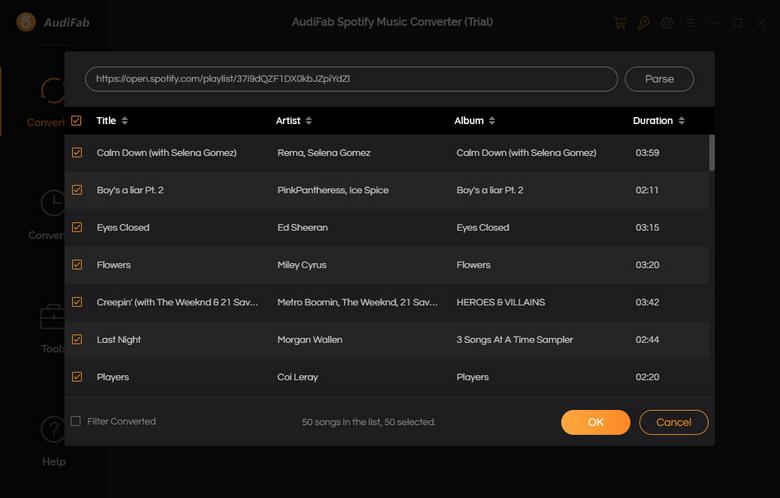 Select the desired output settings 
Click the gear icon to adjust the output settings. You can choose the output format (MP3, FLAC, WAV, AAC, ALAC, or AIFF), quality, speed, sample rate, and bit rate according to your needs. You can also change the output folder and customize the output file name.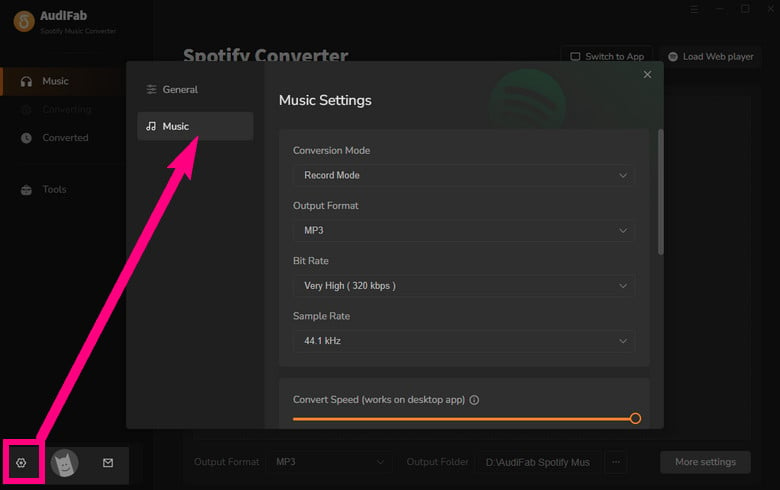 Start to download Spotify new songs 
Click the "Convert" button on the main interface to start downloading and converting new songs on Spotify to your desired format. You can check the conversion progress and status on the main interface.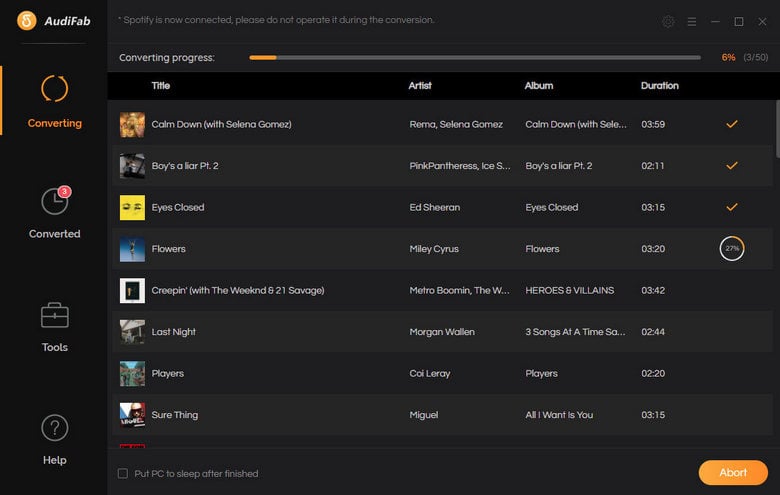 Sync Downloaded Spotify Songs to Any Device for Offline Listening 
Once done, you can find the downloaded Spotify songs in the output folder. Now you can then sync the downloaded new songs or playlists to your device and play them offline whenever you want.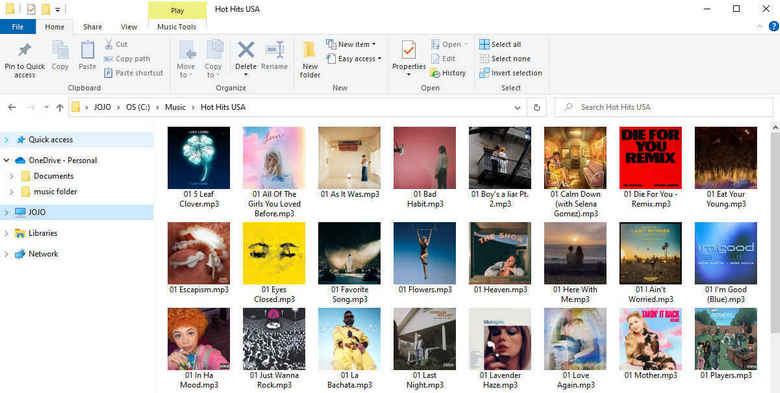 ---
Why can't I find a new song on Spotify?
The song has not been added to Spotify yet by the artist, label, or distributor.
The song is not available in your country or region due to licensing agreements or rights issues.
The song has been removed or hidden by the artist, label, or distributor for some reason.
The song is not searchable or playable due to a network issue or a bug.
If you're having trouble finding a specific song on Spotify, you can try searching for it using different keywords or check if it's available on other music streaming platforms.
How do you get new songs that aren't on Spotify?
If you use other apps to find new music, you can download the new music as a local file and then import it to your Spotify app. For example, if the new songs are from Apple Music/iTunes, you can use AudiFab Apple Music Converter to download them to your local drive in various audio formats. Then, you can upload the downloaded new songs to Spotify and enjoy them offline. If the new songs are from Amazon Music, you can use AudiFab Amazon Music Converter to do the same thing. With these tools, you can easily access and play new songs from different sources on Spotify.
How to set these new songs as ringtones on your Android/iOS?
If you want to set these new songs as ringtones on your Android/iOS device, please refer to these tutorials:
🔔 How to Set a Spotify Song as a Ringtone on Android
🔔 How to Set Spotify Music as Ringtone on iPhone
How to use the DJ mode on Spotify with new songs?
You can use the DJ mode feature, which allows you to crossfade songs and create smooth transitions between tracks. This feature can make your listening experience more seamless and dynamic. You can enable DJ mode by going to Settings, scrolling down to Playback, and toggling on Crossfade songs.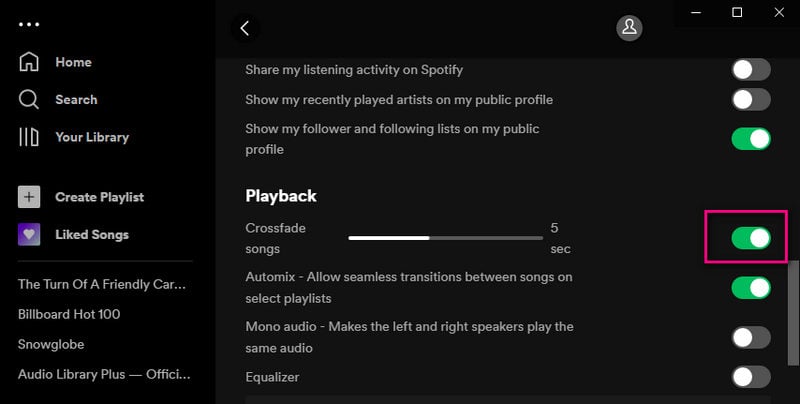 How to create, edit, or delete playlists on Spotify?
To create a new playlist on Spotify, follow these steps:
1. Open the Spotify app on your device.
2. Click on "Create playlist".
3. To add songs to your playlist, search for the songs you want to add, click "..." next to each song, and click "Add to playlist". Alternatively, you can drag and drop songs from your library into the playlist.

To edit an existing playlist on Spotify:
1. Go to the playlist you want to edit.
2. Click on the three dots ("...") next to the playlist name.
3. Choose "Edit details".
4. You can now add or remove songs from the playlist, change the playlist name, add a description, and change the cover image.

To delete a playlist on Spotify:
1. Go to the playlist you want to delete.
2. Click on the three dots ("...") next to the playlist name.
3. Choose "Delete".
Summary
In conclusion, finding new songs on Spotify is an exciting and enjoyable experience that can help you discover great music. By using the tips and methods we discussed, including personalized playlists, browsing sections, related artists, Spotify radio, following artists, social media, and Spotify AI DJ, you can explore new popular music and enjoy it in different ways.
We have also introduced AudiFab Spotify Music Converter as a valuable tool that can easily convert and download Spotify songs to your local device in various formats with high audio quality. By using AudiFab, you can always keep your offline playlist fresh and up-to-date with your favorite new songs.
AudiFab Spotify Music Converter is free to try. It can be downloaded for free and converts the first minute of each audio file for sample testing. If the program meets your need, you can buy a license to unlock the time limit.