Spotify is the world's leading music streaming service, and you are one of its millions of users. You have an account and a profile on Spotify, where you can customize your display name, your photo, and your bio. But do you know how to change your Spotify username, the unique identifier that Spotify assigns to you? In this article, we will cover everything you need to know about Spotify usernames, including how to change them on different devices and how to download Spotify music without Premium.
How do I find my Spotify username?
📲 On the mobile app, tap Home > Settings > View Profile > ⠇ > Share > Copy Link. The link that has been copied to the clipboard should look like this:
https://open.spotify.com/user/31xxhat65cm6gbtehpy2rqvf62le?si=7ff72f9ac75b4205&nd=1
(Your Spotify username is the number that follows [/user/] and precedes the [?].)

🖥️ On the desktop app, click Profile > Account. A browser will pop up, where you can see your username, as well as your email, date of birth, and country or region.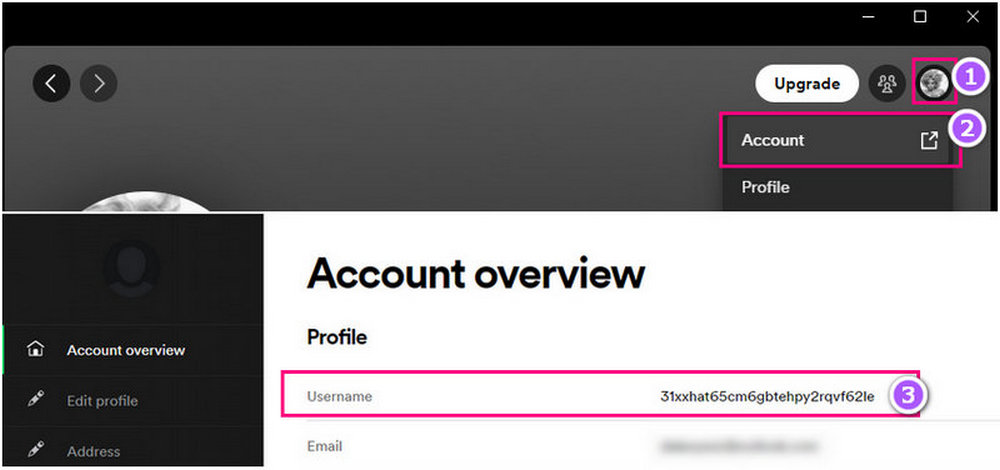 🌐 On your browser, you can also go to your Account Overview page.
Can others see my Spotify username?
By default, your Spotify account displays your display name, not your username. If you share a link to your Spotify profile with someone else, your username will be visible in the URL of your profile page.
Why can't I change my Spotify username?
Please note that your Spotify username is a 12-digit code of numbers and letters that identifies your account. You can't change it, but you can change your Spotify display name, see Part 2 for more information.
What is the difference between username and display name?
Your username is what Spotify uses to identify your account, while your display name is what other users see on your profile and playlists. 
Changing your Spotify display name across various devices is a breeze! And why settle for a mundane display name when you can add a touch of fun and creativity to it? Let's dive into the steps to edit your Spotify display name on different devices.
Tips: You can adjust your display name as many times as you want, as long as it doesn't exceed 30 characters.
Step 1. Open the Spotify app on your mobile device and log in to your account.

Step 2.

Tap on the "Home" tab at the bottom of the screen.
Step 3. Tap on the gear icon (Settings) in the top-right corner of the screen.
Step 4. Scroll down and select "View profile."
Step 5. Tap on the Edit Profile icon next to your current display name (you can also change your profile photo here).
Step 6. Enter your desired new display name.
Step 7. Tap "Save" or "Done" to confirm the changes.

Step 1. Open the Spotify application on your computer and log in.

Step 2.

Click on your Profile picture in the top-right corner of the screen.
Step 3. Select "Profile" from the menu.
Step 4. Click your current display name.
Step 5. Enter your new display name in the provided field.
Step 6. Click "Save" or simply press Enter to save the changes.

Changing your display name on Spotify is a chance to express your personality and musical style. Have fun, get creative, and let your unique taste shine through. Need inspiration? ChatGPT and Bing AI can help with entertaining and memorable display name ideas.
💡 Fun-generated Display Name Suggestions:
Melody Maestro, Beat Bender, Groove Guru, Tempo Titan, Rhythm Rebel.
---
Spotify, known for its vast music library, offers a platform for users to personalize their display names and share their music preferences. While downloading music for free on Spotify is not supported, there are reputable apps available that provide alternative options. Here are a few popular and trusted apps for downloading Spotify music with Spotify Free:
This is an easy-to-use tool that lets you download and save songs from Spotify with simple clicks. AudiFab can download and convert Spotify songs to MP3, AAC, ALAC, WAV, FLAC, and AIFF. It preserves the lossless audio quality and the original ID3 tags and supports 10X fast speed. You can also customize the output settings, such as bit rate, sample rate, channel, etc. AudiFab works well with Windows and Mac computers and offers some free tools like burn CD, Spotify to iTunes uploader, format converter, etc. AudiFab can download music from App or Web.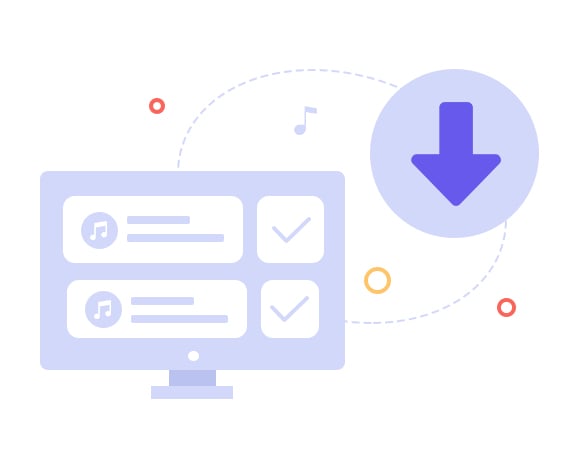 AudiFab Spotify Music Converter
Download music from the Spotify app to the computer.
Convert Spotify playlist to MP3/AAC/WAV/FLAC/AIFF/ALAC.
Keep original audio quality, ID3 tags and lyrics after conversion.
One click to burn Spotify music to CD.
Free updates and technical support.
🎞 YouTube Video: How to Download Spotify Music to MP3
This is another powerful tool that lets you download and convert songs to various formats, such as MP3, AAC, ALAC, WAV, FLAC, and AIFF. What sets TunePat apart is that it is built directly into the Spotify Webplayer, eliminating the need for the Spotify app.
Summary
Don't stress about your Spotify username, as it's not visible to other users. Your display name is what other users see on your profile and playlists, and you can change it anytime you want. You can also download Spotify music without Premium using AudiFab Spotify Music Converter, so you can enjoy your favorite songs offline.
You can test out AudiFab Spotify Music Converter for free. It converts the first minute of each audio file for sample testing and is available for free download. If the program is suitable for your needs, you can purchase a license to remove the time restriction.